UM Science students win big at Aquahacking Lake Winnipeg Challenge
Meagan Smith and Bentley Turner were the youngest team in the 2020 competition hosted by the International Institute for Sustainable Development
November 17, 2020 —
When it comes to innovation and the environment, Meagan Smith and Bentley Turner are going places. The Faculty of Science students won second place and $15,000 in the 2020 Lake Winnipeg Aquahacking Challenge, hosted by the International Institute for Sustainable Development in partnership with Aqua Forum, a Montreal-based organization. A flagship for Aqua Forum since 2015, the Aquahacking Challenge aims to tap into the potential of young researchers to find solutions to Canada's most urgent freshwater problems.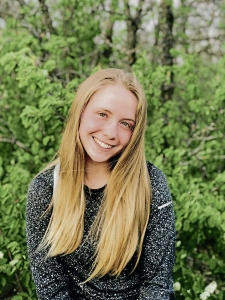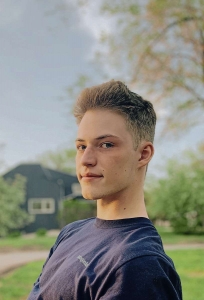 Smith (a second-year student in Honours Chemistry) and Turner (a first-year student with plans to enrol in the Joint Honours program for Physics and Mathematics) teamed up to create a portable soil analysis device, an agronomic decision-making tool called the Nu Finder. Their invention uses infrared spectroscopy techniques for an onsite soil analysis to support Manitoba farmers in their efforts to protect the waters of Lake Winnipeg.Smith and Turner say their solution will provide agronomists who advise farmers with an alternative, more precise method of testing nutrient levels in their fields. This helps farmers to know how much fertilizer they need to apply, which can save them money as well as prevent runoff of excess fertilizer which is detrimental to Lake Winnipeg.
"The main differences we offer relative to current options are on-site sampling with real-time results and the usage of a type of infrared spectroscopy that has not been applied to the agricultural market as of yet despite being a topic of focus in a number of journal publications. The on-site sampling reduces the cost of getting data because there are no expensive lab fees involved once the agronomist owns our device, allowing the farmers to have more samples taken from their field which gives the agronomist a better idea of exactly how much fertilizer needs to be applied. The type of spectroscopy we use allowed us to put together a device that will be sold for less than 1/6th of what the leading on-site sampling device is being marketed at, which makes the tech within the reach of both large and small agronomy companies."
The pair's decision to enter the competition was due in part to their shared affinity for Lake Winnipeg. Having spent many summers on its shores, both were alarmed at its continued deterioration. They had also participated in the Envirothon program, an environmental science competition for high school students. Envirothon is a means whereby youth can engage with science as well as apply their knowledge to larger environmental issues. Smith and Turner built on that experience by taking on the Aquahacking challenge.
"As we learned more about the Aquahacking challenge, we recognized that the skills we were developing in labs and inside the classroom had serious potential to make a difference for the environment and the agriculture industry if applied correctly, so we took a chance and signed up as a team! As the youngest team entering the Aquahacking Lake Winnipeg challenge, we knew right away that in order to succeed we would have to push ourselves every step of the way, but realized that regardless of how the competition turned out it would represent a great learning experience in areas outside of our usual domains."
Smith and Turner say that they relied on help from professionals in many different fields. Enthused about the science behind their technology, Team LasIR Nutrient Technology was not as well versed in the business side of things.
Luckily, Aquahacking had previously established many partners and was able to connect the team with mentors in a variety of fields that were applicable to creating their environmentally-focused tech start-up, ranging from analytical chemists to agriculture policy experts and business consultants. Smith and Turner say this was a huge help in broadening the scope of their solution.
Watch the pitch that won Meagan Smith and Bentley Turner, team LasIR Nutrient Technologies 2nd place and $15,000 in seed funding for their portable soil analysis device to help farmers more efficiently and accurately measure phosphate concentrations in soil.
What wasn't helpful was the fact that the challenge took place during the current Covid19 pandemic. Smith and Turner confess that the lack of lab access was a significant hurdle to overcome.
"It's an understatement to say that we had some technical difficulties when creating our first prototype, and many of those issues could have been alleviated if we had been able to work in an actual laboratory. On the upside, having to fix all the complicated issues ourselves and with a limited supply of tools helped us avoid outsourcing costs for prototyping, and will actually be to our benefit for further R&D because we can now continue working on the device all on our own."
Next up for the pair is research at the UM to create some model equations for their device and to compare their testing model to current soil nutrient testing methods. Smith and Turner feel that they are at a crucial stage in their research and development. They want to ensure they're able to provide agronomists with superior technology that will make the biggest difference in reducing the phosphorus load entering Lake Winnipeg.
After their research, Team LasIR Nutrient Technology plans to utilize the help of Mitacs. Mitacs is a federally and provincially funded not-for-profit research network that supports collaborative research and talent development. With assistance from Mitacs and an internship at the local business incubator North Forge, Smith and Turner hope to get an initial handheld version of the Nu Finder to market as soon as possible.
Smith offers the following words of wisdom to future Aquahacking competitors:
"Don't be afraid to put your ideas out into the world and speak your mind. People genuinely want to help, and any negative feedback will only help you refine your ideas in the long run."
For more information on the Aquahacking Challenge, visit https://aquahacking.com/en/