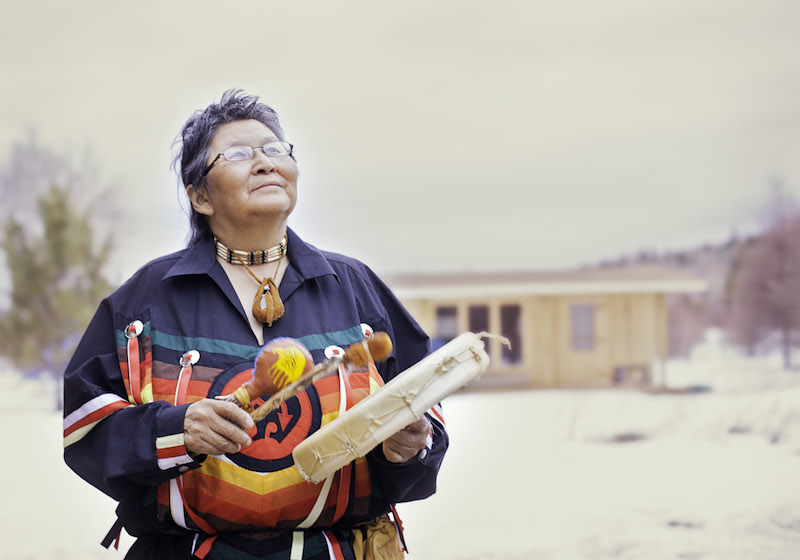 University of Manitoba Press' latest book: A Two-Spirit Journey
May 17, 2016 —
University of Manitoba Press is publishing the autobiography of Ma-Nee Chacaby, a lesbian Objibwa-Cree Elder from Thunder Bay, coincidentally just before Pride Winnipeg kicks off on May 27. The book launch will be May 18 at 7:30 p.m. at McNally Robinson Booksellers.
University of Manitoba Press is publishing Ma-Nee's memoir via its Critical Studies in Native History Series, which is edited by Robin Jarvis Brownlie, professor of history at the U of M.
The book starts:
"My earliest memories are of gathering kindling, making snowshoes, and hunting and trapping in my isolated Canadian community, where alcoholism was widespread in the 1950s. In 2013, more than half a century later, I performed a healing ceremony and then helped lead the first gay pride parade in my city, Thunder Bay, Ontario. This book describes the extraordinary path that led me to this place."
A Two-Spirit Journey
A Two-Spirit Journey is Ma-Nee Chacaby's extraordinary account of her life as an Ojibwa-Cree lesbian. From her early, often harrowing memories of life and abuse in a remote Ojibwa community riven by poverty and alcoholism, Chacaby's story is one of enduring and ultimately overcoming the social, economic, and health legacies of colonialism.
As a child, Chacaby learned spiritual and cultural traditions from her Cree grandmother and trapping, hunting, and bush survival skills from her Ojibwa stepfather. She also suffered physical and sexual abuse by different adults, and in her teen years became alcoholic herself. At twenty, Chacaby moved to Thunder Bay with her children to escape an abusive marriage. Abuse, compounded by racism, continued, but Chacaby found supports to help herself and others. Over the following decades, she achieved sobriety; trained and worked as an alcoholism counsellor; raised her children and fostered many others; learned to live with visual impairment; and came out as a lesbian. In 2013, Chacaby led the first gay pride parade in Thunder Bay.
Raised by her Cree grandmother in a remote Ojibwa community near Lake Nipigon, Ont., Chacaby has emerged from hardship grounded in faith, compassion, humour, and resilience. Her memoir provides unprecedented insights into the challenges still faced by many Indigenous people.
Two-Spirit
As Two-Spirited People of Manitoba Inc. says: Two-Spirit is a term used to describe Aboriginal people who assume cross-, or multiple gender roles, attributes, dress and attitudes for personal, spiritual, cultural, ceremonial or social reasons. These roles are defined by each cultural group and can be fluid over a person's lifetime. Modern terms like gay, lesbian, bisexual, transgender, transsexual and intersected (in combination with, or exclusive to, Two-Spirit) may be adopted by some Aboriginal people to define who they are.