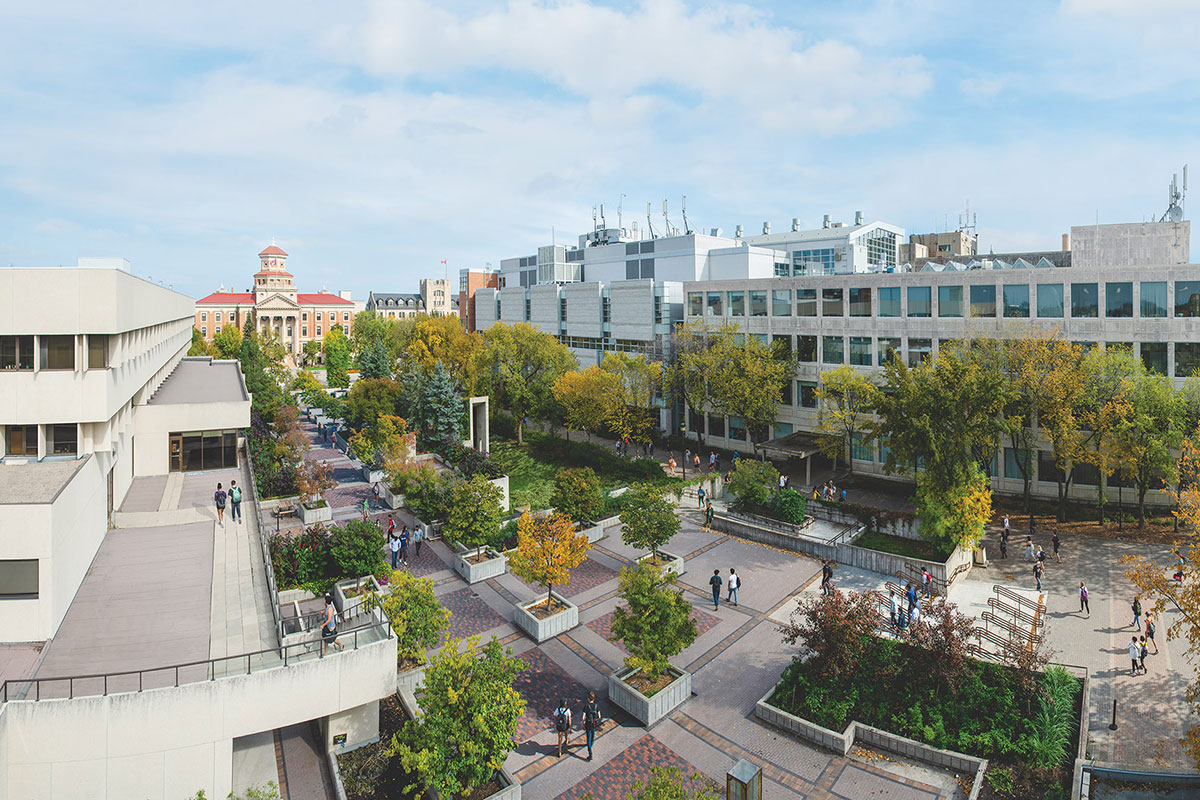 UM makes upgrades to HVAC systems
University is committed to meet or exceed ASHRAE guidelines
April 21, 2023 —
The University of Manitoba has undergone heating, ventilating, and air-conditioning (HVAC) improvements over the last few years to support optimal quality of air and comfort for students, faculty, staff and visitors to UM campuses.
Recent tests found that 100 per cent of UM's 140 oldest and most used campus spaces meet the American Society of Heating, Refrigerating and Air-Conditioning Engineers (ASHRAE) ventilation standards in optimal conditions.
In June 2022, UM assessed the air flow and ventilation rates from 140 of its oldest and most-used learning spaces (114 at the Fort Garry Campus, 21 at Bannatyne Campus and 5 at William Norrie Centre). In the first test, 93 per cent passed the ASHRAE ventilation standards under optimal conditions. Air purifiers were added to the rooms that didn't pass, and further tests were conducted, which brought the pass rate to 100 per cent under optimal conditions.
UM has reported on air quality previously, recognizing that HVAC upgrades support thermal comfort and fresh air – which has been shown to improve learning outcomes and work performance – and can also support overall COVID-19 safety by removing and diluting aerosols that may contain viruses from indoor spaces.
"These HVAC improvements contribute significantly to creating a healthy work and learning environment at UM," said Naomi Andrew, Vice-President (Administration). "We want all members of our community to feel comfortable and safe whether they are studying in classrooms and labs, working in offices or meeting in common spaces."
In Sept. 2022, UM conducted a further review of the 140 learning spaces to find additional opportunities for improvement. These include rebalancing, upgraded thermostats for demand control ventilation, fan power terminal units and installation of CO2 sensors to return ducts for system level demand-controlled ventilation. These improvements are expected to be complete by Fall 2023 and will ensure UM's oldest and most-used spaces have optimal air quality in all conditions.
Over the coming year, UM will complete the same assessment on its remaining 341 learning spaces across campuses and make upgrades as required.
Please read the Ventilation Improvement Feasibility Studies from Epp Siepman Engineering and from MEER Engineering.
The university is committed to meeting or exceeding ASHRAE guidelines that relate to building ventilation and air filtration in schools and universities. ASHRAE standards are supported by the Government of Canada and are part of the guidance for ventilation created by the Public Health Agency of Canada (PHAC).