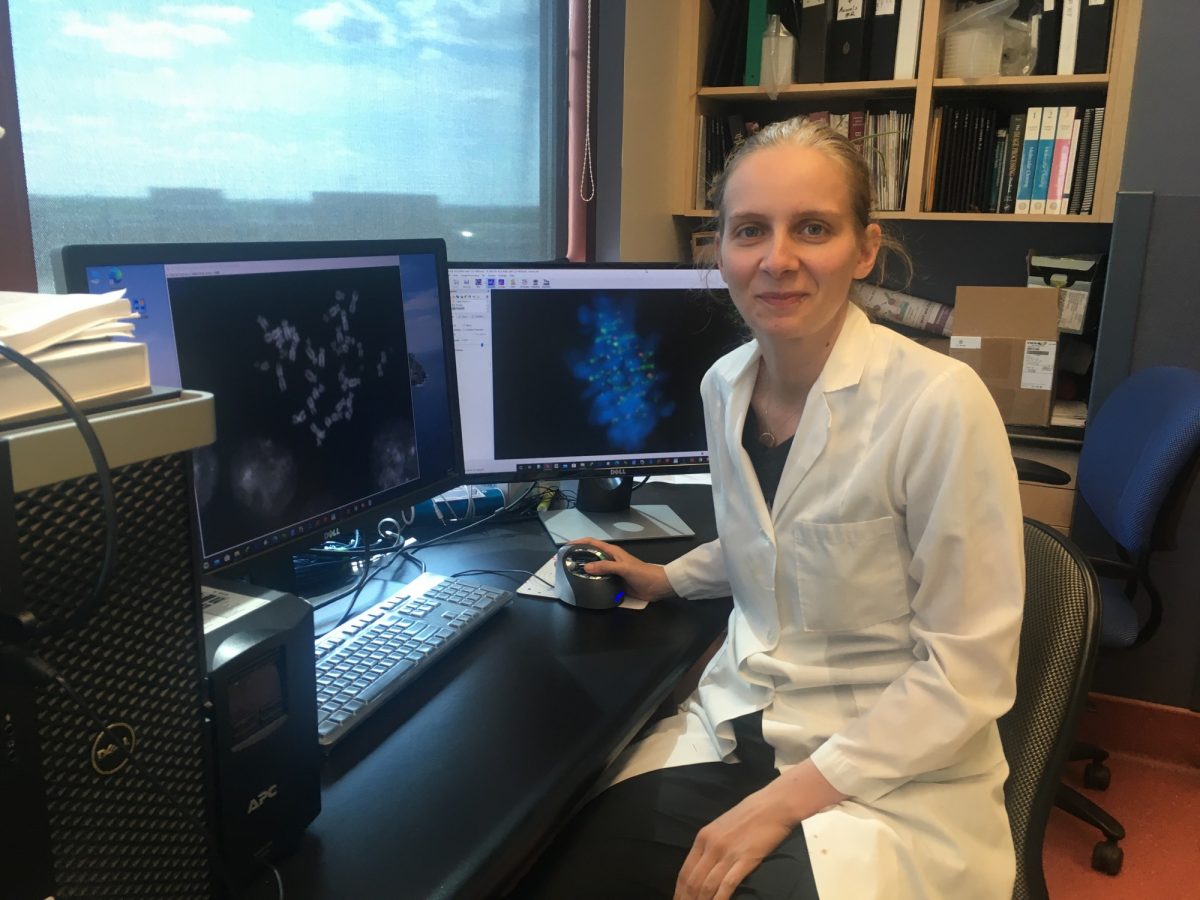 UM finalist moves on to French thesis competition final
Watch Ma Thèse en 180 Secondes, National Finals on Facebook Nov. 19 from 2:30 to 4:30 p.m. CST
November 2, 2020 —
UM students have presented their research in the fast-paced Three-Minute Thesis (3MT) competitions for years, but 2020 is the first year UM held a Manitoba competition entirely in French. UM will be represented at the online national finals on Facebook Nov. 19.
The 3MT and its French equivalent – Ma Thèse en 180 Secondes (MT180) – follow the same rules and format, challenging students to summarize and describe their research in a short, dynamic presentation.
The fifth-year international PhD student who will represent the University at a national research competition in November says romance had a role in her choosing UM for her doctoral studies.
Lucile Jeusset, who is from Bretagne, France, completed her engineering degree in France before embarking on an internship program in the UM department of Chemistry. When she met her future husband on campus, she decided to change her research and do a PhD in the department of biochemistry and medical genetics in the Rady Faculty of Health Sciences at UM instead.
UM Today caught up with Lucile to learn more about her research and to say, "Bonne chance, Lucile!"
Why did you choose to do a PhD at the University of Manitoba?
I did an engineering degree in France and as part of my engineering degree I had the opportunity to do some internships abroad and did one of them at UM in the chemistry department. I enjoyed the research but then I wanted to come back because I met my husband. I changed my research and went into cancer genetics…
Let's talk about your research. What is it about?
I'm working in the field of cancer genetics at Cancer Manitoba. More specifically, we're interested in a phenomenon that's called chromosome instability. Simply speaking, it's that cancer cells, instead of always having 46 chromosomes like all our normal cells, they tend to lose and gain chromosomes. And so for instance if you look at a typical late-stage colorectal cancer cells from those tumours, they can have over 90 chromosomes…double what a normal cell should have. And the problem with that it's not just that it's abnormal, but it drives a more aggressive evolution process for the tumour. That genetic evolution enables a tumour to resist treatment, to regenerate after treatment and metastasize. Ultimately, these changes in chromosomes have poor outcomes for the patients.
What's the ultimate goal of this research for cancer patients?
What we want to do is understand why the numbers are changing in the first place…We want to understand that so that we can better stop that phenomenon and develop better treatments for the patient…My personal project is more in the earlier stages of research. It's still far removed from something that would be applied to the clinic, but that's the end goal; to improve treatment options for patients.
What made you interested in doing this research in the first place?
I was looking at the different research I was proposed and I came across Dr. (Kirk) McManus, my supervisor's research and I really liked the concept of altered stability of the chromosomes…. I really like the idea of mitosis in normal cell division… normally it's like a choreographed scene where all the chromosomes are migrating to the new cells in a very organized way…And then cancer totally disturbs that that process. I find that fascinating. How did that happen?
How did you manage to boil all this information down into a three-minute presentation?
The first step is make choices. What's the most important? Simplify as well because I can't go into the specifics…All of that is just too much. So it needs to be simplified. In terms of concept, in terms of language, I'm addressing only four elements of my research. I can't talk about everything.
Ma Thèse en 180 Secondes is the first competition of its kind conducted in French. Why do you feel it's important for Manitobans to offer it in French?
There's a lot of international students that speak French…Actually, in the first competition, we were all international students from four different countries….But there's also a large home community. I think it would be great if next year there are some home-grown Francophone Manitobans that participate. I think that would be excellent to showcase as it's a big part of the community.
Did you have a chance to practice in front of friends and relations in France?
I tried with my family on Skype mostly because they were in France. It was my parents and my grandfather. I tried the presentation and they gave me a little bit of feedback. It was a good report. Usually they don't understand when I talk about my research so that was nice to be able to share something in French with them.
Could you give us three tips for speaking in public?
You need to take the time to rehearse and practice, and obviously that will make it flow more easily but also give you confidence so you're less shaky and it's really easier… I think something that I have struggled with is that I can be….way too fast and, I think also, too flat. I try to think now more in terms of where I want to put emphasis so that people remember the core messages, and also it holds people's attention for longer…The last idea is really to try to get feedback from friends or colleagues…Really honest feedback can really help you improve.
Lucile Jeusset competed in the UM's MT180 in July 2020. The first place winner was Abdoulaye Diarra, second place was Lucile. The rules stipulate that only PhD students can advance to the Canadian Finals, and as Abdoulaye is a Master's student, Lucile is that challenger. Cheer her on Nov. 19 from 2:30 to 4:30 p.m. CST.