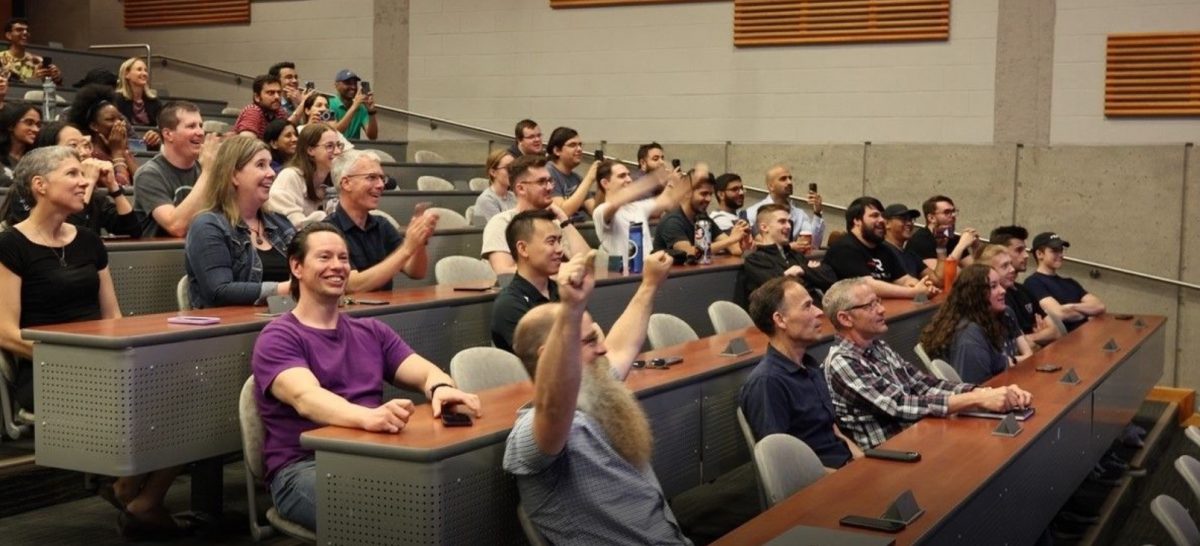 UM CubeSat 'Iris' ready for lift off
Iris launched from Kennedy Space Center on June 5
June 7, 2023 —
The UM Cube Satellite may be small but it's ready to make a big impact.
It launched Monday, June 5 at 11:47 a.m. local time from historic Launchpad 39a at Kennedy Space Center in Cape Canaveral, Florida, and has now docked at the International Space Station, where it is tentatively scheduled to be deployed by astronauts on July 1.
Once it enters orbit, Iris will begin its mission of studying space weathering and providing a technology demonstration platform.
The satellite project, led by engineering students in the Space Technology and Advanced Research Laboratory (STARLab) isn't much bigger than a 2-litre milk carton, but it could unlock the mysteries of asteroids, meteorites and the moon.
"This project builds on a long-standing partnership between my research lab (the STARLab) and Magellan Aerospace, which embeds University researchers with professional space systems engineers in a world-class satellite integration ASIF (Advanced Satellite Integration Facility) at Magellan," says Philip Ferguson, professor of mechanical engineering with the Price Faculty of Engineering and project lead.
This is the first time a UM design has been selected by the Canadian Space Agency (CSA) for deployment to the International Space Station since it began its CubeSat project in 2018. The goal is to give post-secondary institutions from each province and territory the opportunity for their students to take part in a real space mission by designing, building, launching, and operating their own miniature satellite.
"It feels great to see that the project that we spent years on finally ready to go to space. Knowing that a piece of hardware that was designed, made, and tested by me and my colleagues is going to be orbiting the Earth for the next couple of years is surreal," says Aref Asgari, second-year M.Sc. M.E., student. "I feel very grateful that I had the opportunity to work on this project as an international master's student, and I'm very proud of our team for making it this far."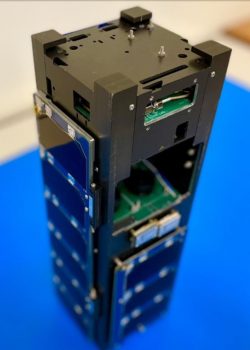 The satellite will collect information on how space conditions affect the composition of asteroids and the Moon. Data from the satellite will be beamed back to the UM campus so that researchers here and at the CSA can better understand how changes in asteroid composition affects their cousins, meteorites.
The CubeSat may also give further insight into how asteroids form in the first place. It also speaks to the kind of innovative research happening at UM.
"We are proud to see the UM CubeSat project move forward for deployment by the Canadian Space Agency in the near future," said Dr. B. Mario Pinto, Vice President (Research and International) at the University of Manitoba. "This innovative project will help build our collective understanding of the origins of asteroids and meteorites while positioning UM as a leader in space science research excellence."
Ferguson says this research project is an example of how UM creates a path for success for students and faculty working in research while demonstrating how investigation and studies being done in Manitoba can have a global impact.
"When you combine expert mentorship from the Canadian Space Agency and interdisciplinary collaborations with other Universities across Canada, the research and training environment these students are exposed to is nothing short of transformational for both them and the Canadian space sector," adds Ferguson.
Andrew Bowman, a first-year Master of Science student, says it also showcases Manitoba as a place of innovation in the in the space industry.
"A lot of people don't really imagine the Prairies as having much to do with space, but this project alone, proves them wrong. I think no small part of this comes from the diversity and inclusion we see at the University of Manitoba and in STAR Lab. The team combines many diverse backgrounds and heritages into one of the most innovative groups I've worked with."
The UM team collaborated with York University, the University of Winnipeg, Interlake School Division, and Magellan Aerospace on a variety of aspects of its development and functions.
"Cross-collaboration is essential. Each of our institutions and students bring complementary experience into the project," says Ed Cloutis, Professor of Geography and Director for Terrestrial and Planetary Exploration at University of Winnipeg. His team helped design and build the payload for the project. "This mission is very much a marriage between geology and engineering. It's been a real pleasure and privilege to work with the team at U of M to turn this vision into a reality."
The collaboration was equally exciting for aspiring young engineers and scientists in the Interlake School Division where Grade 8 students built and tested the CubeSat's onboard gnomon, the calibrated sundial used on space missions to independently measure the direction of the sun in space. The students also named the UM CubeSat, 'Iris'.
"There's good science being done in many labs. What really matters is the people who are driven to do good work while following their dreams. Success can be had anywhere in any field. I hope others are inspired to step into the fields they love," says Jesse Ward, third-year, M.Sc. M.E. student.
The satellite was integrated with the NanoRacks deployment system at the Canadian Space Agency in St. Hubert, Quebec during the week of March 27, 2023, and then shipped to Cape Canaveral, Florida for integration with a SpaceX Falcon 9 rocket, Dragon capsule for launch in early June. It will take a couple of days to reach the space station. Astronauts will eventually mount the deployment mechanism on a robotic arm in one of the airlocks of the space station.
"We're excited for what's next. There is absolutely no substitute for hands-on learning when it comes to space systems engineering. While we in academia do our best to train students on satellite guidance systems, power systems, avionics, and structures, the experience these students gain by mixing their individual research projects with real satellite engineering is second to none," adds Ferguson.
The team expects the "first contact" to happen sometime in July or August. After that, the satellite will operate for approximately one to three years, until its orbit eventually decays, and it burns up in the Earth's atmosphere.