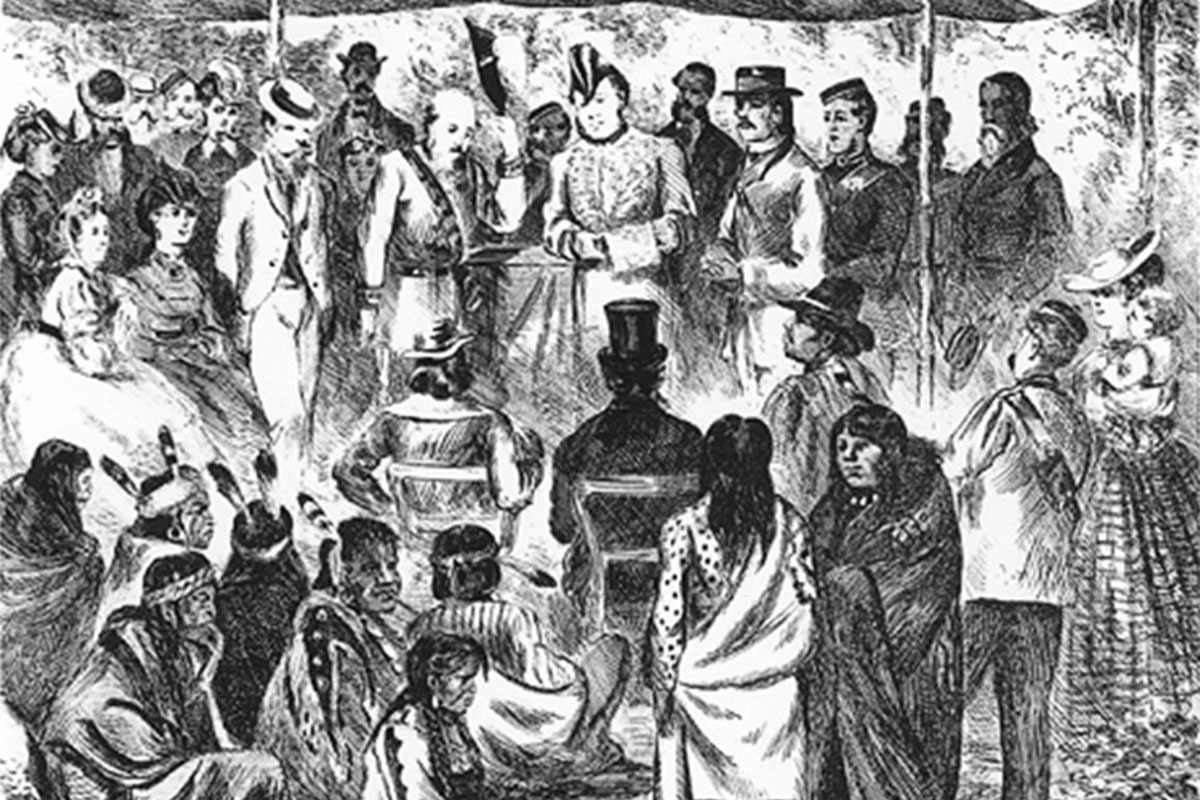 UM commemorates 150th anniversaries of Treaty 1 and Treaty 2
The year 2021 marks the 150th anniversaries of the signings of Treaty No. 1 and Treaty No. 2 on Aug. 3 and Aug. 21, respectively.
Treaty No. 1 was the first of 11 treaties that established Western Canada. Situated in Treaty 1 territories, the University of Manitoba and National Centre for Truth and Reconciliation (NCTR) are organizing a number of initiatives to recognize the anniversary, its significance and the unfinished business of the treaties.
"The Treaty No. 1 and Treaty No. 2 anniversaries mark significant historical occasions in the land now called Manitoba," says UM President and Vice-Chancellor Dr. Michael Benarroch. "UM supports the success of our entire province – and we are all treaty people. I encourage everyone to take the time to reflect on the treaties and Indigenous histories, as we look ahead to future generations and work together with all nations to continue to advance Reconciliation."
There are a number of resources available to learn more about the treaties and Indigenous histories, including the Truth and Reconciliation Commission's 94 Calls to Action. The Indigenous community at UM also recently compiled a list of media by Indigenous creators.
Treaty 1 anniversary events at UM and NCTR
– On July 30, UM will raise a Treaty No. 1 flag at Fort Garry campus to commemorate this important milestone. The flag will be a permanent fixture on campus as a reminder that we are situated on Treaty 1 territory. It will fly between the flags of Canada, Manitoba, the Métis Nation, the University of Manitoba and the Pride flag.
The Treaty No. 1 flag represents the seven First Nation communities—Baaskaandibewiziibiing (Brokenhead Ojibway Nation), Zaagiing (Sagkeeng First Nation), Gaa-ginooshkodeyaag (Long Plain First Nation), Oshki-ishkonigan (Peguis First Nation), Okwewanashko-ziibiing (Roseau River Anishinaabe First Nation), Gaa-wiikwedaawangaag (Sandy Bay Ojibway First Nation), and Gaa-biskigamaag (Swan Lake First Nation)—that signed Treaty No. 1 with the Crown, on Aug. 3, 1871.
– As part of its Dialogues series, the NCTR, in partnership with the Office of the Vice-President (Indigenous) at UM, will host: A Discussion on Treaties on Aug. 24 at 12 p.m. on Facebook Live.
– Students from Treaty 1 and Treaty 2 territories will also take over the @umindigenous Instagram account on Aug. 3 and Aug. 21 to share information about their cultures, traditions and the histories of the treaties.
Other learning opportunities
The UM community can also join in the Treaty 1 – 150 commemorative virtual event on Aug. 3, hosted by the Treaty 1 Nation in partnership with Parks Canada and the Treaty Relations Commission of Manitoba. Follow along using hashtag #TreatyOne150 on social media.