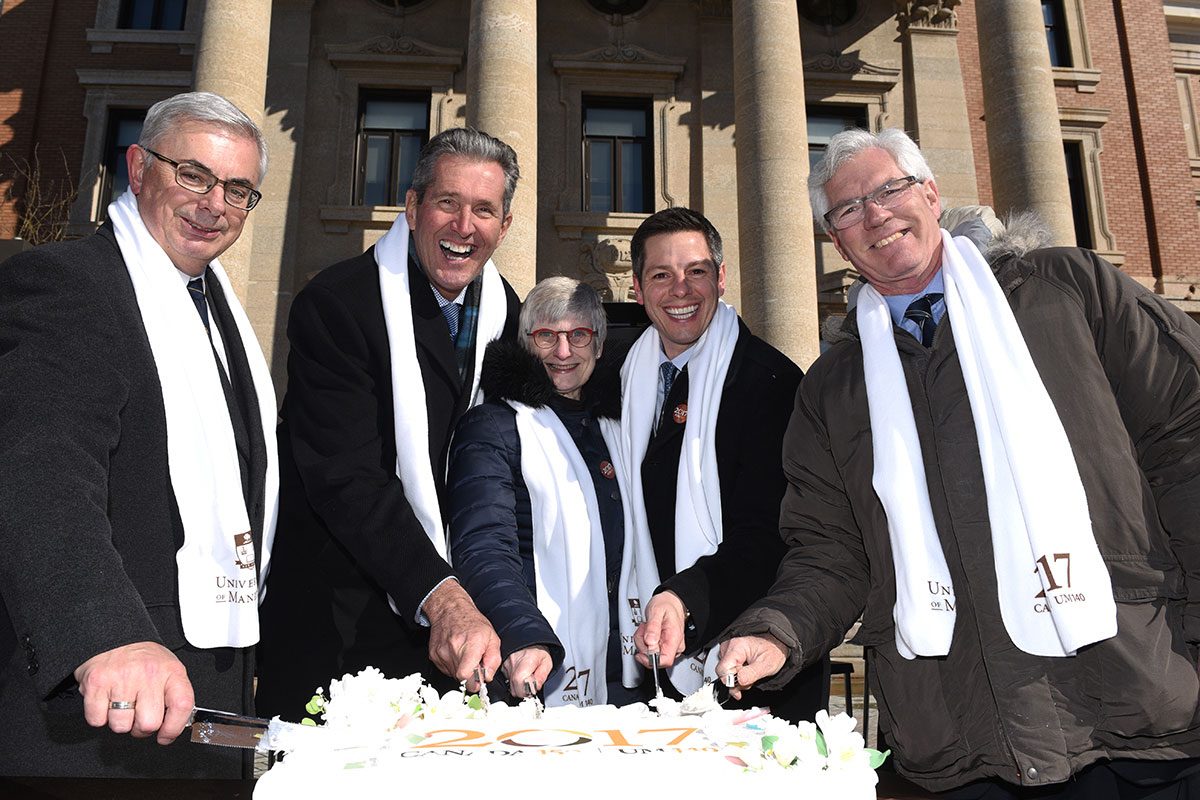 U of M's past, present and future celebrated at 140th anniversary festivities
February 28, 2017 —
Thousands of students, faculty, staff, alumni, retirees, friends and community members came together to celebrate the significance of the University of Manitoba at a 140th birthday celebration on Feb. 28.
A sunrise ceremony at the National Centre for Truth and Reconciliation marked the start of day's events, followed by pancake breakfasts at both the Bannatyne and Fort Garry campuses. A winter festival took place through the afternoon, featuring live bands and DJs and a variety of food and winter activities and games.
The winter festival was kicked off by remarks from President and Vice-Chancellor David Barnard. "I think we can all acknowledge that this institution we love so dearly, that is such a special part of our lives, has had an enduring impact on our community and on communities around the world," he told the crowd.
Alongside President Barnard, Senator Patricia Bovey, federal MP and Minister of Natural Resources Jim Carr, Mayor Brian Bowman and Premier Brian Pallister addressed the crowd.
"This place is in existence and will continue to thrive because it unlocks the potential in people," said Pallister. "It helps people achieve their dreams. It helps them find the real capabilities they have to contribute – not only to their personal well-being, but to the well-being of the people of this planet."
Chair of the University of Manitoba Board of Governors Rennie Zegalski, President of the Graduate Students' Association Enoch A-iyeh, President of the Alumni Association Kim Metcalfe and President of the University of Manitoba Students' Union Tanjit Nagra also spoke on the significance of the U of M's first benefactor – Métis lawyer and scholar Alexander Isbister.
His inspirational act of philanthropy in 1883 gave more than 4,000 books and a significant monetary gift to the university with one remarkably forward-thinking condition – that the university award the money solely based on merit – to deserving students regardless of sex, race, creed, language or nationality.
"Consider that in 1883, many people believed that myself, Enoch and Kim were not suitable candidates for post-secondary education because of our gender or race. Isbister saw it differently, and the University of Manitoba was able to offer scholarships and bursaries to women like me, who might otherwise have been denied the chance at a university education," said Nagra.
Throughout the day on Feb. 28, people had the chance to reflect on the 140th theme of identity – and what the U of M means to them at a video booth in the GSA Lounge.
Many units on campus are celebrating their own anniversaries, including St. John's College, one of the University of Manitoba's founding colleges, which celebrated its 150th.
Mayor Bowman told the crowd that that U of M flags were flying at Winnipeg's historic Portage and Main intersection to mark the 140th anniversary.
"Imagine what is going to be happening 140 years from now – imagine all of the positive changes that are going to continue to come out of this university and its people," said Bowman.
The University of Manitoba is celebrating our 140th anniversary this year, in conjunction with Canada's 150. Follow the conversation and hear more about our history, people and celebration events at #UM140.
To check out social media photos on the 140th, click here.
To see photobooth celebration images, click here.
And for a wide variety of pictures from the celebrations, click here.