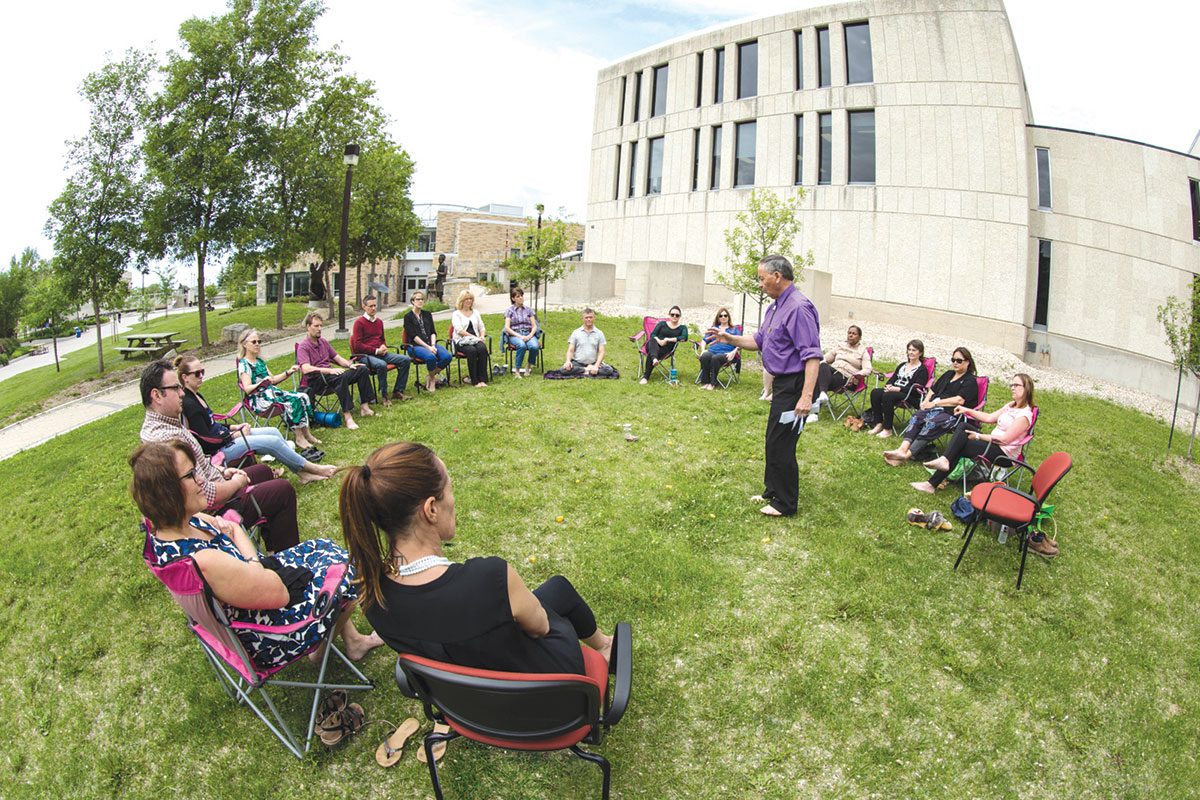 U of M named as one of Manitoba's Top Employers
November 29, 2017 —
Greg Juliano loves the story about the caretaker at NASA who was asked what he did for a living.
"I helped put a man on the moon," the caretaker replied.
Juliano, who serves as the University of Manitoba's associate vice-president of human resources, believes that same spirit of working towards a common goal exists in spades at the province's largest post-secondary institution.
"It's a unique employer in the sense that you really feel like you're working for a purpose," Juliano says. "The education and research missions of the University are so important for our young people and for the economic health of the province. What we try to do is create an atmosphere where everyone—from professor to caretaker—truly feels like they are contributing to that mission in some way."
That is just one of the reasons why the University of Manitoba has landed on Manitoba's Top Employers list. The institution—celebrating its 140th anniversary this year as the oldest university in western Canada—places great priority on ensuring its faculty and staff are not only challenged and satisfied professionally, but healthy as well. It's no wonder there are so many long-term employees like Sandra Woloschuk, associate director of learning and organizational development, who recently celebrated her 20th anniversary at the University.
"One of the advantages of working in such a large and complex organization is that you have the opportunity to advance to different positions," Woloschuk says. "It's an opportunity to learn a new job but also learn more about the organization. I have been here 20 years and I'm in my fourth role."
The University supports employees through programs like Live Well @ Work, which was created to acknowledge the 'whole selves' that staff and faculty bring to work each day. It focuses on mental, physical, emotional and spiritual health, and it has its own dedicated week of activities on both the Fort Garry and Bannatyne campuses.
In addition to supporting the health of over 9,000 staff members, the University continually seeks to improve resources for their families. "We have very good employee and family assistance programs that cover everything from nutritional counselling to legal help," says Juliano, who has worked at the University for 11 years. The U of M has an on-site pharmacy, dental centre and childcare services. This past October, the campus daycare broke new ground for an expansion that will provide an additional 52 spaces when completed.
Committed to providing education and development opportunities for staff, more than 125 workshops are available for professional development—10 of which are included in the Leaders Learning Program.
"It was developed to provide a collegial space for our leaders to continue to learn and develop their interpersonal skills," Woloschuk says. "We cover emotional intelligence, social intelligence, building resiliency and leading high performance teams—and even how to coach others through change."
The concept of celebrating the 'whole selves' of employees is reflected in many of these resources, as well as the University's commitment to diversity, inclusion and community engagement. Recognized with a 2017 Canada's Best Diversity Employers award, the University is also a leading partner in national Indigenous reconciliation efforts.
This November, the U of M hosted the annual Building Reconciliation forum, which brings together leaders from universities, colleges and Indigenous communities to take action on reconciliation and create lasting change. Working with partners and communities to advance Indigenous achievement, the University also offers many Indigenous-focused programs and opportunities, such as the BMO Financial Group Indigenous Leaders of Tomorrow scholarship.
Peter Pomart, who is the program director of the Indigenous Business Education Partners (IBEP) in the Asper School of Business, is seeing positive results.
"I see the role of the work we do being able to help foster reconciliation," Pomart says—noting how Indigenous-focused programs such as the IBEP strengthen both the University community and bridge connections with the community-at-large.
For Woloschuk, this only reinforces the U of M's commitment to creating an outstanding learning and working environment for its entire community of students, faculty and staff.
"I have really enjoyed my time in the organization," she says. "I hope to spend the rest of my career here."