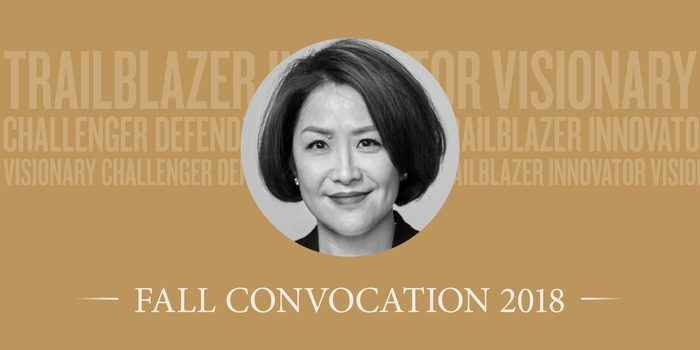 U of M grad, business leader and international philanthropist to receive honorary degree
Ms. Esther Suen inspires the next generation
October 9, 2018 —
Each year, the University of Manitoba bestows honorary degrees upon individuals who have achieved preeminence in the advancement of culture, communications, education, administration, scholarship, leadership, philanthropy, mentorship and business.
During the 51st annual Fall Convocation of the University of Manitoba on October 16, 2018, an honorary degree will be awarded to a business leader and philanthropist who inspires the next generation:
Esther Suen Chi Lan
B.Comm.(Hons.)(Man.); Honorary Fellow (Hong Kong)
Ms. Esther Suen transformed her family's business into one of the world's leading suppliers of high-end electrical appliances, while furthering its legacy of international philanthropy.
Raised among the skyscrapers of Hong Kong, Ms. Suen moved to the Canadian prairies at age 17, eager to study business at the University of Manitoba.
As a student here, she quickly realized that learning about a culture different from her own was as much of an education as her lessons in the classroom. This new global awareness would shape her way of thinking, in life and in business, from that point forward.
She returned to Hong Kong in 1985 with her Bachelor of Commerce (Honours) degree, and soon joined Simatelex Manufactory Company Ltd., founded by her father, Suen Chi Sun.
Since taking over as vice-chair and managing director two decades ago, Ms. Suen has guided Simatelex through a period of tremendous growth. She has greatly expanded the company's product lines, from kitchen appliances to floor care and robotic products for the global market.
What began as a small factory in 1969 is now a top manufacturer with five plants in southern China and 20,000 employees. The company produces 20 million products a year for some of the world's biggest brands such as Keurig, Cuisinart, Philips, Nespresso and Breville.
While expanding, modernizing and reshaping operations, she remains true to her father's core principles of quality, integrity and attention to detail.
She also honors her family's strong commitment to the community. Through the Simatelex Charitable Foundation, she supports a wide range of causes related to higher education, medical research, emergency relief and the arts.
Ms. Suen has never forgotten the value of her experience at the University of Manitoba. To give others this opportunity, she supports an exchange program for international students enrolled at her alma mater.
Ms. Suen also champions the Hong Kong Polytechnic University and the University of Hong Kong through contributions toward endowed professorship, dormitory development and student scholarships. She has made donations to support schools for underprivileged students as well as those with accessibility requirements.
In recognition of her gifts to academia and the wider community, the University of Hong Kong named Ms. Suen an honorary fellow in 2008.
The University of Manitoba is proud to award a Doctor of Laws, honoris causa, to Ms. Esther Suen, an extraordinary entrepreneur and philanthropist.
Tuesday, October 16, 2018, 3:30 p.m.