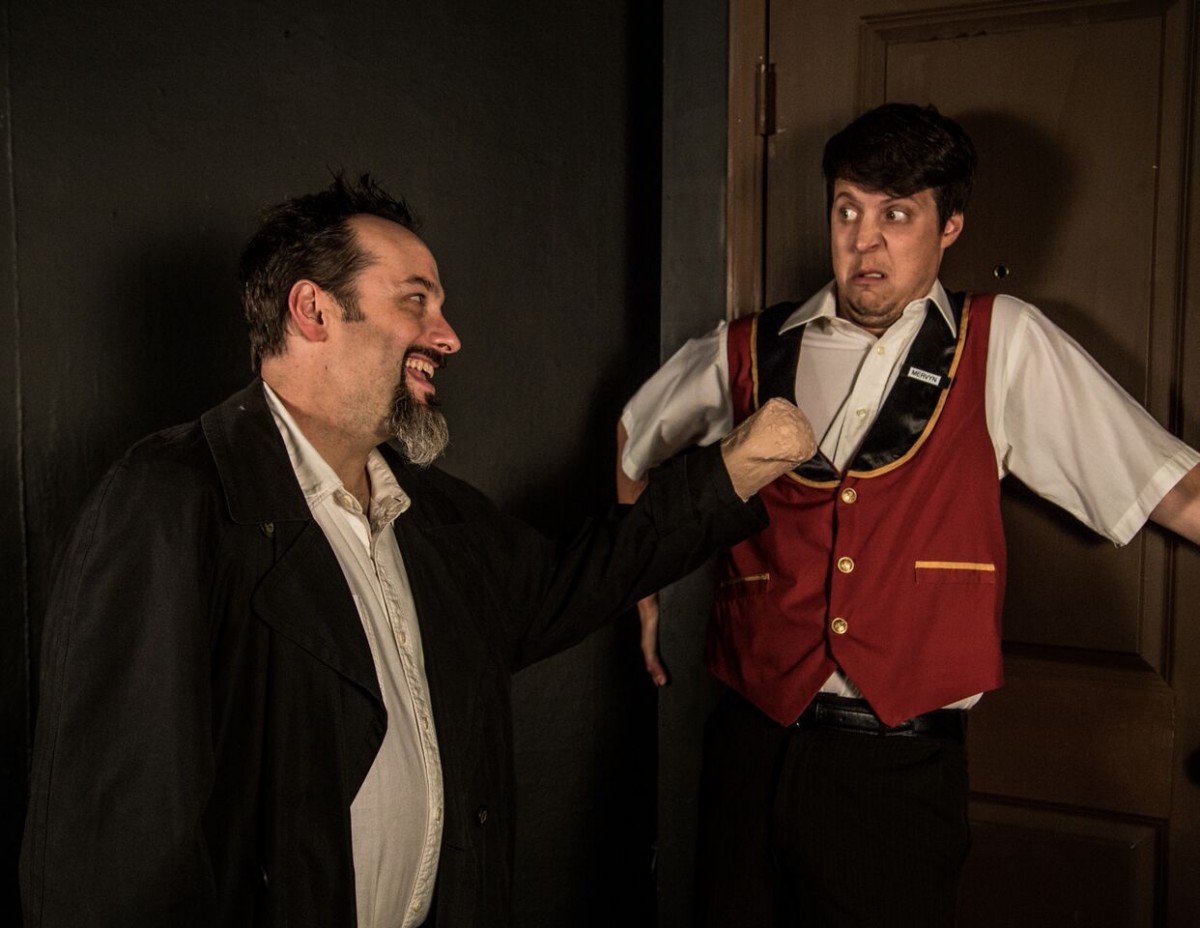 U of M at The Fringe
Students, faculty, staff and alumni part of the 2015 Winnipeg Fringe Theatre Festival
July 13, 2015 —
The 2015 Winnipeg Fringe Theatre Festival gets under way July 15 through 26. Many University of Manitoba students, faculty, staff and alumni are taking part in shows.
Alumna Kelly Rae Jenken is directing A Behanding In Spokane. The cast of Winnipeg talent includes Associate Professor Bill Kerr as the relentless Carmichael. Ray Strachan and Chaire Thérèse play a clueless criminal couple. Paul Duncan plays a hotel clerk. All three are alumni of the University of Manitoba.
The show takes place at Venue 17, PTE Colin Jackson Studio (3rd floor, Portage Place, 393 Portage Avenue).
More shows with University of Manitoba connections include:
How to Talk to Human Beings: Written & Directed by alumna Frances Koncan.
Disco Pigs: Directed by Professor Bill Kerr Featuring: current student Dan Grant & alumna Megan Andres
From Broadway to Obscurity: stage managed by current student Brooke Pluta
Tape: produced by The 28th Minute, Directed by Ivan Henwood, Featuring Kevin Ramberran, Justin Fry, Natashia Durand, Stage Managed by Winson Ta (all alumni)
Central Park West: Directed by Margaret Fergusson, Featuring Mark Finnbogason, Tasha Roth, Sarah Putnam, Daniel Tompkins, Sydney Wiebe, Stage Managed by Kat Petrash (all current students unless they graduated and didn't tell me!)
Who Killed the Applebottoms: features Lindsay Bodnar (current student)
H.U.N.K.S. : alumni Tim Grey and Dana Smith are part of this ensemble.
Eurydice: Directed by Jeff Homer, Stage managed by Kaleigh Osadick, Designs by Lauren Gowler, Featuring Laurie MacDonell, Nicholas Groulx, Ian Bastin, Logan Stefanson, Kai Chochinov, & Kerensa Peters (all current student or alumni)
Circle Mirror Transformation: Directed by Professor George Toles, Featuring alumni Daniel Chen, Heather Roberts, & Caitlin Belton, Stage Managed by alumni Erin Thorleifson & Laurie MacDonell
A Beautiful View produced by Snakeskin Jacket, Directed by Jane Walker, Featuring Kerri Woloszyn Original Music by THE MARIACHI GHOST (all alumni)
Die! Shakespeare! Die! Written by and featuring alumna Leigh-Anne Kehler
Turned! features alumnus Luke Cecelon
Parking Lots Paved Paradise also features alumnus Luke Cecelon
The Mystery of Krummhorn Castle: Book, Music, Lyrics & Musical Direction by alumnus Joseph Aragon
Just Ed. features alumnus Leith Clark
Pulling Pints is directed by alumnus Leith Clark
The Birdcage is stagemanaged by alumnus Matthew Lagace
Biggest Little Child Star features current student Sarah Jane Martin
Fringe Staff include many alumni including Chuck McEwan (Festival Producer), Garrett Rusnak, Ainza Beillefuille, Karen Schellenberg (venue techs), Ray Strachan (site supervisor), Tim Webster (Kids Fringe).
For show times, ticket and venue information, visit the Winnipeg Fringe Theatre Festival website.
See a show that has ties to the University of Manitoba that isn't listed here? E-mail chris [dot] reid [at] umanitoba [dot] ca and we will add it.