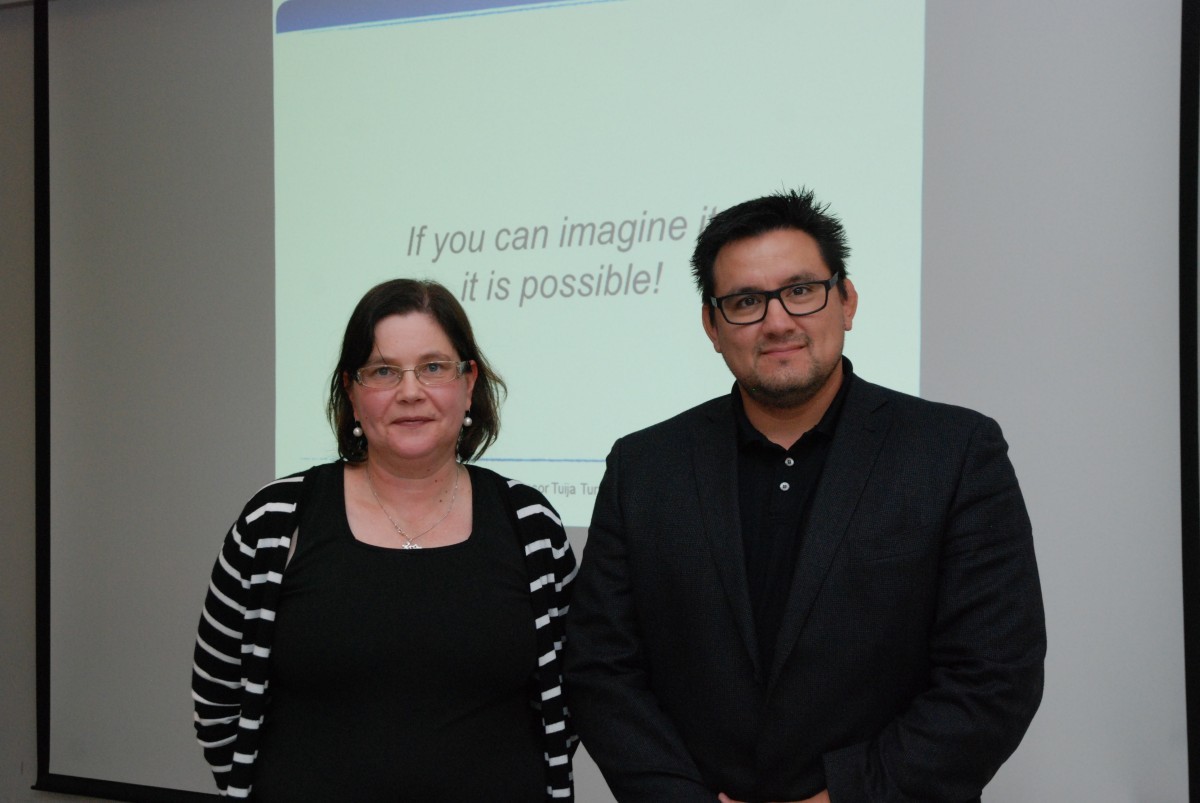 U of Arctic Network working to 'enhance teacher education' in the Arctic region, says visiting scholar
'Teacher education is the basis for everything' says Finnish professor
November 10, 2015 —
The Finnish education system has many similarities to the Canadian system, including a focus on research, Tuija Turunen, a visiting scholar from the University of Lapland, Finland, told faculty and staff during a recent lunch and learn session.
The University of Lapland is five kilometres from the Arctic Circle, and Turunen works as a professor in primary school teacher education there.
"Research is an important part of both the bachelor's and master's levels" at the university, she noted.
Turunen spoke about the fact that the university has some challenges related to its remoteness, including a sparse population, long distances and long commutes for students. It also maintains a strong focus on Indigenous education.
Online courses are becoming the norm in Finland, said Turunen, because many students live in remote areas where travel to a university might is difficult.
"I like to think that if we can imagine it, it is possible."
While she was at the U of M, she also spent time meeting with Frank Deer, director of the Faculty of Education's Office of Indigenous Initiatives, as both are part of the University of the Arctic Network.
The University of the Arctic Network is a network of universities and colleges based in the circumpolar region which promote education and research in the north and among indigenous peoples. Members include universities and colleges in Canada, Denmark/Greenland, Finland, Iceland, Norway, Russia, Sweden, the United States and the United Kingdom. Turunen is also chair of the University of Arctic's Thematic Network on Teacher Education for Social Justice and Equality. Her research interests include transition to school and curriculum in early years.
The network "aims to enhance teacher education for equality and social justice of the Arctic region," said Turunen.
"We are very proud of that," she said of the network. "In my opinion, teacher education is at the basis for everything."
One of the things the network is doing is trying to "design education available for all." That includes things like flexible learning, e-learning, online courses, etc.
Turunen said she is teaching an increasing number of online courses and lectures to students as far away as England. "We are gradually getting there."
The U of Arctic Network is also promoting student exchanges, in order for students to come to the north to learn about Indigenous culture and environmental issues in the North.
In her presentation, Turunen also noted the refugee crisis in Europe is having an effect on the education system and educators are being challenged to make some changes to their current curriculum to accept these young people.