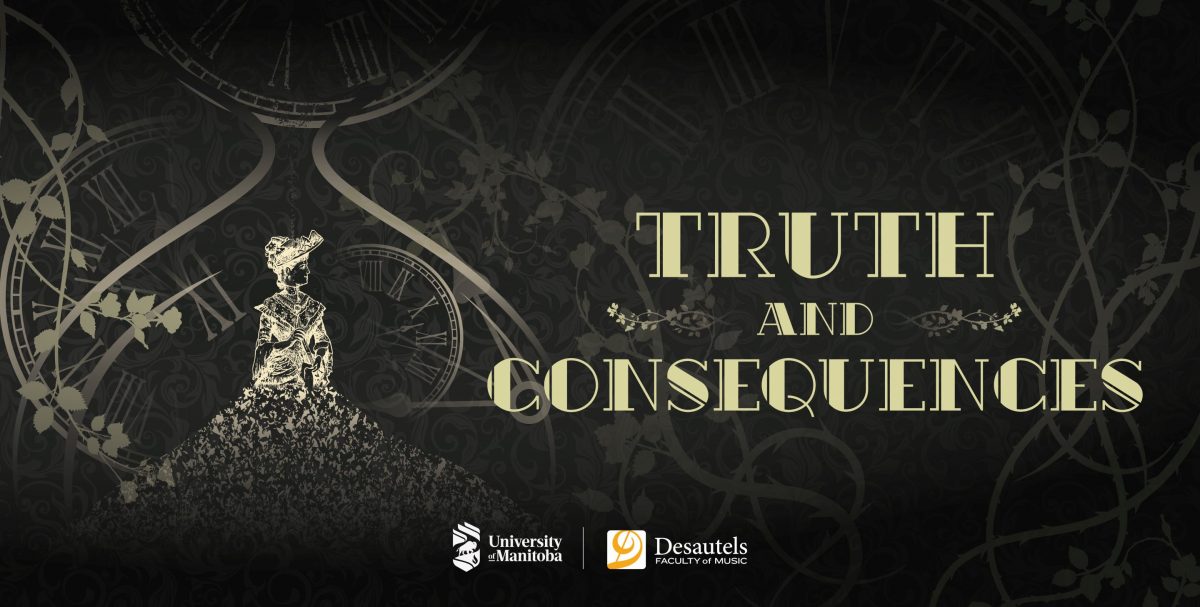 Be prepared for the truth – and the resulting consequences!
The University of Manitoba Opera Theatre ensemble returns to the stage to air dirty laundry with "Truth and Consequences"
February 14, 2023 —
Event: The University of Manitoba Opera Theatre presents Truth and Consequences
Dates: February 16 & 17, 2023
Time: 7:30pm
Location: Gas Station Arts Centre, 445 River Ave., Unit #2, Winnipeg, Manitoba
Tickets: $20 for general admission, $12 for students, at the door or online at eventbrite February 16 and February 17.
The day of reckoning is upon us. In a time when accountability and the consequences of one's actions are in the headlines on a daily basis, many of us are sitting back in our seats with a tub of popcorn thinking "Ooh, they're really gonna get it, now."
While these sorts of situations feel very contemporary, they are nothing new, and in the pre-internet ages, people got their doses of schadenfreude from plays and operas that recounted a character's misdeeds and misfortunes.
The University of Manitoba Opera Theatre will be bringing back old-school drama in this week's production of "Truth and Consequences," a collection of operatic scenes taken from operas that pulled back the veil on scandals in the 18th through 20th centuries!
Truth and Consequences is guest-directed by Erin McGrath, the Artistic Director of Winnipeg Studio Theatre (WST), a company whose mission is to create a bridge to showcase the talents of new artist as they begin their professional careers.
"I have been delighted over the past year and a half or so to see more and more students from the University of Manitoba Opera program submitting for auditions with our local theatres," says McGrath, who is filling the very big shoes of Katherine Twaddle, the Desautels Faculty of Music's Opera Studies Coordinator while she is on research leave.
"It has been such a delight and privilege for me to get to know [the students] better and be awed by their skills, as it is a part of my mandate to bring new artists to Winnipeg's professional theatre stages," she says.
While the WST has historically focused on musical theatre, this recent collaboration with the Desautels Faculty of Music has led the company to explore more ways to include opera repertoire in their career development goals.
"I am hoping that during my tenure at WST I will be able to broaden our ability to nurture new artists from a range of disciplines including opera and I think this has been a great steppingstone in that direction," says McGrath of her experience in the faculty.
L'enfant et les sortilèges
Starting off the night is a scene from Maurice Ravel's L'enfant et les sortilèges (1925), in which a petulant child (Isla Shea) is sent to his room by his mother, and takes out his rage about the situation on his toys (Sonia Campbell, Luz Thiele Meza, Katherine Mayba, and Isabel Friesen). Imagine the boy's surprise when his toys come to life to teach him a lesson!
Idomeneo
Next up on the docket is W.A. Mozart's Idomeneo, Mozart's opera seria about the king of Crete (Ian Olson). Idomeneo's son Idamante, the prince of Crete (Chloé Thiessen), has fallen in love with one of the Trojan prisoners who just happens to be Princess Ilia (Rebecca Oliviera), the daughter of Idomeneo's vanquished enemy, the king of Troy. The forbidden couple's love is discovered, and Elletra, princess of Argos (Brenna Jacobson), who is also vying for Idamante's love, vows to exact revenge on Ilia for stealing her man. Complicating matters further are an ill-fated deal with the devil that King Idomeneo made to save his own life at sea, which might cost him his son's life.
The Ballad of Baby Doe
In more recent indignities, Douglas Moore's The Ballad of Baby Doe (1956) recounts a true story from the wild west in the late 1800s. Horace Tabor (Dariyan Dubik), a wealthy silver mine owner who had designs on becoming a politician, and his wife Augusta (Ashley Schneberger) lived a life of luxury in Leadville, Colorado. However, Horace scandalized the community when he had an affair with divorcée Elizabeth "Baby" Doe (Alice MacGregor). A divorcée!
"At this point in the opera he is an extremely wealthy man and owns many buildings, businesses and is wanting to go into politics," says Desautels Faculty of Music instructor Tracy Dahl.
"A divorce would not be good for him," she explains of the era.
While Horace and Baby confess their feelings for one another, Augusta's friends observe the exchange.
"In the second scene, Augusta's friends are trying to convince her to take down Horace. Stop him, it is dangerous for all women in town if he can get away with this type of behavior," explains Dahl.
"Rumour and innuendo push Augusta into a rage and she declares she 'will make him rue the day he was ever born,'" Dahl adds.
"Our production of The Ballad of Baby Doe is directed by Tracy Dahl, who is well-known for her interpretation of the title role," explains stage manager Deena Grier.
"It is a unique circumstance for a director to know a production so well, both as a singer and interpreter while staging the work," Grier says.
"Performing the title role for our excerpt will be soprano Alice Macgregor, who is a student of Tracy's, and again that creates a unique bond of passing on the baton, as it were, from one performer to the next," Grier says.
La finta giardiniera
Again the University of Manitoba Opera Theatre revisits W.A. Mozart, this time in La finta giardiniera (1775), a story about a wealthy couple, Marchioness Violante Onesti (Amanda Na) and Contino Belfiore (Lorenz Sarrondo), who should really consider either intensive couples therapy or a restraining order against each other. After recovering from a gruesome fight with Belfiore, the marchioness and her faithful servant Roberto (Caleb Rondeau) disguise themselves as gardeners Sandrina and Nardo, respectively, and go to work for the town's mayor, Il Podestà (Evan Glazier). They discover that Belfiore has become engaged to the mayor's niece, Arminda (Sofia Escamilla). When Belfiore admits to lingering feelings for his ex-lover, Arminda absconds with Sandrina and imprisons her in the woods. To complicate things further, Il Podestà is in love with Sandrina, Nardo is in love with the mayor's servant, Serpetta (Felicia Wilson), and Serpetta is in love with Il Podestà. To add to the chaos, a young knight, Cavalier Ramiro, arrives in town to win over Arminda, the woman he loves. If you've ever wondered how soap operas got their name and inspiration, this opera should shed a little light on the mystery!
Die Fledermaus
Last but not least is Johann Strauss' Die Fledermaus (1874), a farcical comic opera. Have you ever gone to a costume party dressed as a bat, had a bit too much to drink, and then found that your friend who was supposed to see you home safely has abandoned you ridiculously attired in the street? Well, then, this story is for you!
Die Fledermaus, sometimes translated as "The Revenge of the Bat," follows the story of said bat, Dr. Falke (Lukas Sawatsky), as he finally attempts to get revenge on the friend, Gabriel von Eisenstein (Ian Olson) who left him embarrassed and drunk in the street, several years later.
"In our production, the dialogue is entirely in English, and the singing is a mishmash of English and German text – very much in the style of spoken Franglais," says Grier.
"Lukas himself rewrote a portion of the sung text to create a unique modern interpretation of the work for our production," she says.
"Lukas is fluent in both English and German – he was an excellent choice to focus on this!" she adds.
Eisenstein is in trouble. He owes debts that he can't pay, and he is slated to spend time in jail for assaulting a policeman. Little does he know that his dear friend Falke has set all these events in motion, part of his revenge for Eisenstein embarrassing him at the earlier costume party. Rosalinda (Amanda Smith), Eisenstein's wife, while being wooed by former lover Alfred (Carlos Álvarez), must also deal with Adele (Hannah Orr), a somewhat willful maid who is trying her best to get the night off. Adele wants to go to a party, also orchestrated by Falke. Meanwhile, Eisenstein rages at his lawyer Dr. Blind (Evan Glazier) for not being able to get him out of trouble like he usually does. Rosalinda does her best to calm the situation. Falke arrives and proceeds to "cheer up" Eisenstein with an audacious plan. When Falke leaves, the "Farewell" trio ensues between Rosalinda, Eisenstein, and Adele. Oh, the sweetness of a well-planned revenge!
This collection of scenes marks the triumphant return of the University of Manitoba Opera Theatre, which in recent years saw its productions cancelled, filmed without an audience, or limited to select audiences during COVID-19. The ensemble is thrilled to be performing for a full audience again!
"We hear it's always better to tell the truth, but we must also be ready to face the consequences of that admission," says Grier.
Break out the popcorn, because consequences abound in this two-night romp through the scandals of yore!