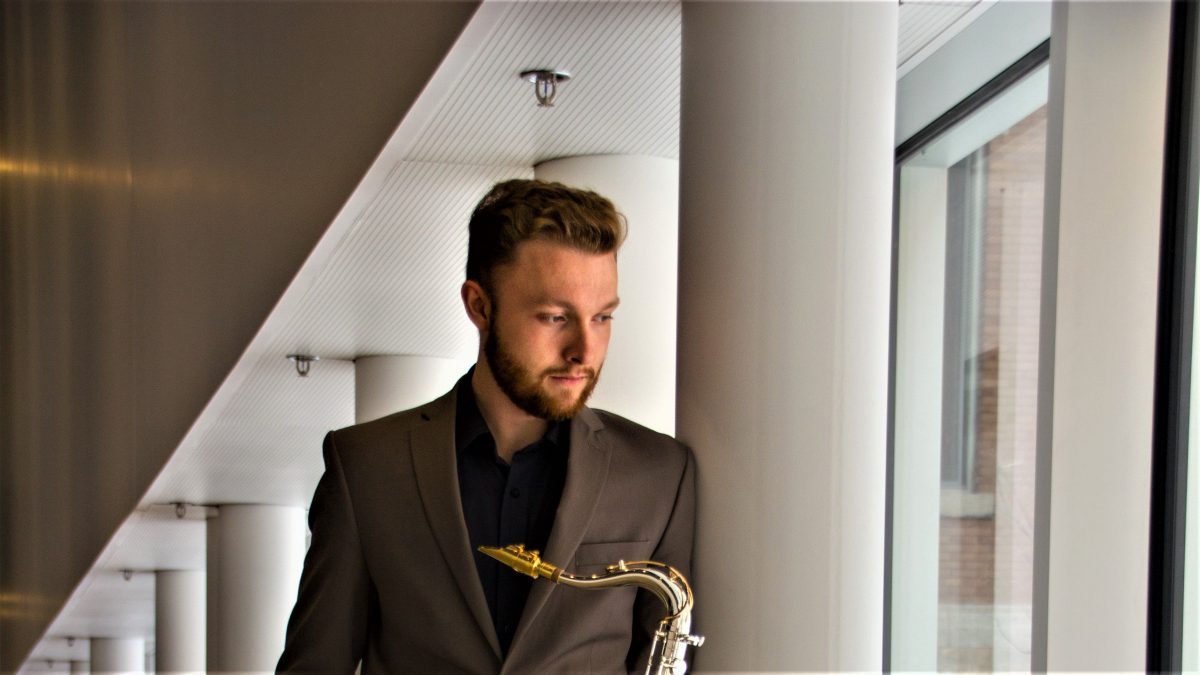 Tristan Martinuson scores with his original score Juniper
Desautels Faculty of Music Student Tristan Martinuson to premiere his original composition at the University of Manitoba Jazz Orchestra spring concert.
April 9, 2019 —
Those attending the University of Manitoba Jazz Orchestra's (UMJO) spring performance this Thursday will likely recognize many of the names of the composers in the program: Thad Jones, Quincey Jones, and Johnny Mercer, just to name a few. However, there is one composer name in the program that will be relatively new and unfamiliar to audiences: Tristan Martinuson.
Learn and remember that name, because it will surely continue to pop up in professional jazz circles.
Tristan Martinuson is a fourth-year student in the Desautels Faculty of Music's Jazz Studies program, and his original composition and arrangement Juniper will be premiering at this Thursday's concert. While he is now making a name for himself as a musical force to be reckoned with, he began his musical journey only nine years ago.
"I started playing tenor saxophone at age 13," he says. "The instrument just seemed to gravitate towards me, and I fell in love with the rich sound."
Fast-forward five years, and Martinuson found himself auditioning for the Desautels Faculty of Music.
"I chose to become a jazz student at the U of M because of Jon Gordon [associate professor of jazz saxophone]," says Martinuson. "I met him at my audition. He was really straightforward and honest about what he expected of me right away."
"I knew that he was going to be a great teacher, and that I wanted to go study under him at the U of M. I am so fortunate to have been in the same place and at the right time to study with such a phenomenal faculty at the U of M," he says.
Martinuson's professors clearly feel the same.
"Tristan is one of the finest and hardest-working students I've ever had," says Jon Gordon. "Along with being an excellent saxophonist and improviser, he's also a terrific composer, and I look forward to hearing his new piece!"
UMJO Director and associate professor of jazz trumpet Derrick Gardner says that he was impressed by Martinuson's growth as a musician.
"Tristan is a very gifted student who came to our jazz studies program with a lot of talent and great potential as a tenor saxophonist," says Gardner. "He has now progressed tremendously into a very fine musician wearing many hats, one of which is composition."
Tristan came up through Gordon's Jazz Composition & Arranging course, who, says Gardner, "is himself a great composer and arranger."
Gordon recommended that Tristan do a year of independent study with Gardner to focus on composition and arranging.
The result? Juniper.
To be clear, Martinuson has not just written a simple melody. He has composed a piece that incorporates seven different instruments, a massive undertaking.
Perhaps that harmony was easy to come by for someone who appears to be a bit of a Renaissance man. In addition to playing tenor saxophone, Martinuson also plays flute, clarinet, bass clarinet, and piano.
Martinuson did not start playing the other instruments until he began his studies in the Desautels Faculty of Music. He said that Gardner had handed him some sheet music that, in addition to the tenor saxophone part, contained sections for flute and clarinet, as well.
"I must've thought there was a mistake," says Martinuson, "but Derrick assured me that it was common for the saxophone players in a big band to be playing multiple woodwind instruments."
And so, Martinuson picked up the other instruments along the way. "It was something I was just thrown into at first, but I really ended up taking a liking to the new instruments and enjoyed making music on things other than saxophone," he says.
"I started writing Juniper around later November 2018, and I was in a groove where I spent quite a few late nights just writing down what I was hearing," says Martinuson. "Juniper in itself is a composition I had written based around a rhythmic motif and melody I'd picked up from one of the rehearsals with the UMJO this past year. It really started coming to me when I sat down at a piano and put harmony and form to what I had heard."
There were some moments where I had difficulty trying to materialize what I wanted in my mind, and [where I heavily weighed whether or not to include] parts where the instrument range and length of playing were complex" he says of the challenges he faced while writing the piece.
However, while he workshopped the piece with Gardner, they left as much of the original idea as untouched as possible.
"Professor Gardner says in his teachings that we can't sacrifice the music that we are hearing for playability," Martinuson says. With this advice ringing in his head, he ultimately decided not to water down the piece. "It may be difficult in some moments for players, but it's nothing a bit of practice can't solve."
Gardner loves that the UMJO inspires his students to compose and present their own pieces.
"The UMJO is steadily becoming a laboratory for new music arranged for the large jazz ensemble," says Gardner. "Members of this ensemble are starting to see how they can work on their own large ensemble projects, thereby sharpening their arranging skills for use as a professional composer/arranger once they have graduated from our jazz studies program."
Martinuson says that arranging the piece was a learning experience for him. "It's something I had done in Professor Gordon's Composition and Arranging class, [and] I have some experience from analyzing big band scores and voicing for sections in a big band, so this was a great opportunity to apply that knowledge."
Juniper features a brass section pitted against a saxophone section with "winding lines and shouts," says Martinuson. This technique was inspired by Thad Jones' Little Pixie.
"I also wrote a quiet ensemble soli section where the entire big band plays at pianissimo level until it gradually explodes into an all-out shout a la [Count] Basie," he says, referring to the famous bandleader and jazz orchestra founder.
Finally, Martinuson was presented with the opportunity to share his composition with the jazz orchestra for the first time.
"I loved the sound and life [that UMJO] brought to my piece," he says, noting the stark difference between the band's rich tone, and the "lifeless, MIDI" sounds he had experienced while composing the piece on Sibelius, a music notation software. "I remember being taken aback that what I had written was coming to life, and having my work heard for the first time."
While Martinuson is excited that UMJO will be playing one of his pieces, he said hearing the band play the piece for the first time also felt like a critique, though he admits that most of that criticism came from himself. Even while playing his own song in rehearsal, Martinuson was making mental notes about how to tweak the chart, and how to troubleshoot the parts that weren't working. He spent many late nights polishing the piece and returning it to the band at rehearsals.
"Every step of the way, it felt like I would come across an obstacle," says Martinuson. "But with the techniques taught by both Jon and Derrick, I was able to overcome some of those issues."
Finally, after months of rehearsal, Martinuson is looking forward to hearing his piece performed in front of an audience, and wouldn't change a thing about the experience.
"I found that the possibilities were pretty vast when working with a big band, and that the combinations of voicings and instruments were endless," he says. "It was that open palette to choose from that I really enjoyed and sparked my creativity the most… It was a really exciting experience and gave me a sense of fulfillment. I couldn't ask for a better orchestra to present my piece!"
The University of Manitoba Jazz Orchestra will be playing Tristan Martinuson's Juniper, and many other pieces at its spring concert, which will take place at 8:00pm on Thursday, April 11, 2019, in the John J. Conklin Theatre within the Gail Asper Performing Arts Hall. Tickets are available at the door and in the Faculty of Music Office, 319 Tache Hall.
You can also catch Tristan at his forthcoming credit recital, which will take place on Friday, April 22, 2019, at 6:00pm in Tache Hall 2, Room 266. The recital will feature more of his original compositions, alongside those of composers Leonard Bernstein, Neil Hefti, and Duke Pearson. His UMJO peers Anna Blackmore (bass clarinet), Anthony Bryson (trombone), Eamon Shiel (alto sax), and Jared Beckstead (bass) will be joining him.