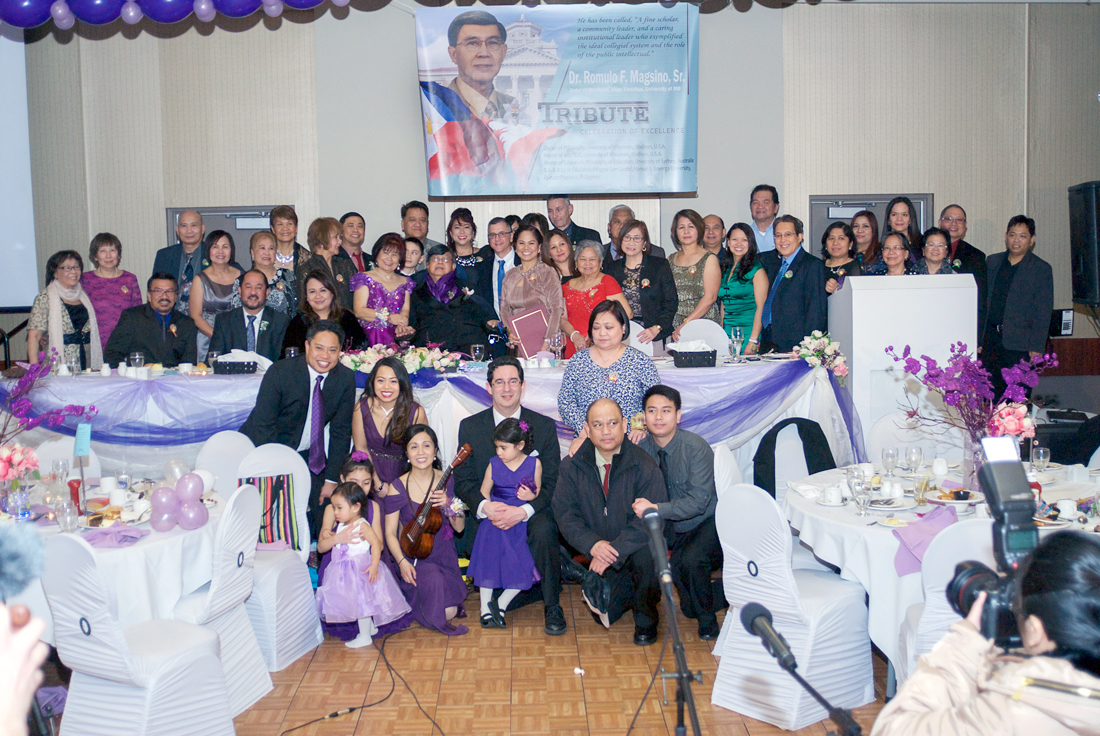 Tribute gala honours former Dean, Faculty of Education
April 7, 2017 —
Dignitaries from various levels of government, business and community leaders, friends and family gathered Saturday, March 18, at the Viscount Gort Hotel to honour Dr. Romulo F. Magsino Sr., Canada's first and only Filipino-Canadian to become the Dean of Education at a major university.
Hosted by the Quezon Province Association of Manitoba, the event featured musical performances by the Magsino grandchildren as well as Dr. Tricia Magsino Barnabé, Dr. Julie Maniate and Maya Barnabé.
Speeches by Dr. David Manzuk, Dean of the Faculty of Education at the University of Manitoba, Dr. Tom Colina, Grand Knight Officer of the Knights of Rizal, and Sen. Tobias Enverga, Jr., all of whom provided wide-ranging insights and stories about Magsino's distinguished career, which included Dean Emeritus at the Faculty of Education.
Educated on three continents and a Rotary International scholar, Dr. Magsino arrived in Canada in 1971 and moved to Winnipeg in 1988. Committed to excellence in higher education, and demonstrating leadership within the Filipino community, Magsino sought to raised awareness of the importance of cultural diversity in Manitoba and the significant role immigrants have served in building the province. As an expert in multiculturalism, immigration and intercultural education, Magsino authored and edited nine books and monographs, published more than 80 articles in various books and journals, authored approximately 80 papers presented at international, national, regional, provincial and district conferences, and authored over 50 papers which were presented at seminars, workshops and lectures.
Over time, his scholarship evolved, but consistently focused on diversity, democracy, multiculturalism, and later on, globalization and cosmopolitanism. In 2006, Philippine President Gloria Macapagal-Arroyo Dr. Magsino presented Magsino with the Pamana ng Pilipino Award from Phi, an award conferred on overseas Filipinos who have brought the country honour and recognition. In 2008, Dr. Magsino was inducted into the Order of Manitoba, as an educator and leader in the Filipino-Canadian Community. He was awarded the Golden Jubilee Award (2002) and Diamond Jubilee Award (2012) by the Lieutenant Governor of Manitoba. He served as president of the associations for Multicultural Education in Newfoundland and Manitoba, vice-president of the United Council of Filipino Associations in Canada and chair of the Manitoba Ethno-Cultural Advisory Council.
He was instrumental to the development of the $2.3 million Philippine-Canadian Centre of Manitoba and served as its first president. Some of his service included member of the Board of Directors of the Winnipeg Foundation and the Seven Oaks General Hospital Foundation, as well as Deputy Commander in Canada for the Order of the Knights of Rizal. Dr. Magsino is referred to by his colleagues as "a fine scholar, a community leader, and a caring institutional leader who exemplified the ideal collegial system and the role of the public intellectual."
"There is a place for centralization and commonality, but also for differences that are significant. This thinking is pretty much in line with our stance on multiculturalism, that we should value the people of other cultures and the cultures of other people."
—Dr. Romulo Magsino