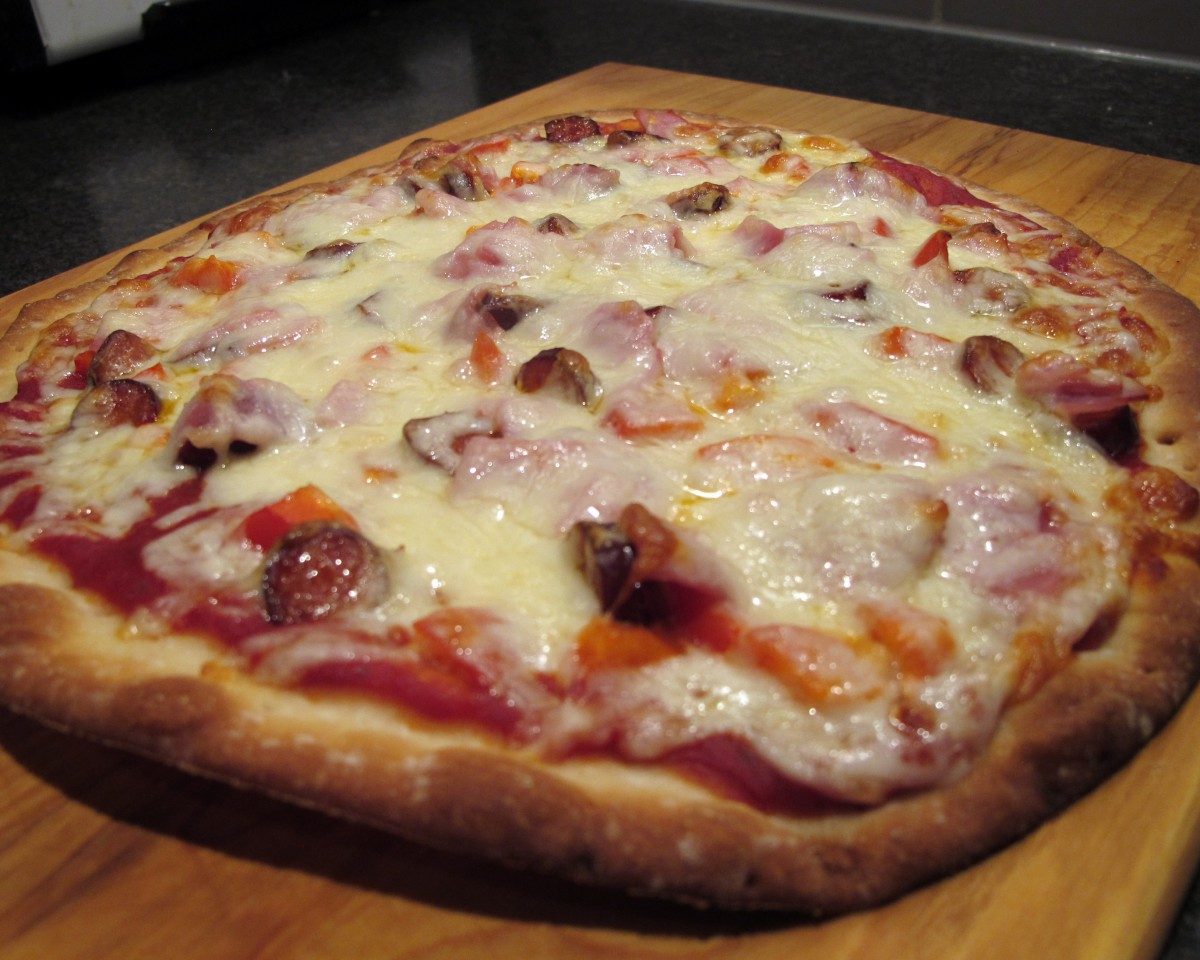 Tossing a new tasty pizza crust
February 3, 2017 —
(Article reprinted with permission from Manitoba Agriculture – source article here)
Carbone Coal Fired Pizza owner Joe Paletta wanted to create a delicious pizza alternative for customers who are diagnosed with celiac disease or have intolerances to wheat and gluten.
He originally created a dough using chickpea flour from Best Cooking Pulses Inc. (BCP) in Portage la Prairie, which works to promote the functional, nutritional and health benefits of pulses. In 2015, BCP introduced Paletta to the pinto-buckwheat flour blend that had been developed with the Manitoba Agri-Health Research Network (MAHRN) and he began to use it in his pizza recipe.
"It ended up being an even better fit for the gluten-free crust, the taste is great and even a lot of my servers prefer to have their pizza on this dough rather than the regular, they love it," said Paletta.
Not only does the pizza have a great taste and texture, but there are also nutritional benefits.
"By blending complementary flours you can improve the protein quality – you're creating a pizza crust that has higher quality protein in larger quantities," said Dr. James House, professor and head of the Department of Human Nutritional Sciences at the University of Manitoba. Dr. House has been doing research on a number of pulse flour blends for the past year and has seen that by blending pulses with wheat flours the nutritional value is increased. "This one is unique because it was designed to look at the gluten free market, but the combination of pinto flour and buckwheat flour actually creates a high level of amino acids – the building blocks of protein."
MAHRN worked through the Food Development Centre (FDC) to create batches of the flour blend for Paletta to use and to continue test marketing and commercialize.
High functioning ingredients
Pulses are high in fibre, protein, complex carbohydrates, minerals, and low in sodium. Buckwheat has rich nutritive value and is high in protein. Those characteristics drew Paletta to the flour blend. Being able to tell his customers the great tasting product they're eating is also high in protein and fibre is something that Paletta and his staff can feel proud about.
"Nutritionally, the ingredients in the flour blend are what the food industry and food product developers are looking to work with," said Dr. Paulyn Appah, senior process development consultant at the FDC. "Consumers are looking for the benefits the ingredients will introduce in the food without compromising the taste."
Appah said that the mandate for the FDC is to add value to Manitoba's agriculture sector. That means using Manitoba products such as grains, oilseeds, hemp, fruits, vegetables, honey, eggs, meat and dairy products, and finding ways to position them as suitable ingredients in food products consumers will enjoy and want to purchase.
Working together to bring the product to the market
"We need people like Mr. Paletta to work with the Food Development Centre and the MAHRN cluster so that consumers can reap the benefits. The nutritional and functional benefits of the flour blend can only be assessed when the food is consumed. FDC researches the benefits, develops the products and then communicates with consumers and obtains feedback on whether or not they enjoy the product," she said. "People eat with their eyes and their mouth. Generally, the nutritional value in itself isn't significant enough to make people want to eat a food if it doesn't look and taste good."
The pinto-buckwheat flour blend is currently being used in Carbone's gluten-free pizza crust at all three of its locations. Paletta plans to continue working with the Food Development Centre to eventually market a ready-made version of the crust to grocery stores.
Research and development for this project is funded in part by the Growing Forward 2 Growing Innovation program. The program helps fund projects that increase productivity, introduce new products, introduce new crops or production techniques, and research to bring innovative products to the market.