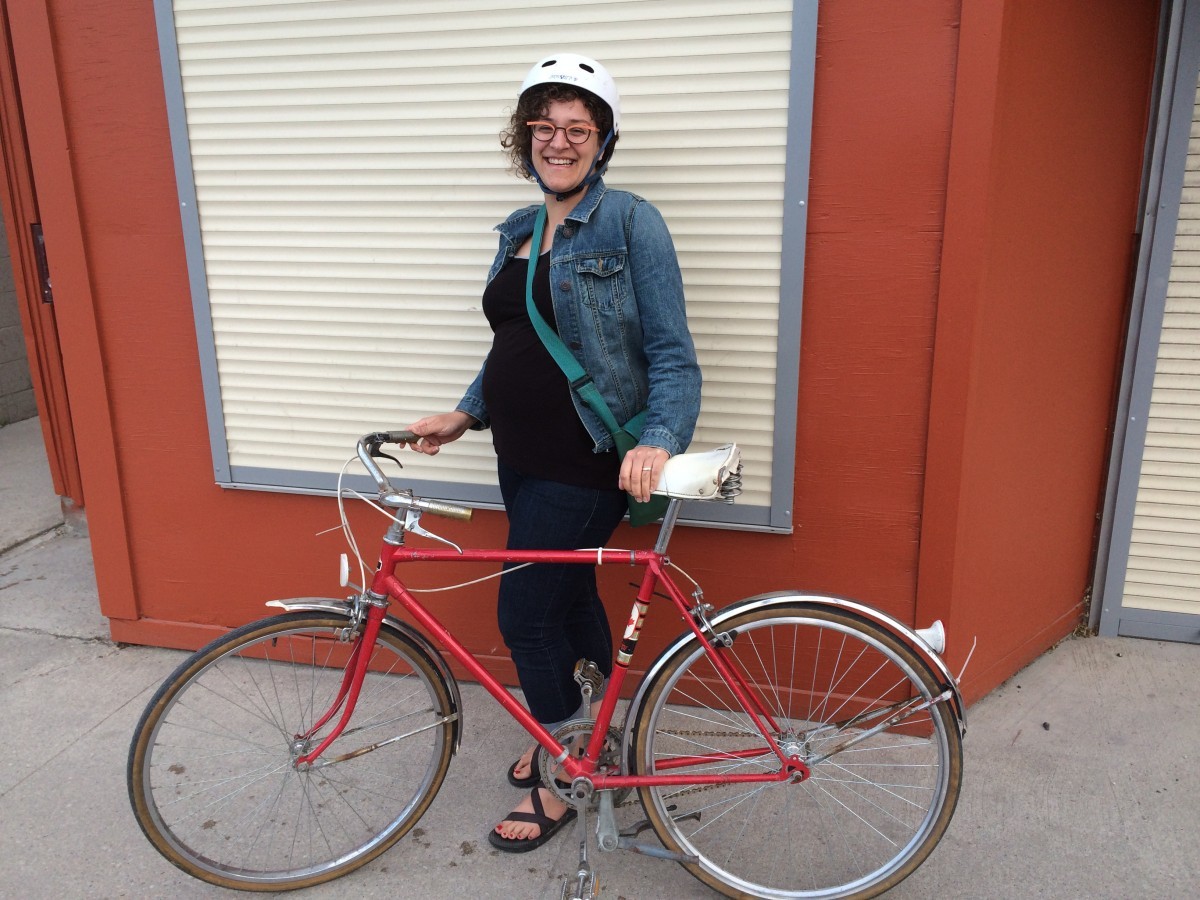 Top 5 tips for new cyclists
June 9, 2015 —
In preparation for Bike Week and Bike to Work Day, Anna Weier with the Office of Sustainability offers five pieces of advice for commuters considering riding to work or school for the first time. Anna is a trained bike mechanic, the co-coordinator of the Winnipeg Folk Festival Bike Ride to Site, a founder of Winter Bike to Work Day and a commuter cyclist of 15 years.
1. Plan your route
The first thing to do when preparing to bike to work is to plan a route that you're excited about. Cycling infrastructure has changed a lot in the last few years so there may be protected or scenic routes available that await discovery. The Office of Sustainability has created a map of some routes between the Fort Garry Campus and Bannatyne Campus and can suggest other specific routes that meet your needs – drop us a line at sustainability [at] umanitoba [dot] ca or even better stop by 501 Fitzgerald Building to look at some maps. The Office also has free copies of the City of Winnipeg Cycling map and the Fort Richmond/University Heights Walking and Cycling map. Bannatyne Campus is home to a group of bike commuters such as Charles Burchill, Anita Ens and Hal Loewen who would be happy to help with route advice based on their experience – look them up and introduce yourself.
2. Choose clothing options (spandex not required)
The next step is to make a plan for clothing and gear. Some people like to bring an extra change of clothes with them or leave business clothes at the office. The Active Living Centre on the Fort Garry Campus has a shower-only gym pass that is $10 a month or $2 per shower.
3. Make sure your bike works
Make sure that your bike works well and you have a bag that is comfortable to ride with or that fits well on your bike. In terms of bicycle repair and storage, both the Bannatyne and Fort Garry Campuses have outdoor, 24-hour repair stands and secure bike parking for $10 a year as well as many bike racks. The Fort Garry Campus also has a bike shop called the Bike Dungeon in 100 level of the Helen Glass building where people can take their bike for repairs and sometimes even purchase bikes.
4. Ride with a friend
A great way to commit to riding is to find a ride buddy. Find someone who might want to take the same route as you or a similar route and make a plan to ride to or from work together. If you're new to cycling (or your route is new to you) you might want to test your route on a weekend or evening before you ride to work for the first time. Having a sense of how long the route takes and making sure you can do the route without having to check a map too many times will make your first ride to work less stressful.
5. Enjoy the ride
Have fun! There are many great bike events to partake in that help make cycling more fun. As part of Bike Week, the Office of Sustainability is riding to St. Norbert Farmer's Market on June 17th.
Plus, make sure to check in at their Bike to Work Day pitstop at the corner of Chancellor Matheson and University Crescent for a free bike-blended smoothie. The Health Sciences Graduate Students' Association is also hosting a pit stop at the Bannatyne Campus. Check them out on Bike to Work Day for treats and other goodies at the corner of Sherbrooke and McDermot on June 19th.