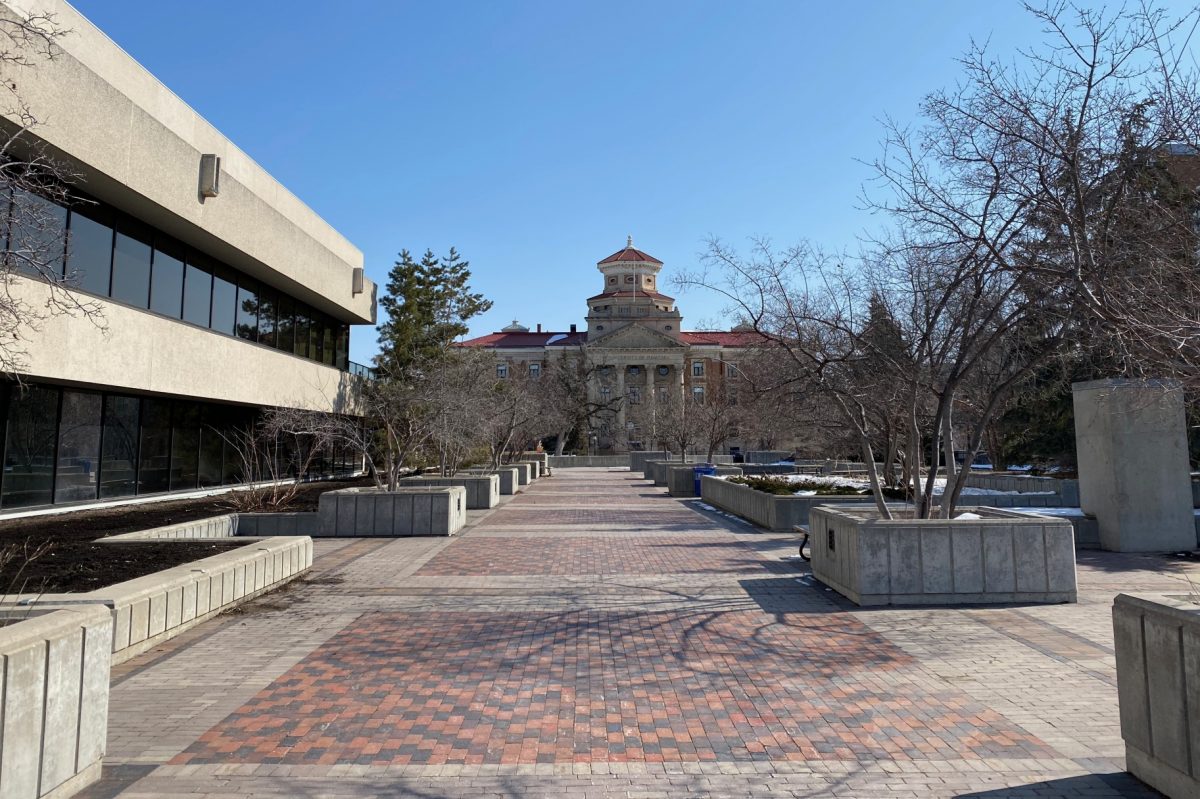 Marking one year since the WHO declared a global pandemic
President's message to faculty and staff on anniversary of remote operations
March 11, 2021 —
A message from UM President and Vice-Chancellor Michael Benarroch:
A year ago, I was preparing to return to my home province and begin my new role as the University of Manitoba's 12th president and vice-chancellor. I was looking forward to seeing old friends and making news ones—to being on campus again and meeting with UM's incredible faculty and staff. Like all of you, my plans were entirely upended when COVID-19 required us to make drastic and immediate changes to the way we work and socialize.
Our University of Manitoba community has lost colleagues, students, friends and family. We have had to grieve, and grieve differently. Our most sacred and meaningful traditions have had to be postponed, abandoned, or entirely reimagined. The flag over Administration Building is at half-mast today, March 11, in recognition of the National Day of Observance for COVID-19, and to commemorate the people who lost their lives and the significant impacts we have all felt.
This year has taken a toll on all of us, and we are eager to see the end of this. We are an institution that thrives on personal interactions, and in so many ways, this pandemic has forced us apart. I hear you when you say how hard it has been, and I see your effort and contributions in spite of the continuing challenges we face. I am deeply grateful for, and proud of our community and how we have worked together to support student success and advance the mission and vision of Manitoba's university during these very trying times.
Thank you to the members of UM's COVID Recovery Steering Committee and the four support teams: Academic, Health and Safety, Operations, and Research. You took on these roles in addition to your regular work and continue to provide valued advice and leadership as we respond to the dynamic challenges COVID-19 presents to our community. Facing an ever-shifting landscape, the decisions you have made have not been easy, and have not always been popular, but you have expertly guided us through the past year.
Thank you to our faculty for finding new ways to teach, sometimes with your own kids, or pets, in the background vying for attention. You have had to transform the way you work and balance competing priorities, and I know that hasn't been easy. You moved courses, exams and events online; many lost access to work space and research labs; others found new placements for students whose in-person co-ops, placements or internships fell through. The innovation and commitment you have demonstrated over this past year has made all the difference for our students and broader community. You are truly world-class. Well done.
Our researcher community has demonstrated remarkable resilience, making national and international contributions to fighting COVID directly, and to protecting vulnerable populations from its effects. Dr. Ryan Zarychanski and his team are leading the world in their clinical trial of the drug heparin as an effective treatment for COVID-19 patients. Dr. Kendra Nixon is undertaking research that partners with the Family Violence Prevention Program locally to explore the impacts of the pandemic on intimate partner violence experiences. Dr. Anand Kumar and his team discovered a way for hospitals to decontaminate and safely reuse N95 masks. Professors Stephane McLachlan and Indigenous scholar Myrle Ballard helped develop innovative and culturally appropriate countermeasures to the pandemic to better serve Indigenous communities. And Dr. Jason Kindrachuk has become such a trusted voice, that when CNN aired a story about whether the Tokyo Olympic Games should proceed, he was the first expert they called.
Thank you to our incredible staff who maintained consistency in our operations while either shifting to remote work, or remaining on campus and adapting to the ever-changing health directives. Student support teams converted all our student supports to virtual formats, and developed new ones. The staff at the Centre for the Advancement of Teaching and Learning provided supports to instructors and students. Physical Plant and Security Services ensured our physical spaces were maintained and secure. IST successfully rolled out Microsoft Teams and provided exceptional support to keep us connected. The Registrar's Office worked with units across campus to bring convocation online. Administrative support staff were critical in all of this, and Human Resources supported the well-being of employees through this difficult time.
The list goes on. Our community has done exemplary work to advance essential learning throughout constant disruptions. Indeed, it has been so satisfying to hear news from Faculty Council meetings on how our units are focused on supporting students.
As we reflect on how far we have come, I am encouraged by the opportunities before us. None of us know the future, but we have hope that we are through the worst of this. As we all do our part to follow public health advice, UM's COVID Recovery Steering Committee continues to plan to safely resume more in-person activity. There is much to look forward to.
Working together, we can support the success of our students and our province, now and into the bright future ahead.
Thank you for a year of inspiring strength.