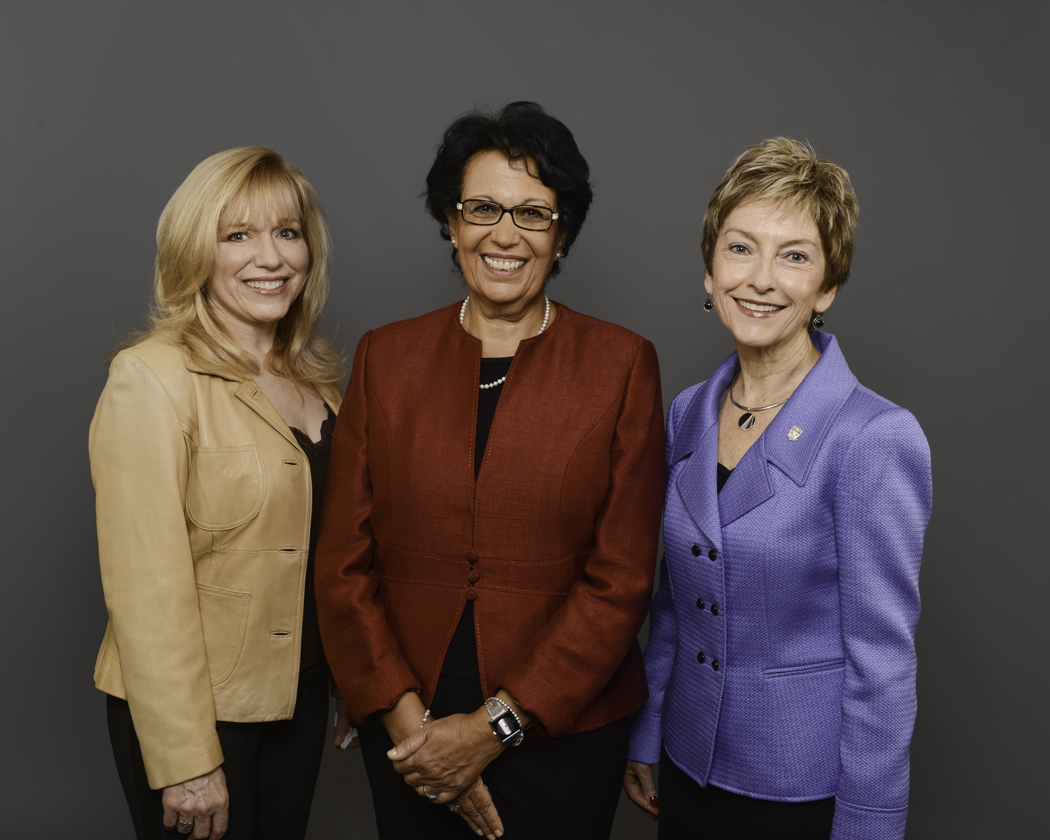 Three U of M women among Canada's most powerful and influential
December 4, 2013 —
Three University of Manitoba researchers with international reputations in their respective fields have been named some of Canada's most powerful and influential women.
Joan Durrant, Joanne Keselman and Samia Barakat have been named as recipients of the Women's Executive Network's (WXN) 2013 Canada's Most Powerful Women: Top 100 Awards. Co-Presented by Scotiabank and KPMG, these Awards celebrate and highlight the professional achievements of women across the country in the private, public and not-for-profit sectors at a time when corporate Canada is under growing pressure to promote more female leaders into senior management and corporate director roles. The list of the top 100 Canadian women of influence was published today in the National Post and the Financial Post Magazine.
Since its inception in 1997, WXN has created and delivered innovative networking, mentoring and professional and personal development opportunities for women in leadership roles, growing into a sizable community of more than 19,000 members strong across Canada and Ireland. As of today, WXN has honoured 728 of Canada's most powerful women and inducted 93 of these women into the Top 100 Hall of Fame.
Barakat and Durrant were named in the category of Xstrata Nickel Trailblazers & Trendsetters, while Keselman was honoured in the category of Public Sector Leaders.
Samia Barakat's commitment to professionalism fostered a personal interest in professional boundaries. The professor of psychiatry articulated the need for the prevention of exploitation and abuse of vulnerable individuals, and emphasized the responsibility that professionals hold with their patients, clients or students. As associate dean of professionalism and diversity in the Faculty of Medicine, Barakat provides consultation to professional regulatory bodies where the risk of boundary violations places patients at particular risk. She co-founded a boundary training program for health-care professionals at the U of M, the first of its kind in Canada. When chosen to lead psychiatry at the university, Barakat became the first female academic head of any such department in Canada. As an advocate in mental health she has worked tirelessly to address the stigma of mental illness and the barriers people face to accessing timely and appropriate care. She initiated the vision of constructing a stand-alone community-based "Crisis Response Centre," now available around the clock for individuals in need of mental health care, and their supportive family members.
Joan Durrant and Samia Barakat won in the Xstrata Nickel trailblazers and trendsetters category, while Joanne Keselman was selected in the public sector leaders category of the awards.
Joan Durrant is a child-clinical psychologist and professor of family social sciences in the Faculty of Human Ecology. She is also an adjunct professor with the Arthur V. Mauro Center for Peace and Justice. Her research and community work focus on the prevention of violence against children, for which she has received national and international recognition. She has made presentations at the United Nations headquarters in both New York and Geneva and served on the Research Advisory Committee of the United Nations Secretary-General's Study on Violence against Children. She was the principal researcher and co-author of the Canadian Joint Statement on Physical Punishment of Children and Youth, an authoritative research document that has been endorsed by more than 480 professional organizations in Canada.
Through research and public education, Durrant is at the forefront of raising international awareness of the negative impact of physical punishment on children. Her leadership and mentorship of students, parents, practitioners, educators and decision-makers, is creating global change and a safer world for children.
Joanne Keselman is vice-president (academic) and provost at the University of Manitoba, the senior academic officer at the U of M and responsible for providing academic vision and leadership in all matters relating to students and academic staff, including academic programs, long-range academic planning and enrolment management. Keselman is a professor of psychology, with expertise in applied statistical analysis. She has published extensively on such topics as the analysis of repeated measures designs, multiple comparison procedures, multivariate analysis and meta-analysis. She is a member of the Social Sciences and Humanities Research Council (SSHRC) and its Executive, Governance and Nominations Committee, and the Premier of Manitoba's Economic Advisory Council and its executive committee. She is also co-chair of the Province of Manitoba's Innovation Council and a member of the Government of Canada's Tri-Agency Panel on Responsible Conduct of Research.
This year's Top 100 Leadership Summit and Awards Gala on December 4 is appropriately themed "What Glass Ceiling?" During the Summit held at the Sheraton Centre Toronto, Top 100 Award Winners will provide insights on how they managed to become leaders in their sectors to inspire more than 400 women in attendance, including the next generation of female leaders
That evening, more than 1,100 attendees will honour the 2013 Top 100 Award Winners at a Gala dinner where the keynote speech will be delivered by Roberta Bondar, who shattered the glass ceiling when she became the first Canadian female astronaut and neurologist in space aboard NASA's 1992 space shuttle Discovery.
The full list of WXN's 2013 Canada's Most Powerful Women: Top 100 Award Winners can be found here.