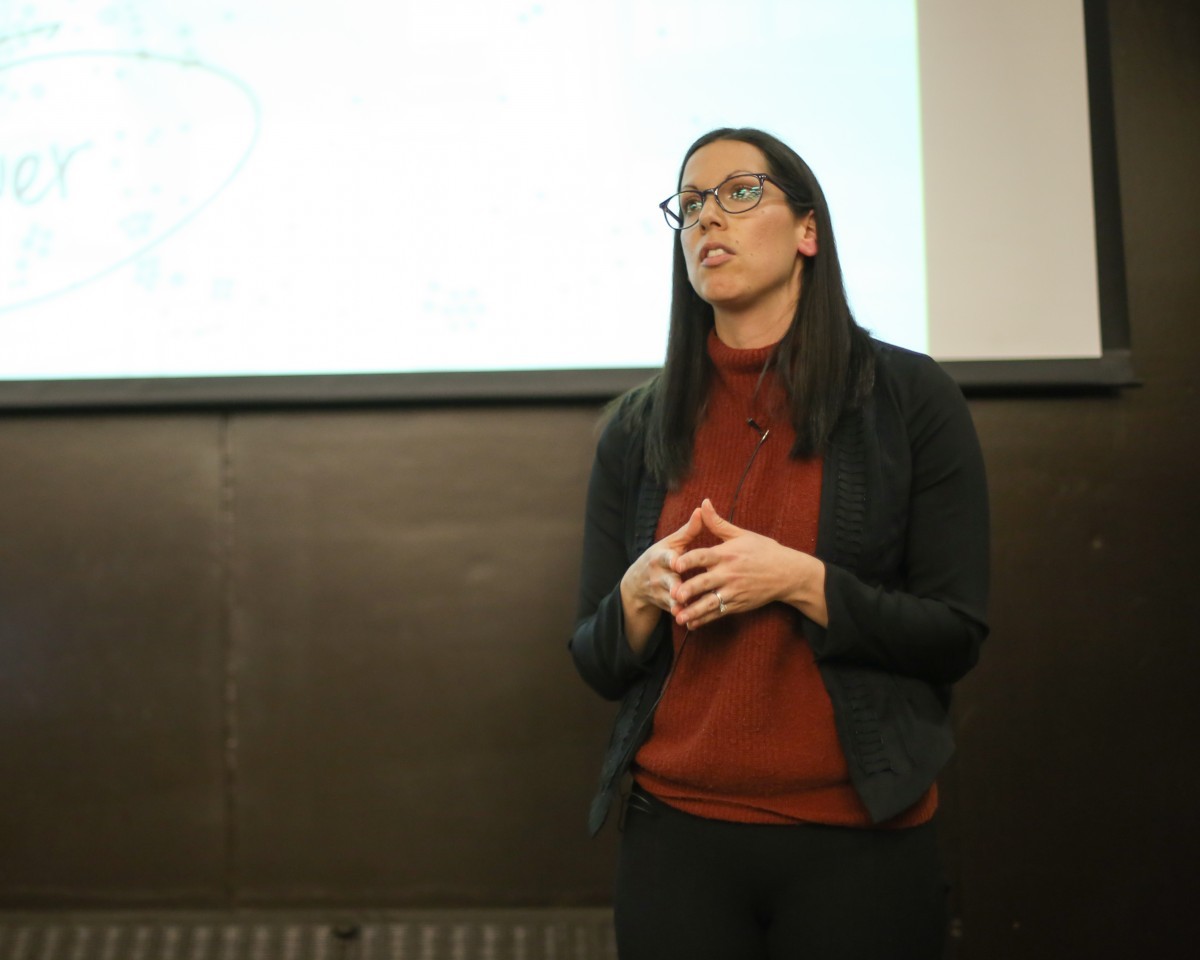 Three Minute Thesis forces competitor to 'simplify, and deliver message with brevity'
'Data can inadvertently oppress, marginalize and minoritize students'
March 14, 2016 —
Whittling years' worth of education research and material into an engaging three-minute presentation is no easy task, but it's worth it, says a Faculty of Education student who recently participated in the 3MT® (Three Minute Thesis) competition.
"It really helped me to clarify what the critical points are and how to deliver that message with brevity. Simplify, simplify, simplify. It was a good exercise for sure, says Heather Krepski.
Krepski, who is currently working on her Masters of Education, is one of two Education students who presented her research on data in the field of education in a short, lively three-minute spiel. The 3MT ® was developed by The University of Queensland as a way to challenge students to condense their research into a concise speech for a general audience.
She found the experience positive for several reasons—one being that it forced her to think about key points in her research.
"I had to boil it down to something that would be of interest to the general public. So–linking the concepts of diversity, power and educational data [was what worked]."
"My research interests are really centred around the use of educational data to drive the decisionmaking process. Particularly I'm looking at ways it empowers or oppresses diverse student populations.
"So that's more of what I focused on in the 3MT®," says Krepski.
She says she found preparing to make her presentation like "preparing for a marathon…a little boring and difficult to train for."
Krepski says the worst part was memorizing her three-minute speech, but once she accomplished that, "you have that rush of adrenaline and accomplishment and for me one of my primary motivations was to have another opportunity to talk about my research."
During the 3MT, she says she "basically tried to engage my audience by telling them that we've all felt powerless or empowered in the education system." She discussed the fact that while one of the best expressions of power is in education, increasingly, the field is driven by data. She then discussed ways in which educational data can be "oppressive and oppressive frameworks for a diverse student population."
Krepski says what she was attempting to do was "create a better or a broader picture of the ways that data can inadvertently oppress, marginalize and minoritize students."
Krepski recently moved to Winnipeg from Toronto, where she first became interested in her thesis topic. After graduating from the Ontario Institute for Studies in Education, she worked as a teacher for three years and then as a student success curriculum leader for another three years, where she became interested in the idea of data and how it relates to education. Her thesis, which she is currently about halfway through, explores ways data collected and used on students in K-12 education.
She plans to interview school administrators and school superintendents, to get a sense of what's really motivating the use of data.
"How are they really using data to drive decisions, and what data are they using?"
Graduate student Nora Murdock was the other Education student who presented her thesis research in the 3MT.