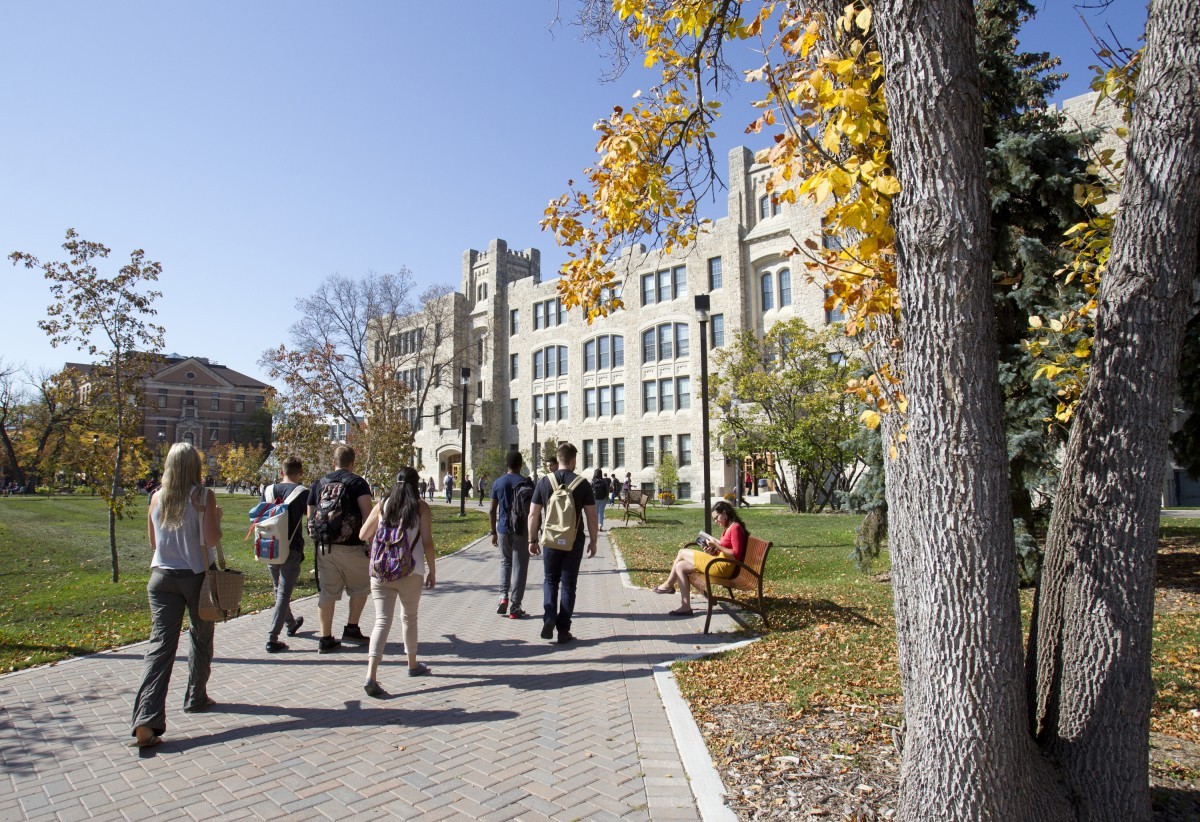 'This is a new beginning. Savour it.'
President's message on the start of the fall academic term
September 8, 2016 —
The following is a message from University of Manitoba President and Vice-Chancellor David T. Barnard:
Welcome all to the 2016 fall academic term at the University of Manitoba.
As summer comes to an end, here on campus we are rife with beginnings: a new academic year, new friends and relationships, for many a new country and a new city, for even more a new school, and for all of us, new challenges and opportunities.
Over the past few weeks, I couldn't help but notice all the incoming students on campus, checking out the buildings, the fastest way to their classes, where to eat, how to navigate the tunnels, everything they need to know to make their time here a success. It was refreshing to observe the students exploring with obvious wonder and excitement, many of them stopping to take photos, often with their parents or friends in front of the Administration Building.  Ours is a beautiful campus, especially at this time of year, and I'm glad our students – and indeed the entire university community – appreciate it to the extent they do.
To our students, I wish you a year rich with unexpected challenge and growth. I hope we open doors for you that lead to achievement and fulfilment. Last week, I was interviewed by the Globe and Mail about any advice I might have for young people at university, and I tried to emphasize how important it is for you to find and follow your passions.  What you learn here could shape what you are able to do for the rest of your lives; make sure you love it.
Wander around the campuses. Discover some of the unique spots, like sculpture-rich Migizii Agamik Plaza or the looping pathway around the Red River-bounded Point Lands. If you're at Bannatyne Campus, check out the Medicine Wheel Garden or some of the historical buildings in the adjacent neighbourhoods.
Explore. Both on campus or through intellectual curiosity in the classroom. Embrace the strange and uncomfortable, test your limits, make your choices.
To our faculty and staff, thank you for your belief in this institution and for committing to our collective mission, vision and values, as outlined in our strategic plan, Taking Our Place. Together we deliver the core functions of this university: learning, discovery and engagement. Our work supports the transformation of tens of thousands of students, and ultimately of this province, our nation and the world. I hope we take on this important role in a spirit of generosity and collegiality, holding ourselves to high standards and principles.
As we traverse the campus to attend meetings or lead classes, or just to grab a lunch, say in the Active Living Centre Agora or University Centre, feel free to stop and say hello to me and my colleagues on the executive team, and to one another. There are many challenges ahead of us, and sometimes we may not all agree how to manage them, but let's enjoy and push ourselves to the fullest. Whatever else, let's take the time to appreciate the fact that a university campus is an amazing place to pursue one's professional career.
Finally, to the thousands of visitors we host each day, whether to use our recreational facilities, to attend our rich offerings in public lectures and performances, or just to watch the Blue Bombers continue their winning streak at Investors Group Field, please have fun! This university is as much yours as anyone else's. Sure, parking might occasionally present a challenge, but I trust that ultimately your visit, no matter what the purpose, will have been worth your while. And that you'll be inspired to come back again, perhaps for something entirely different.
Students, faculty and staff, colleagues, visitors – welcome to you all. A few leaves may already be settling to the ground, and, yes, over the weekend I did see a line of geese flying south, but for all of us here on campus, this is a new beginning. Savour it.