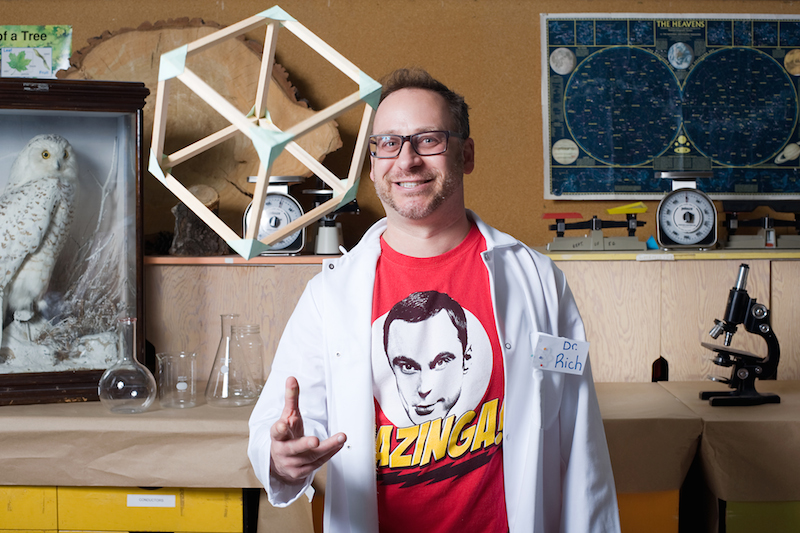 Think outside of the beaker
June 20, 2014 —
As a high school physics teacher, Richard Hechter spurred his teenage students to become more interested in science by dropping parachutes down stairwells, and organizing field trips to space laboratories—even to the West Edmonton Mall waterslides, where they learned about "physics in action."
"I was doing things to enrich and encourage growing minds," Hechter says. "It was challenging and fulfilling all at the same time."
In 2000, he received the Prime Minister's Award for Teaching Excellence. Hechter was cited as an innovator and pioneer in encouraging youth to become more interested in science through creative hands-on experiences. However, when he had the opportunity to teach other teachers ideas and techniques for fostering science education in young people, he took a leap of faith forward in his career.
He explains: "I realized that perhaps it was my calling to reach even more students with the message that science is cool—not just a class of students in a collegiate."
So it was that Hechter began teaching science education at the U of M in 2009. As part of his research, he has been developing exciting and unique ways of showing secondary school teachers how to inspire their charges. "The universe is my classroom," he boasts. "When I get up in the morning, I can't wait to get to work so I can teach more people about how to appreciate and educate others about science."
Among Hechter's repertoire of trailblazing science activities is his real-time imaging of the aurora borealis in Churchill, Man., the former site of an American rocket range. In the winter of 2012, he traveled there to set up cameras and record the northern lights, then made his imagery available to teachers in the southern part of the province.
"That was sheer lunacy," he laughs. "I had the base station in Churchill running in the middle of the night, and there were teachers online in Winnipeg waiting for my images. They were caught up in the excitement and were impatiently emailing me to send them my results."
In 2012, Hechter received a Social Sciences and Humanities Research Council Connection Grant for the ISOTOPE Project (Infusing Scientific Outcomes, Technology Orientations and Pedagogical Experiences), allowing him to pioneer even more creative ways to teach science to secondary school students.
This summer, Hechter will be teaching a course on science learning through popular culture, defining yet another way to reach young people and get them motivated to study science.
"There's an episode of the immensely popular TV series The Big Bang Theory in which Sheldon creates a species of glowing fish as an experiment," Hechter explains. "Well, that's actually possible, and I believe that showing students the scene on TV and describing how genetic manipulation can make it actually happen is a way to connect science to a young person's everyday life."
Hechter uses YouTube videos and songs by popular recording artists like Hopeless Wanderer by Mumford and Sons, zeroing in on the line 'Don't hold a glass over a flame' to demonstrate what happens when you do. And he uses scenes from Hollywood movies to illustrate scientific principles ranging from time travel to luminescence. He asks his students, "Is time travel, like depicted in a film such as [Woody Allen's] Midnight in Paris, actually feasible? If so, how? I find that it's a great opportunity to talk about physics and the nature of time."
One of Hechter's inspirations is astrophysicist and science popularizer Neil deGrasse Tyson. In the new version of the popular TV series Cosmos, Tyson waxes philosophically on how humans need to better understand the vastness of the universe, teaching concepts as diverse as evolution and the cosmic distance scale.
With a smile, Hechter sighs and says, "One day, that could be me."
And he adds: "If you don't dream big, what are you dreaming about?"
Read more stories from the summer2014 issue of TeachingLIFE here.