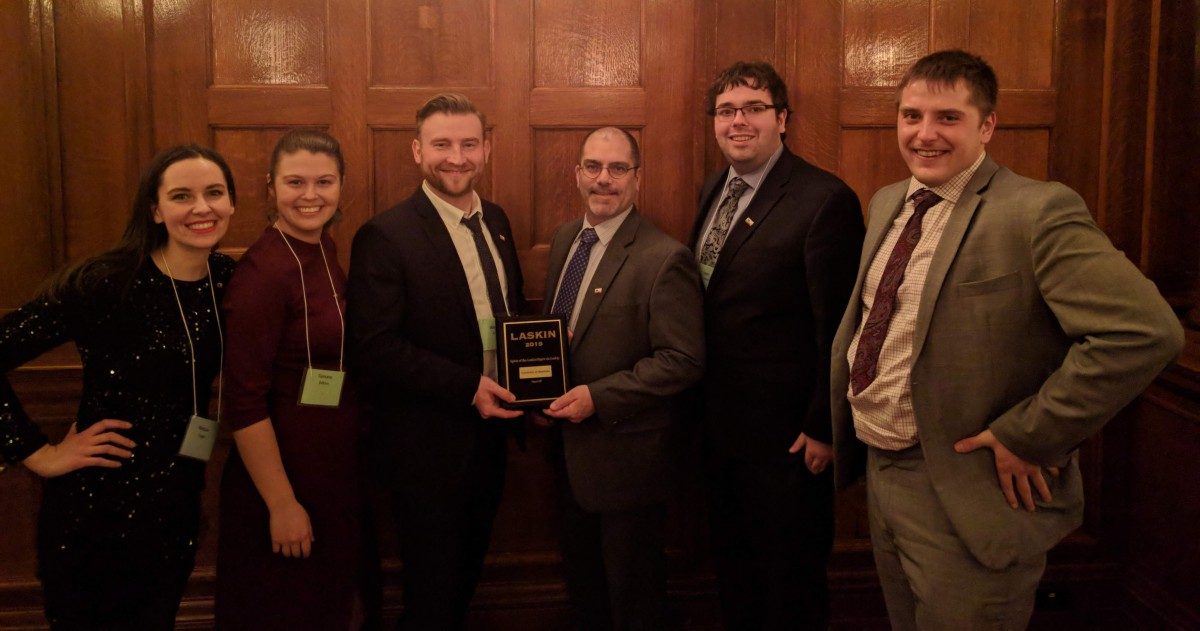 They Came, They Saw, They Mooted: Robson Hall Moot Competition Report 2019
March 29, 2019 —
The dust on the moot courtroom battlefield has settled, and Robson Hall students have returned from representing Manitoba all over Canada. This year, Robson Hall teams entered no less than eight competitions, and our Faculty was in turn honoured to host the bilingual appellate Laskin moot, on March 1 and 2.
Starting with the MacIntyre (Western) Cup hosted by Thompson Rivers University in Kamloops, BC and the Gale Cup (Canada's premier bilingual law-school mooting competition) in Toronto on February 15thand 16th, our students represented Robson Hall at the Harold G. Fox Moot for Intellectual Property (Toronto) February 22 and 23. The weekend of March 1 to 3 was busy with our students headed to Dalhousie University in Halifax for the Kawaskimhon Indigenous moot, and Toronto again for the Bowman Tax moot, while students from across Canada converged on Winnipeg for the above-mentioned Laskin. The Canadian Negotiation competition happened March 2 and 3 at Osgoode Hall in Toronto, and on March 8 and 9, Toronto hosted the Davies' Corporate Securities Moot.
Finally, Robson Hall students represented Manitoba at the Inaugural Bastarache French Language Moot in Ottawa, named in honour of former Supreme Court Justice Michel Bastarache.
The MacIntyre Cup team of Alexandra Derwin and Arian Poushangi placed third, while at the Laskin, the team of Jason Winter, Andrew Clark, Alex Krush, Tamara Edkins with researcher/student coach Natalie Copps won the Spirit of the Laskin Award, and Jason Winter finished in the Top Six as an individual mooter.
Congratulations to all the students who worked so hard throughout the year, and many thanks to all the coaches for their tireless dedication, for sharing their expertise and ensuring our students were well-prepared.
Summary of 2019 Moots and Teams:
Western/MacIntyre Moot
Date: Feb 15-16
Location: Kamloops
Team: Alli Derwin, Arian Poushangi
Coach: Tim Killeen & Judy Kliewer
Gale Cup
Date: Feb 15-16
Location: Toronto
Team: Keith McCullogh & Chim Undi (Appellant), Kate Walker & Danielle Otto (Respondent)
Researcher: Hayley Allardyce
Coach: Melissa Hazelton, Michelle Bright
Harold G. Fox Moot
Date: Feb 22-23
Location: Toronto
Team: Frank Hepworth, Lauren Yusim, Vienna Luong, Daniel Tomcej
Researcher: John Isfeld
Coach: John Myers
Bowman Tax Moot
Date: March 1
Location: Toronto
Team: Paolo Aquila, Erin Wolfe, Alyssa Cloutier, Arian Pousangi
Researcher: Brendan Forrest
Coaches: David Silver and Darcy MacPherson
Laskin
Date: March 1-2
Location: Winnipeg
Team: Jason Winter, Andrew Clark, Alex Krush, Tamara Edkins
Researcher / Student Coach: Natalie Copps
Coach: Denis Guénette
Kawaskimhon
Date: March 1-3
Location: Halifax
Team: Danielle Morrison, Raven Dominique Gobeil, Morgan Lawrence, Kendall Dyck
Researcher: Genevieve Langlois-Benoit
Coach: Sasha Paul
Davies' Corporate/Securities Law Moot
Date: March 8-9
Location: Toronto
Team: Kate Burcznski, Sean Corrigan, Matt Deleau, Kevin Sharma
Researcher: Carter Liebzeit
Coaches: Sharyne Hamm, Ari Hanson, Darcy MacPherson
Bastarache French Language Moot
Date: March 22-24
Location: Ottawa
Team: Sarah Khalil, Dillon Acheson, Danelle Rougeau-Suchy, Liam Valgardson
Coach: Richard Goulet