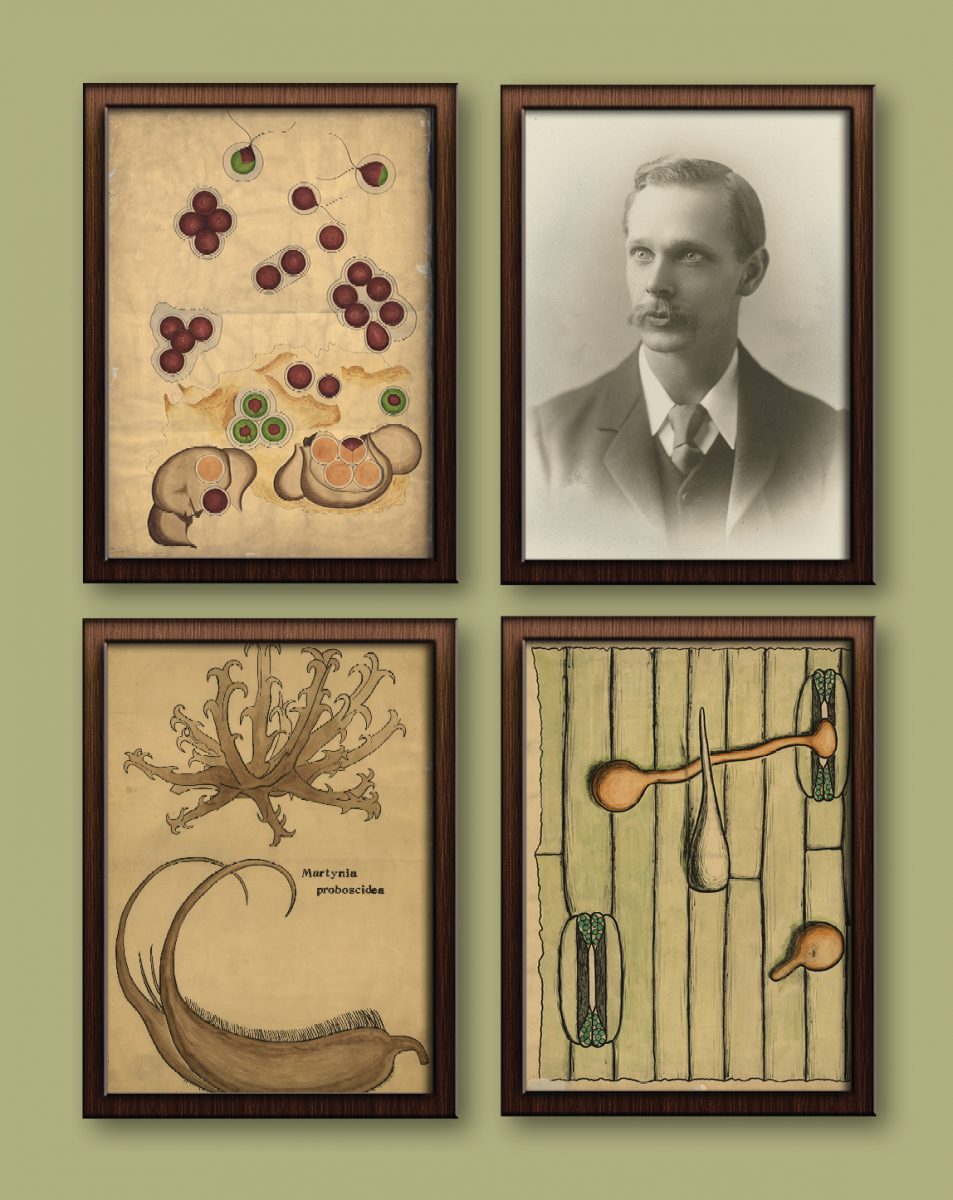 'The Very Model of a Modern Research Scientist'
How the UM Libraries Archives & Special Collections helped to preserve the rich archives of one of U of M's founding professors
October 11, 2019 —
The following is an account by Shelley Sweeney, Head, Archives & Special Collections, UM Libraries
One of the first items I was offered when I arrived in 1998 to take up the position as University Archivist here at the University of Manitoba was an enormous wooden map cabinet with 356 watercolor wall charts, commercial wall charts, and posters, many of which dealt with mushrooms and parts of plants.
Tom Booth, a professor in biological sciences interested in fungi himself, had over the years ensured that these materials from Professor AH Reginald Buller were preserved in the department.
Buller was one of the first six professors hired by the University in 1904 to teach "modern science." Booth was aware, however, that these posters and wall charts could be destroyed at any time, so asked the Archives to take them.
Soon other items of furniture lovingly cared for by other dedicated staff members followed, including Buller's wooden herbarium and card catalogue from Senior Scholar David Punter, a bookcase again likely from Buller from Booth, a lantern slide viewer from Engineering Chief Technician Allan McKay, and another oversized wooden map cabinet stored previously at Delta Marsh thanks to Professor Gordon Goldsborough.
This furniture was joined over the years by nearly 5 metres of textual records, including photographs and correspondence, an astounding 2 metres of lantern slides, 16 scientific and photographic artifacts, 11 maps, pins, luggage tags, a massive library, one plaque and the pièce de résistance, one box of Buller's cremated remains. The specimens Buller catalogued are still held by the department of biological sciences at the U of M, and many of his mycological and other specimens, some collected over 100 years ago, can be found at U of M's Vascular Plant Herbarium (also referred by its official acronym, WIN).
It is the most complete record of any professor that I am aware of in my nearly 37-year career.
The unusual and prolific Dr. Buller
It is not just the conscientious care and devotion from university staff that ensured this collection was preserved. A great deal had to do with the fact that Buller lived most of his life in local hotels, including the Metropolitan and the Vendome, but chiefly in the McLaren Hotel located on Main Street, where he lived from 1913 until 1941. As a result, most of his teaching and research papers were held at the University in his office and his laboratory. And Buller was a prodigious writer, researcher and dedicated teacher, hence the sheer volume of materials.
Reginald Buller was a fascinating person, and today he is recognized for his pioneering work. The Arthur Henry Reginald Buller Certificate of Recognition is awarded annually by the International Mycological Association to outstanding young mycologists who have distinguished themselves early in their careers.
In 2011, the Central African Republic recognized his dedication to the study of fungi by including him in an issue of commemorative stamps entitled "Les Mycologues." A discovery Buller made of an extremely significant globule that gilled mushrooms used to discharge their spores is now called "Buller's Drop."
On campus, the Buller building is named in his honor, and his ashes now reside in the cairn outside the building. He received many honorary degrees and held many prestigious positions in a wide number of organizations during his lifetime, but it is his championing of modern scientific techniques and teaching, and his promotion of women in significant roles in science that he is chiefly remembered for today.
The Archives is honouring Reginald Buller's role in bringing modern science to Manitoba as the first professor to teach botany and geology, by hosting a display "'He was the Very Model of a Modern Research Scientist': Reginald Buller and the Founding of the University of Manitoba."
As part of the exhibition, his office has been reconstructed. Everyone is welcome to enter his office or peek into his laboratory to get a sense of what it was like to enter his world.
'The Very Model of a Modern Research Scientist': Reginald Buller and the Founding of the University of Manitoba
Official opening: Thursday, October 17, 7:30 PM
Talk by curators Nicole Fletcher and Katherine Pettipas, with reception to follow.
Exhibit Dates: October 15, 2019 – August 31, 2020
Monday to Friday, 8:30 AM – 4:30 PM
Location: University of Manitoba Archives & Special Collections, 330 Elizabeth Dafoe Library
More information: archives [at] umanitoba [dot] ca or 204-474-9986