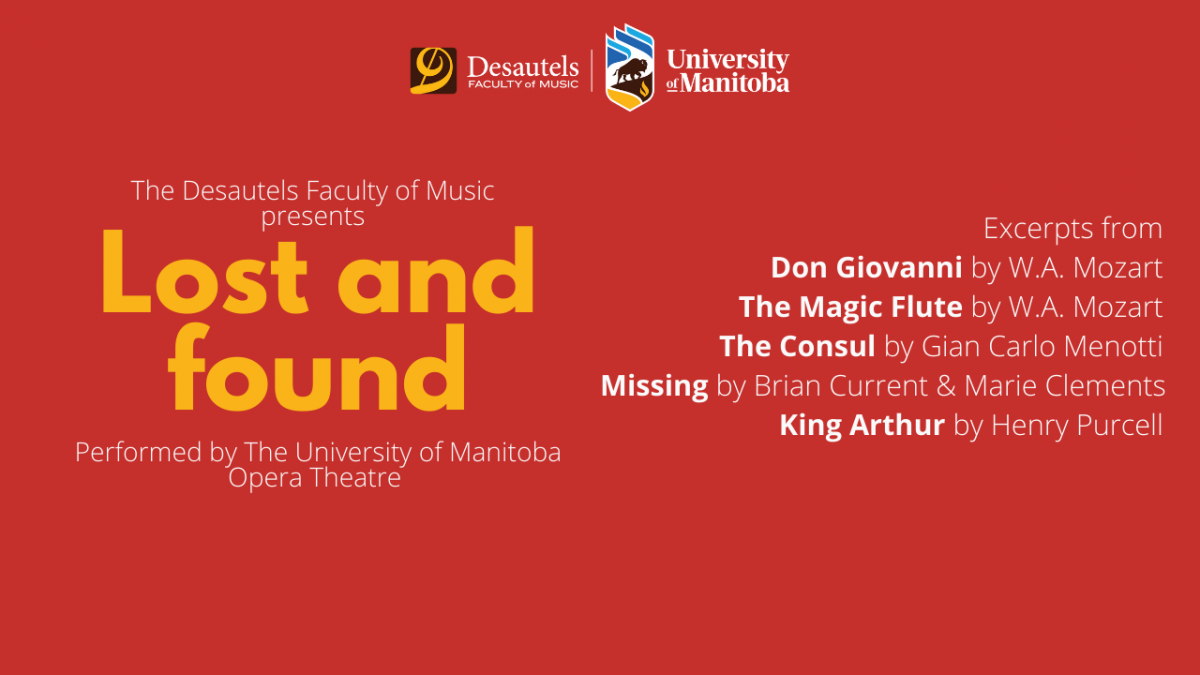 The University of Manitoba Opera Theatre performs Lost and Found
March 8, 2022 —
This week, The University of Manitoba Opera Theatre performs Lost and Found. A series of opera excerpts where loss and hope are represented on stage.
The production develops stories that are contemporary and relevant, incorporating present-day political issues into Canadian opera. One of them is the excerpt from Missing, a chamber opera by Metis playwright Marie Clements and Juno-winning composer Brian Current. A production that centers around Missing and Murdered Indigenous Women and Girls (MMIWG). For Marion Newman, Director of Missing the piece communicates knowledge and truth, "this piece has the ability to connect all of us in a really meaningful and deep way. That connection can lead to empathy and finding solutions that will make Indigenous women and girls, two-spirit and trans people safer, which will make everyone safer"
These works are important in a world where indigenous voices are silenced and not represented on a wider stage like Universities across Canada. Keely McPeek explains how this production "was a great opportunity to finally tell an Indigenous story in one of our faculty shows. Decolonizing a Euro-centric art form such as opera is an important step in the truth and reconciliation process, and I want to contribute to this in any way I can."
Although this work can be a hard one to engage with, the importance of sharing these truths and starting conversations with all Canadians outweighs the toughness of it all – Marion Newman, Director of Missing
What was challenging about bringing the script to life?
Marion Newman (Kwagiulth & Stó:lō) -Director of Missing- "Grappling with the fact that every time I have engaged with this piece the number of missing and murdered Indigenous women and girls has risen dramatically. The number is actually sung during the lecture scene and it hits me hard every time I hear it/sing it."
Camryn Dewar (Métis) -singing the role of Native Girl- "For me specifically, it is tough to sing the poetry of "So many dreams grounded, just underneath the earth", while thinking of all the lives and futures that have been lost through these killings. I would say that dealing with the sense of loss and guilt these scenes arouse has been the toughest part, while also letting the music be cathartic for those performing it."
What is going to surprise audience members?
Nikol Stonyk (Métis-Cree) -Cultural and Community Collaborator- "I think it may be surprising what emotions will arise by watching this performance. For many, this subject matter is on the peripheral, and not everyone understands how deeply racism is entrenched in our society. The "us" vs "them" in all the nuanced layers and complexities."
Marion Newman (Kwagiulth & Stó:lō) -Director of Missing- "Seeing anti-Indigenous racism being portrayed so blatantly is always a surprise to audience members who haven't experienced it from the Indigenous perspective."
Keely McPeek (Oji-Cree) -Dr. Wilson- "I feel that audiences are going to be stunned by the modernism and beginnings of decolonization of the classical music sphere exhibited here."
For the cast this topic is emotionally challenging, as Mel Braun, Music Director, explains: "in spite of the rawness of the interaction, the generosity of the Indigenous point of view with its hope for healing and restorative justice, continues to astound me."
Camryn Dewar invites everyone to watch Lost and Found "I sincerely hope you watch the show! Despite the serious subject matter, these scenes will leave you feeling inspired, and with hope for the future. Along with the wonderful poetry and gorgeous music, the Opera Theatre Lost and Found performance proves to be a wonderful evening."
Lost and Found premieres on Thursday, March 11th at 7:30 p.m. Live stream tickets available.