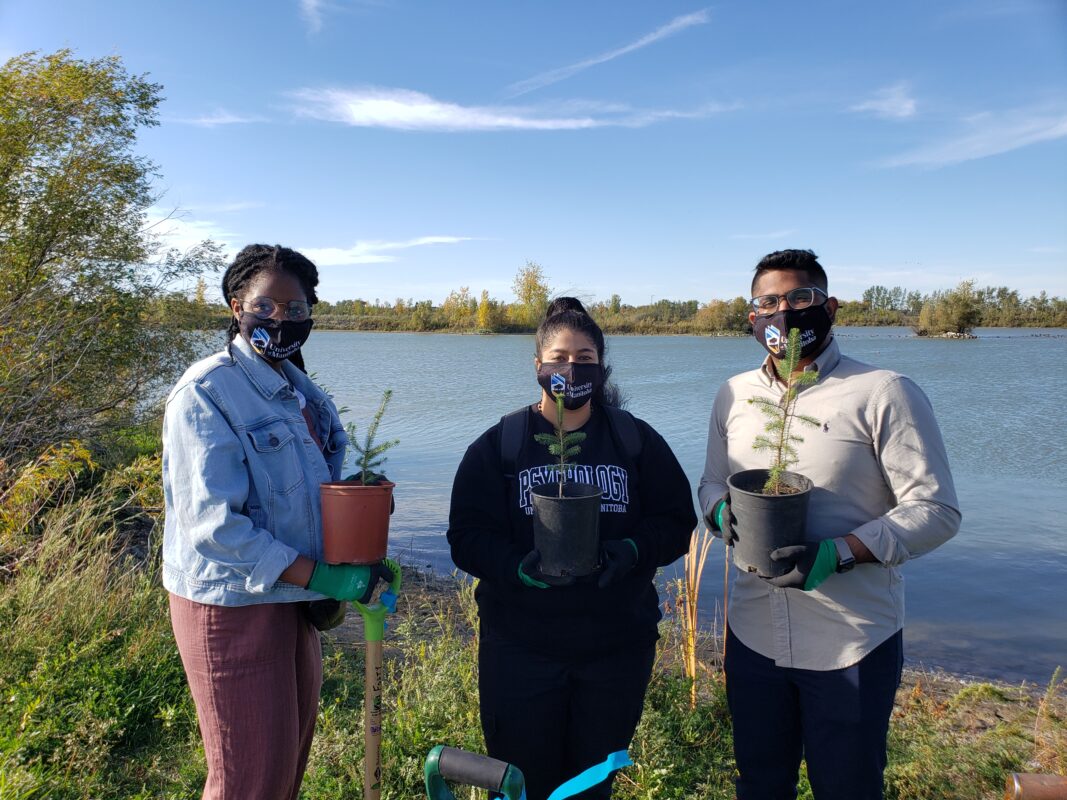 UM wins the Science Rendezvous 2021 STEAM Big Award!
National recognition for outstanding science outreach efforts
February 16, 2022 —
The UM has won the Science Rendezvous 2021 STEAM Big Award!
The Science Rendezvous STEAM Big Award is national recognition for the team's extraordinary vision and leadership as well as their commitment to creating a truly outstanding event.
"The enormous effort and dedication required to bring such an event to fruition cannot be understated. Science Rendezvous is honoured to have such dedicated individuals and groups share our vision and mission," explains Katie Miller, Executive Director, Science Rendezvous.
The Science Rendezvous UM team embraced the challenge to STEAM Green in 2021, going above and beyond to promote the Million Tree Project through exciting initiatives and activities. A total of 4857 trees were planted by participants of the Manitoba School Tree Planting Challenge, launched on June 10th, 2021, as part of the Million Tree Project. Science Rendezvous volunteers, university staff and students received hundreds of additional trees, not included in this official count. The coordinating team had to face the challenges associated with COVID-19 restrictions but showed their resourcefulness and resilience by adapting their programming and arranging tree pick-ups for students. In the Fall of 2021, another tree giveaway event took place as part of NSERC Science Literacy Week and National Tree Day, resulting in the distribution of an additional 3012 trees!
Over the course of these events, this coordinating team has expanded their outreach from eight to seventeen communities and engaged almost 60 schools. This project's reach extended beyond the city limits, with half of the participating sites being in rural areas.
"I have always been a save the earth enthusiast, being part of a project that let me use my skills to facilitate a greener earth was a great opportunity for me. I want to thank my team and I appreciate the spirit of togetherness, especially with regards to the pandemic. Much to their credit we were able to bring this to life virtually to make the project a success. The diversity of students and the knowledge they contributed was amazing.

It warms my heart so much that our actions did not go to waste, seeing the project expand to over 60 schools who joined in this project and getting our hard work noticed. We are deeply honored to receive this award. Winning the Steam Green award and being a part of the team is a phenomenal part of my life that I will always remember and be proud of," explains Annie Shad, student volunteer and Science Rendezvous team captain.
The coordinating team was also able to supply saplings to an arts centre, a local museum, and a First Nations community. As a result of these activities, the Million Tree Project has gained participants in 18 school divisions, representing 47% of the divisions in the province.
It should be noted that this coordinating team established important partnerships with local agencies which helped maximize the impact of these events. Manitoba Forestry's Agriculture and Peatlands branch supplied 5000 saplings in addition to delivering trees to several rural schools and planting sites while Trees Winnipeg and Tree Canada helped promote the Million Tree Project through tree-planting events. Other notable connections and partners who supported these initiatives include CCUNESCO Schools, Science First, Parks Canada, Fort Whyte Alive, Shelmerdines Garden Centre and McNally Robinson Booksellers and Author Ariel Gordon.
Beyond these events, this coordinating team organized a series of virtual public talks discussing important topics like climate, ecosystems, and climate change. These talks featured speakers from various disciplines and backgrounds and were moderated by Dr. Brian Mark, Dean, Faculty of Science. As part of Science Rendezvous, this coordinating team joined the Virtual Science Chase event, encouraging participants to tackle STEAM challenges with their friends and families.
ADMINISTRATIVE SUPPORT TEAM
Leigh McKinnon
Community Outreach Lead , University of Manitoba
Jennifer MacRae
Community Outreach Lead , University of Manitoba
SPONSORS & PARTNERS
University of Winnipeg
Ariel Gordon, Author of Treed: Walking in Canada's Urban Forests and TreeTalk
Manitoba Agriculture & Resource Development (ARD)
Trees Winnipeg
Tree Canada
UNESCO Schools
Science First
University of Manitoba Herbarium – WIN Vascular Plant Collection
FortWhyte Alive
Shelmerdines Garden Centre
Assiniboine Park Conservatory
Manitoba Parks
McNally Robinson Booksellers
University of Manitoba Science Students Association
Elwick Community School
Ecole Riverview School
Ecole Margaret Underhill
Oakbank Elementary
J.A. Cuddy School
College Churchill High Schoo
West St Paul School
Elmwood School
Ecole Robert H. Smith School
Riverton Early Middle School
Fort Rouge School
Chancellor Elementary School
King Edward School
Ecole South Pointe
Buchanan School
Minnetonka School
Linden Christian School
General Byng School
Angus McKay School
Ecole River Heights
Brock Corydon School
O.V. Jewitt Community School
McLeod School
West Kildonan Collegiate
Leila North Community School
Seven Oaks Met School
Mitchell Elementary School
James Nisbet Community School
Ecole Templeton
Dakota Collegiate
Lake St. Martin Community
Manitou Elementary School
Elmwood High School
Rivers Collegiate
Ecole Dieppe
George Waters Middle School
Ecole Belmont
Bulla Arts International
Westgrove School
Shamrock School
Ste Rose School
F.W. Gilbert School
St. Gerard School
Poplar Point Colony School
Argyle Museum
Miami School
Rossburn Elementary School
Gimli High School
Westpark School
Warren Collegiate
Calvin Christian School
Collicut School
Riverdale School
Teulon Collegiate
Linden Meadows (UNESCO)
Ecole Harrison
Ecole Bannatyne
Shoal Lake School
Margaret Park School
Westdale Middle School
---
Interested in volunteering or learning more?
Contact: Leigh McKinnon, email: leigh [dot] mckinnon [at] umanitoba [dot] ca