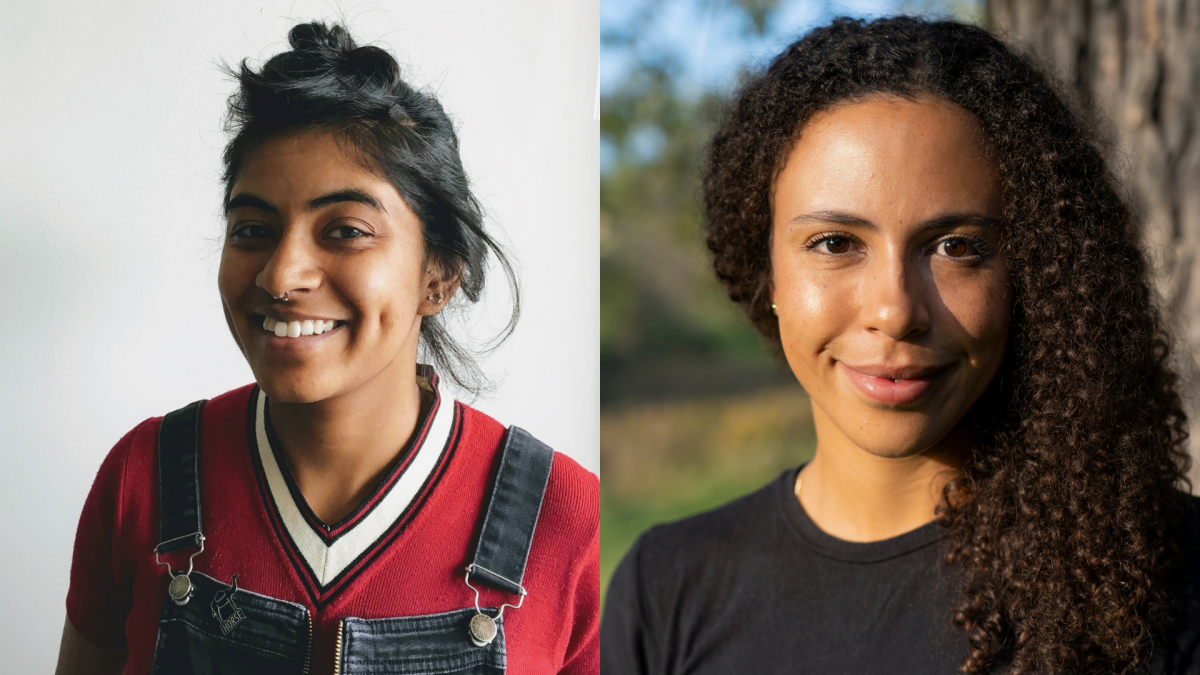 School of Art Gallery welcomes Shalaka Jadhav and Lillian O'Brien Davis as part of the Visiting Curator Program
October 6, 2021 —
The School of Art Gallery (SoAG) is excited to announce that Shalaka Jadhav and Lillian O'Brien Davis have been selected as emerging creators as part of the inaugural SoAG Visiting Curator Program. Chosen from a wide-open call, the two emerging curators will be mentored by established Visiting Curator Grace Deveney as all three research and present exhibitions, events and publications over the next three years.
Meet the curators!
Shalaka Jadhav spent their childhood between cities in India and in Dubai, before moving to a neighbourhood spitting distance from Ontario's largest mall. They are currently hosted on Treaty 1, entangling a long-time curiosity about art-based methods, and their role in enabling unusual connections and collective futures. In their day job, Shalaka designs and facilitates curriculum and workshops that support young people in moving towards just, climate-resilient futures. Trained as an urban planner, Shalaka is following the advice of an aptitude test to pursue Curatorial Practices at the University of Winnipeg. As Shalaka explores and builds on their curatorial ethic, they see it to be guided by a walking methodology, carrying forward the work of their ancestors in tending for the land, and woven together by conversations over cups of tea. In 2021, Shalaka is the Curator-in-Residence at the Centre for Art Tapes.
Lillian O'Brien Davis is a curator and writer currently based in Toronto, ON. She is the Curator of Exhibitions and Public Programs at Gallery 44 Centre for Contemporary Photography. She has curated projects at Art Museum at the University of Toronto, Susan Hobbs Gallery, the MacKenzie Art Gallery, and the School of Art Gallery at the University of Manitoba. Her writing has appeared in BlackFlash Magazine, Canadian Art online, C Magazine, the Brooklyn Rail, Peripheral Review and Insight Magazine.
About the Program
The Visiting Curator Program will serve as a catalyst for three international-caliber exhibitions and will play a vital role in defining contemporary art and its attendant discourses in the Prairies. It will also give students, faculty, and other community members meaningful opportunities to engage with curators charting new trajectories in the field. Through its mentorship component, it will foster strong new voices in this field.
The Program launched with a talk by Internationally-recognized curator and art historian, Grace Deveney, on July 8, 2021.
Watch here: https://www.youtube.com/watch?v=n0EMU7lIsNY
This new program is generously supported by Dr. Michael F.B. Nesbitt, whose contributions to the arts and community-building are deeply felt throughout Winnipeg, and especially at the University of Manitoba.
About Grace Deveney
Deveney is Associate Curator of the fifth iteration of Prospect, a New Orleans-based triennial, titled Prospect.5: Yesterday we said tomorrow (2021). Previously, she was Assistant Curator at the Museum of Contemporary Art Chicago. Exhibitions at the MCA include Christina Quarles (2021), Direct Message: Art, Language, and Power (2019) and Groundings (2018; with Tara Aisha Willis), as well as presentations of the work of Paul Pfeiffer, Amanda Williams and Ania Jaworska.
Deveney is a PhD candidate in Art History at Northwestern University, and her dissertation research looks at television and technology of the 1970s to 1990s and in the works of Howardena Pindell, Tony Cokes, and Stan Douglas, and the ways they created counternarratives to popular representations of Black political thought and action. Often exploring the relationship between landscape and language, Deveney's research explores how representations of the places we live in, and the language that is used to define our experience is challenged or reconsidered by artists.
Learn more about the Visiting Curator Program by visiting our website: https://umanitoba.ca/art/visiting-curator-program