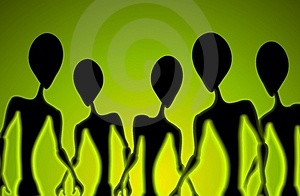 The question of extraterrestrial life
March 6, 2014 —
There's a lot we don't know about the universe — and it's impossible to avoid the question of extraterrestrial life and its constant companion, the UFO, or "unidentified flying objects."
Chris Rutkowski is a Canadian science writer and educator with a background in astronomy who's been studying reports of UFOs and writing about his investigations and research since the mid-1970s. His presentation, "UFO Phenomena in Canada," is part of the Dream Big events presented this week by the student life office; his talk takes place on Tuesday, March 11 at noon in 224 University Centre.
UM Today asked him about his UFO research — and to supply our readers with some fun UFO trivia.
Rutkowski has published many books on UFOs and related issues, including A World of UFOs (2008), I Saw It Too! (2009) and The Big Book of UFOs (2010).
He's also been involved in writing and media projects for more than 30 years, including TV specials, planetarium shows and newspaper columns. He regularly appears on radio programs, podcasts and TV series, such as Unsolved Mysteries, UFO Hunters, Sightings, Eye2thesky and A&E's The Unexplained.
According to Rutkowski, there are six basic categories of explanations for UFOs:
Misinterpretations of conventional objects or common phenomena;
hoaxes;
unusual natural or poorly-understood phenomena;
secret government or military projects; hallucinations;
and something else.
However, the "something else" category is not insignificant, he says.
"Included in the last category is every speculative idea ever proposed concerning the extraterrestrial nature of UFOs and alien spacecraft, he explains.
"This quite naturally leaves the category wide open for anyone to propose his or her pet theory and innovation. These range from the relatively passive "man from Mars" to the extragalactic, and on through other dimensions and time travel. The motivations as to what 'they' want from us range from benign alien anthropologists watching our daily routines to preparation for insidious oppression, colonization or slavery."
>>Scroll down for his list of "Top 5 Canadian Space Achievements" and click for his "Top 10 UFO Movies of All Time."
Chris Rutkowski's Top 5 Canadian Space Achievements
1. Chris Hadfield's first music video shot in space, a tribute to David Bowie's "Major Tom"
2. Alouette 1, the first Canadian communications satellite, still in orbit but now inactive
3. The Canadarm, which was seen in the hit movie Gravity
4. The Churchill Rocket Range, which launched many sounding rockets for the US Army and NASA, right here in Manitoba, and is now a National Heritage Site
5. The LEM Landing Gear Sensing Probe, a sticklike device on the bottom of the "feet" of the Apollo 11 Lunar Excursion Module, was said to be built in Canada, so a Canadian artefact was first on the Moon, ahead of Neil Armstrong's first steps!