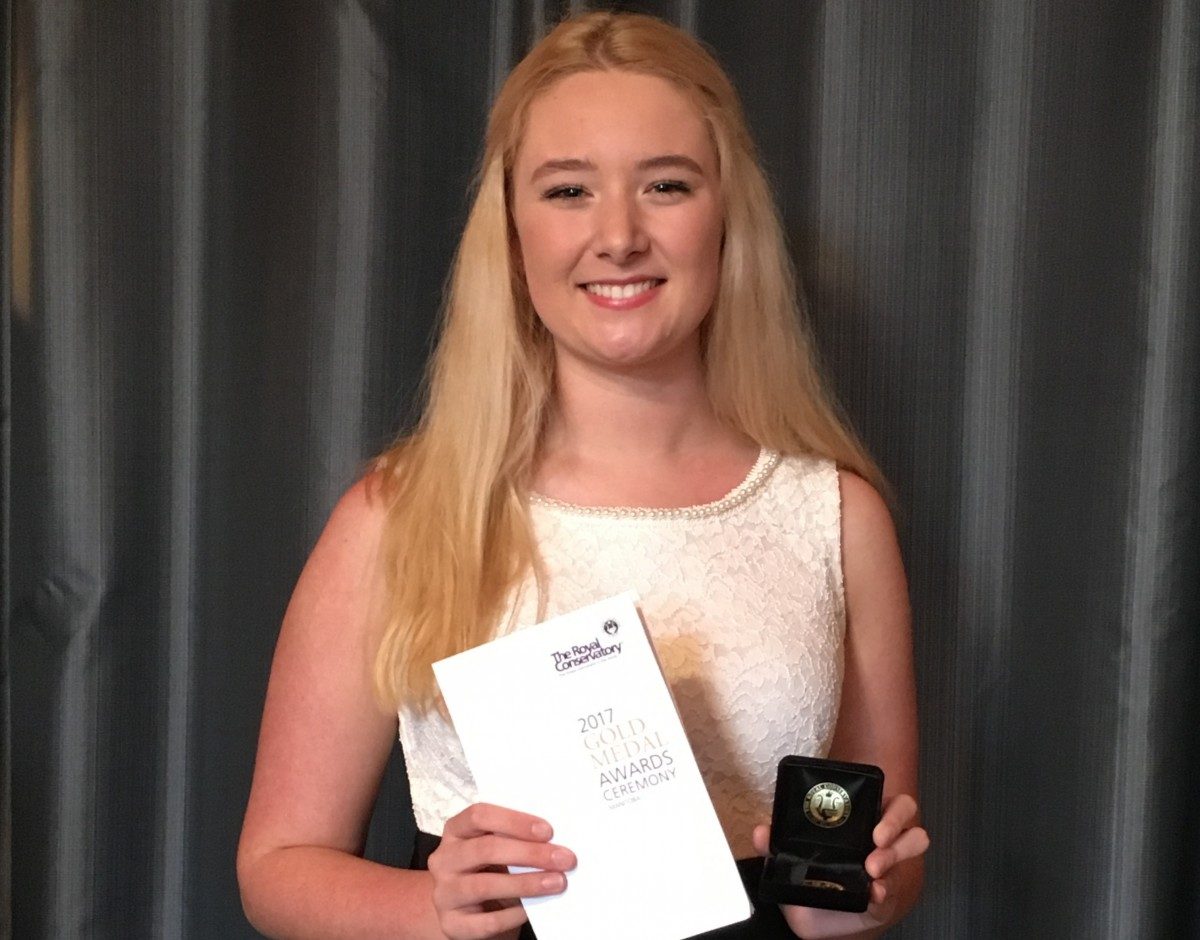 The love of music leads Camryn Dewar to her sixth gold medal
November 14, 2018 —
Camryn Dewar, first year voice major student in the Desautels Faculty of Music, has received a 2018 Royal Conservatory of Music (RCM) Gold medal in Level 8 Voice for Manitoba. RCM gold medals are awarded each academic year to those students who achieved the highest mark on their RCM examination for their level, discipline and region. Dewar has won six gold medals in the RCM vocal program – making her a gold medal record winner.
What compelled you to continue taking RCM examinations?
I started singing and playing piano when I was five years old. I just developed a love for music. I know that probably sounds cliché, but music really runs in my family. My grandmother is 95 and still plays organ for her church. My dad plays bagpipes. My aunt is a singer and piano player. I feel like music is really in my blood. I also play alto saxophone and guitar. My dad is teaching me how to play bagpipes too!
Studying and training for RCM examinations in vocal and piano every year really helped develop my singing technique and musicianship. Earning gold medals did inspire me to continue in music, but I've also always wanted to have a career in music. The RCM program helped make me the singer and musician I am today and I have brought that into the university vocal program. I wouldn't have been able to do all that unless I had taken my RCM levels.
Why did you choose to study at the University of Manitoba?
The professors here are incredible and very high calibre. In Grade 11, I had private lessons with U of M vocal professors to compare vocal styles, methods and techniques. I couldn't decide which one to go with because they are all amazing! They taught me so much that I decided the U of M is where I wanted to go for my bachelor's degree.
I also wanted to make sure that I was focused on my music degree so I decided to live in residence. Not having to worry about commuting for many hours every day meant I had more time to practice and study. With so much more time to practice and study, I have really excelled in all my classes.
How has your first year at the University of Manitoba helped you develop as an artist?

Having a new instructor always teaches you new things. I'm currently studying with Monica Huisman, a Canada-wide renowned soprano. She has so much experience and knowledge as an opera singer, that she has taught me many helpful things. She also knows that I want to pursue opera as well, so I try to pick her brain whenever I can.
What are your long-term career goals where do you see yourself in the future?
I'm shooting big. Becoming an opera singer is my dream. A role model of mine is Kristin Chenowith. She started off in opera and ended up moving to Broadway. I'm a musical theatre lover as well. It's always been a struggle for me to decide between opera and musical theatre. I really respect how she's put in all the time and extra effort to become an opera singer and then going to Broadway. I caught the opera bug when I was 13 and performed with the Manitoba Opera in La Boheme.
The end goal is the Metropolitan Opera, because that's the big leagues. If I can do some musical theatre as well, that would be fun. Of course plans can change, but it's definitely one of my goals. We'll see about Broadway when we get to that bridge. Music is my passion and will always be a major part of my life.