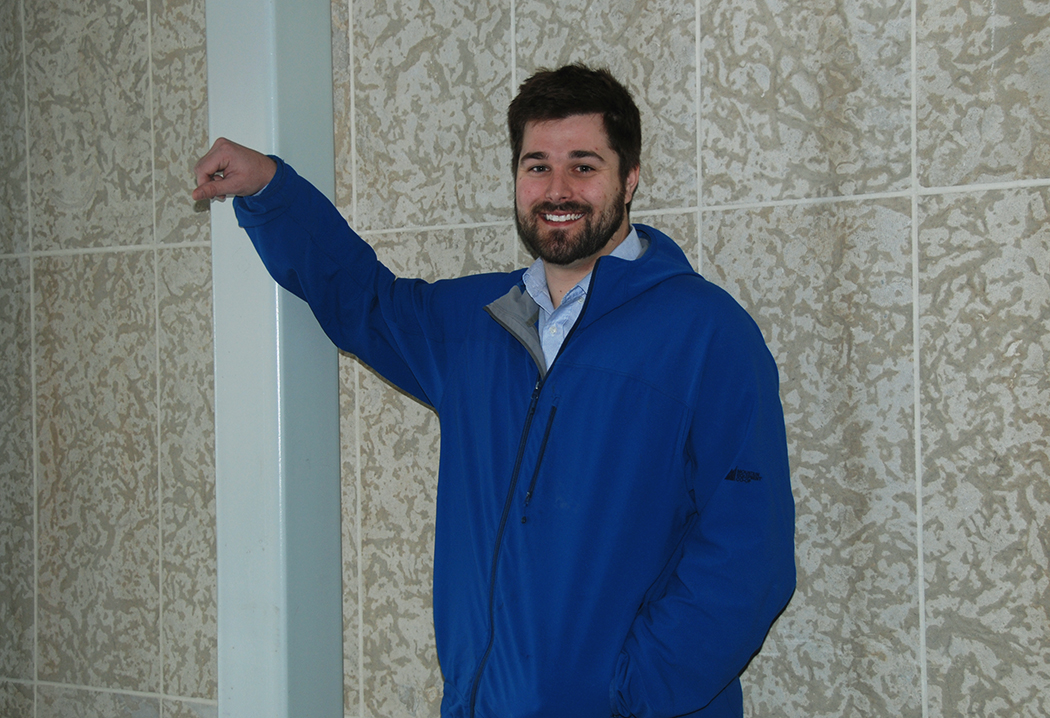 The exceptional experience of co-op education
March 18, 2014 —
Biosystems engineering student Dan Nenadov recently spent seven-and-a-half months in Nunavut as part of a co-op education program through the University of Manitoba. His Arctic work experience in Cambridge Bay as a project officer on infrastructure projects took place from May to December, through the 24 hours-a-day of darkness and the difficult-to-coordinate shipping of materials. And it left him wanting more.
"Walking home for lunch in the dark took a bit of getting used to, but it was fun. There are still so many things I want to go back to do and experience," he laughs.
"Coming into a small community, everyone was so welcoming and inviting, both in the office and in the community as a whole. It didn't take very long to fit in, and it was just very neat being in an area like that that still does a lot of subsistence hunting and fishing and still has a fairly traditional lifestyle. The work was very interesting — but also outside of work was very interesting.
"I went back three times."
Nenadov is clearly passionate about the North and bringing much-needed engineers to Nunavut. But he's also been instrumental in supporting and contributing to the co-op education program within the Faculty of Engineering.
So much so, in fact, that he recently was awarded the University of Manitoba Co-operative Education Student Champion Award for 2013. He told the award committee, "The most rewarding aspect of my co-op experience has been the opportunity to create and share a framework to solve a problem that I am passionate about, the need for engineers in Nunavut." Read the entire letter to the committee here.
His citation reads, "Dan is an outstanding student and role model in the co-operative education program. In addition to his outstanding contributions to the workplace, Dan has experienced how co-operative education has contributed to his own personal growth and learning and has been a major ambassador to encourage other students to become involved in co-operative education in the Faculty of Engineering.
"He has been instrumental in developing a MOU with the Government of Nunavut and the University of Manitoba's Engineering co-operative education program. This agreement allows for a minimum of four co-operative education placements each summer in four offices located throughout the North. Congratulation Dan!"
Nenadov says that he realized early on that "it made a lot of sense" to get involved in the co-op program. After he got involved, he realized further that the program is much more than just pairing a student with a job.
As he notes, "It's a great way for students to have a bit of control over where they are getting a job, and for employers to have a bit of control over the students they are getting. It makes the whole system more valuable, because everyone's a stakeholder."
The annual award is handed out each year as part of the celebration of Co-op Education Week, a national event promoted by the Canadian Association for Co-operative Education (CAFCE). This year, it runs from March 17 to 21.
Two honorable mentions for this award were Blake Beatty from the computer science program in the Faculty of Science and Dillon Barker from the Faculty of Science.
Their citation read, "Both of these students made great contributions to their workplaces, experienced personal growth and development through their placements and played an important role in promoting co-operative education in their programs. Congratulations to you both!"
At the U of M, we have co-op education programs in several faculties in addition to the Faculty of Engineering; co-operative education programs at the U of M are also offered in the Faculties of Agriculture and Food Sciences; Arts; Environment, Earth, and Resources; Science; and Asper School of Business.
***
In the Faculty of Engineering the Co-op/Industrial Internship Program (or IIP), recently reorganized to a more cohesive, faculty-wide program that provides one point of contact for the students and employers.
Director Carolyn Geddert says that it was "crucial" to have the support of someone like Nenadov, who, in his role as senior stick with the University of Manitoba Engineering Society (UMES), worked to promote and shape the new program.
Nenadov also worked hard to get the Monday Night H.I.R.E.D. event up and running, a weekly information and meet-and-greet for engineering students and potential employers.
Now, says Geddert, Engineering Co-op/IIP has become both more standardized and more flexible in its offerings. The program's new standardization — for example, offering 4 mo. summer sessions as well as 8, 12 or 16 mo. terms — also means there's more flexibility. This works to the advantage of both students and employers who participate.
Both Geddert and Nenadov wanted to take the program to a place where it was working to partner with individual students and employers in order to make the experience even more satisfactory for both.
"Dan worked with the program to shape the experience to his own interests and benefit — we wanted to continue in our role of expanding and preserving those opportunities for all future students," says Geddert.
Here's what co-op education looks like in the Faculty of Engineering (where it's known as Engineering Co-op/IIP):
Benefits & Responsibilities
BENEFITS
Engineering Co-op/IIP is much more than a short-term job placement solution. Cooperative education provides students with the opportunity to:
Develop crucial technical and "soft" employability skills.
Earn money to supplement education costs. The average wage Co-op/IIP students receive is between $18.00 & $25.00 per hour.
Build a resume / portfolio. Each work term allows students to expand their resume to include new skills developed during real work experience.
Explore career options and define long-term goals.
Gain confidence in their abilities and identify areas that are in need of further development.
Develop and maintain important industry contacts.
Receive the Co-op/IIP option on your degree parchment.
Travel to other parts of the country or world.
---
RESPONSIBILITIES
Participation in the Co-op Program is a privilege. Students who are accepted into the program are required to:
Ensure that all academic requirements are being met.
Attend all mandatory Co-op meetings and interviews.
Adhere to all Co-op guidelines and deadlines.
Ensure that resumes and cover letters are professional in appearance and effective as marketing tools.
Arrange for work permits (international students)
Apply for an appropriate number of jobs.
Pay for all work term and course fees.
Follow all employer policies and procedures.
Work to full capacity during work terms.
Represent Engineering Co-op/IIP in a professional and ethical manner.
Submit all required Co-op forms.
Check your U of M email account regularly for information and updates.
Read more information about co-operative education at the U of M.