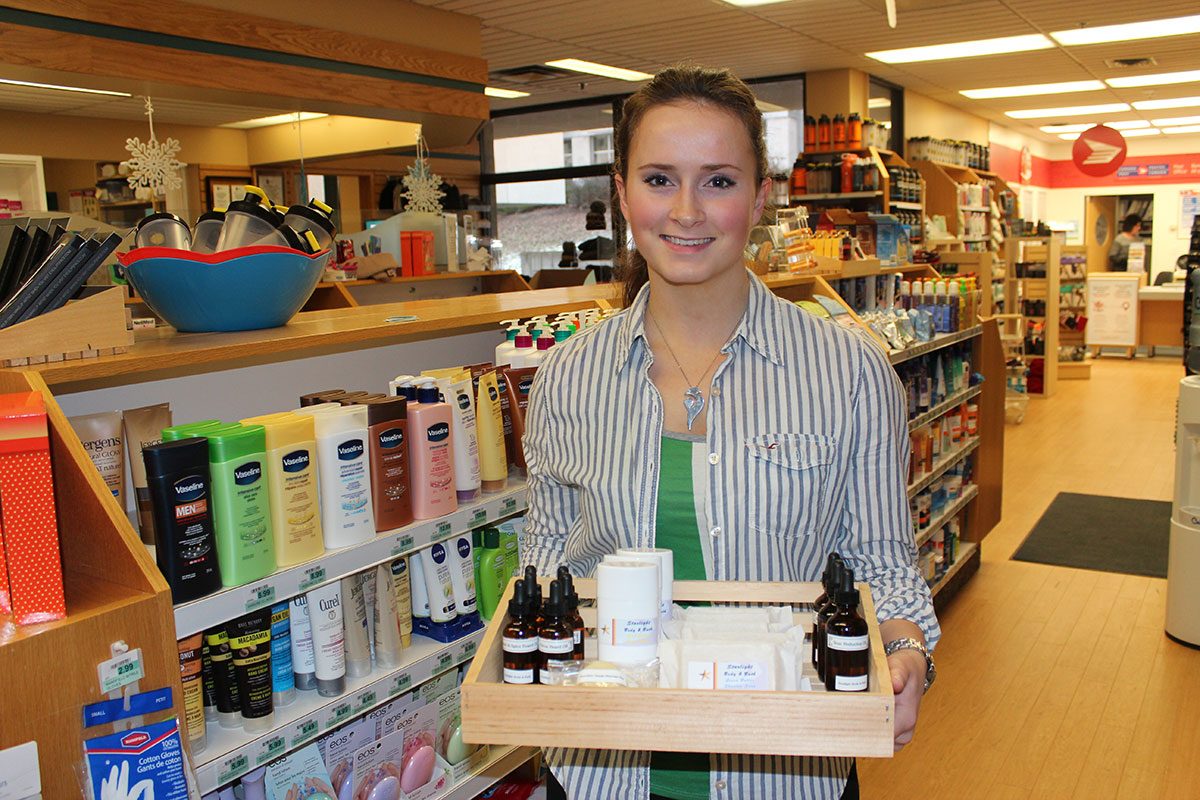 The environmental science of beauty
December 2, 2016 —
Riley Fache has always had sensitive skin, often experiencing reactions to many skin care products that were labelled "gentle" or "non-irritating." Even as a preteen, she wondered if there was a way to make her own skin care products that wouldn't cause such reactions.
By the time she was 12 years old, Fache had begun "experimenting" with various ingredients to see if she could come up with a combination that was safe to use and wouldn't cause her inflammation.
"I realized that making my own skin care products was actually a feasible thing for me to do," she explains. "The more research I did, the more I learned about natural alternatives to the ingredients that were found in many commercial products."
Today, the fourth-year biology student in the University of Manitoba Faculty of Science is making and marketing her own line of skin care products that are easy on the skin, but also less harmful on the environment than many commercial creams and bath oils.
Her cottage industry is called Starlight Body & Bath, handcrafted in small batches using ingredients that are traceable to their origin and are locally-sourced whenever possible. Her product line includes soaps, body butter, lip balm and even beard oil for men.
Fache credits her early experimentation and insight gained so far through her chemistry courses with the impetus to make her own soaps, balms and oils.
"I have been able to discover, on a chemical level, some of the reactions and processes that go into making something as simple as soap," she says. "I now can better understand the chemical composition of the waxes and oils that go into many of my products, as well as the medicinal properties of the herbs that I use."
Fache is focusing her studies in environmental and integrative physiology, with a minor in classical studies. ("It's a good left brain/right brain mix," she notes.) But it's the environmental aspects of her passion that play a major part in her enterprise.
"More recently, the courses I have taken which were geared towards environmental science and sustainability have really shaped the ideals I want to adhere to and that I want my business to uphold," she says.
"It seems logical to me to choose all-natural products that will not introduce toxins into one's body or potentially find their way into our waterways and food sources. Learning about these processes in my classes has helped shape the philosophy of my business."
Fache is quick to point out, however, that her business is definitely not her main focus.
"I don't do this solely as a way to make money, but of course it does help with university costs. It's more about the fact that I love doing it, and I strive to raise consumer awareness of the physical and environmental impact of the products people buy. I might consider doing this full time if I could integrate it into a career of creating and distributing eco-conscious products."
"I eventually want to work in environmental conservation. I believe it is critical for my generation to take environmental responsibility," she adds.
"My goal is to hold a position in which I can raise awareness about the challenges that our planet is facing, and to help get people involved in implementing sustainable solutions."
So far, Fache is managing to juggle a difficult course load with her business, but she admits it is challenging.
"It certainly takes away from the time I could spend studying, but I am glad to do it whenever I can," she says. "It is relaxing for me to tune out the homework and focus on crafting and labeling a batch of lip balms or soaps. It can get hectic, especially around the holidays when I am involved in so many craft shows."
And she may soon find her time a bit more difficult to manage. This week, the University Centre Pharmacy is officially launching and featuring her line of skin care products.
"We are always looking for new and innovative products to carry in the University Centre Pharmacy," says Debra Giesbrecht, manager of the pharmacy.
"When we saw Riley's all-natural products on sale at a local market recently, we were very impressed. Not only is this a quality collection of products, but supporting an entrepreneurial student at our own institution is a great way to support our local community as well."
Fache will be demonstrating her products there before Christmas, in between classes and studying for exams.
"Balancing everything can be tough, but as long as the business doesn't feel like real work for me, I enjoy doing it," she says.