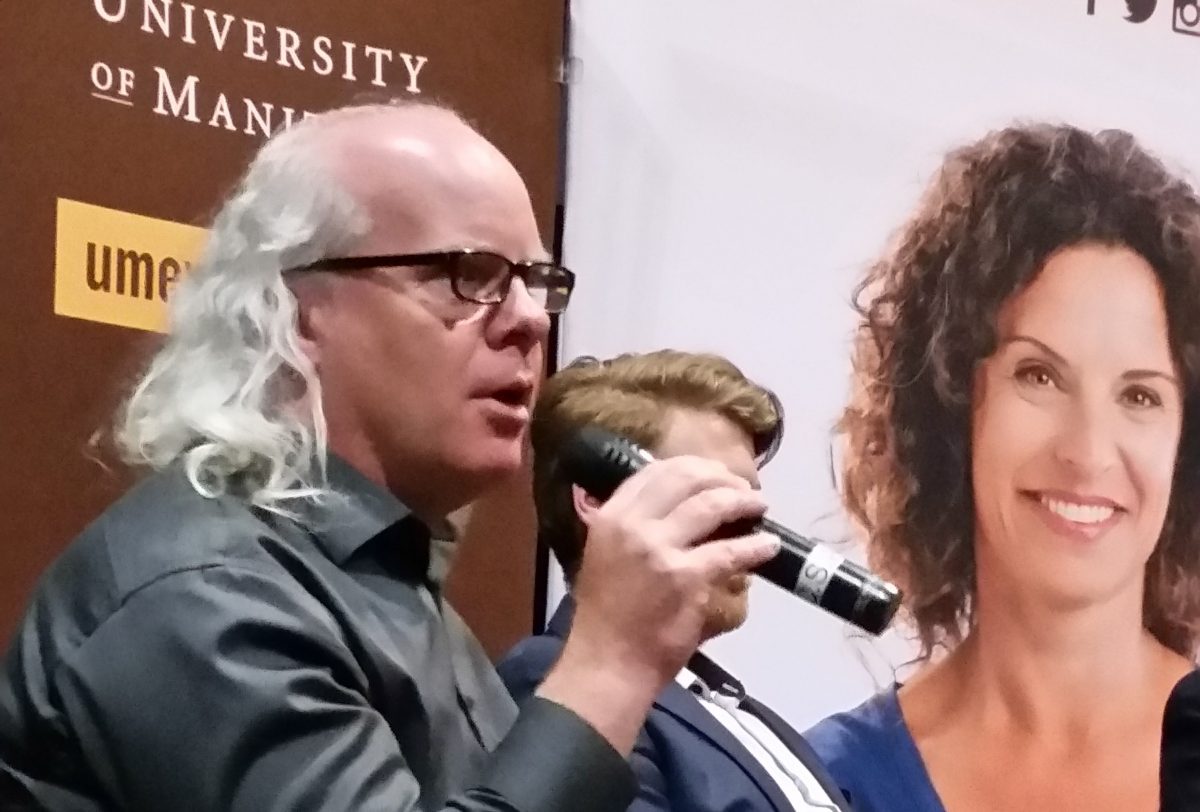 The Dean's Lecture Series 2018-2019 wraps up
Talking Smart Transportation
May 15, 2019 —
On May 14, about 40 people gathered in the Carol Shields Auditorium of the Millennium Library to talk transportation. They joined the conversation to consider creative and modern approaches to transport Winnipeg into the future at the last session of the Dean's Lecture Series 2018-2019 season.
Transportation technology
Jonathan Foord, City of Winnipeg's Acting Traffic Signal and TMC Branch Head, talked about the old way and the new way of transportation in the city. He noted how increased technology including traffic light connectivity, cameras and Twitter updates from the city's Transportation Management Centre (@WinnipegTMC) are helping everyone including police and paramedics to make better and faster decisions, for better service and improved outcomes.
"Ultimately, transportation affects people's lives. We can do better and we should," says Foord.
Transit improvements
Barry Prentice, professor at the Asper School of Business at U of M, and a member of the Transport Institute, noted how only about 10 to 12 per cent of the population takes transit because the bus doesn't go where you want to go when you want to go.
"We can get a better system. We are on the road to that," says Prentice.
Joseph Kornelsen, chair and founding member of Functional Transit Winnipeg, said today's transit is focused on commuting, with feeder routes added. He suggested a frequent service network would better meet people's needs, encouraging them to make more trips for errands and leisure.
"We want buses to arrive often, near where we want to go, and be affordable in terms of our time and other methods of transportation," says Kornelsen.
More cyclists
Mark Cohoe, executive director of Bike Winnipeg, noted how there are several types of cyclists within the general population. When it comes to cycling, one per cent of people are strong and fearless. About 10 per cent are enthused and confident, and 30 per cent won't cycle, no way no how. That leaves about 60 per cent of people interested but concerned.
"Most people want to get out and ride bikes. If we provide the network for people, many will choose to ride bikes," says Cohoe.
Opportunities for discussion
In 2018-2019, the Dean's Lecture covered topics from Smart Transportation to Opioid & Crystal Meth Addiction, and Education for Social Justice. The Dean's Lecture Series was launched in May 2018 with an inaugural session to start the conversation about how we will make our community smart with its adaptation of technology and also using that technology to improve people's lives.
The series has been an opportunity for Extended Education at the U of M to lead the discussion on topics of interest, and connect with the community.
Learn more about other Insights from Extended Education