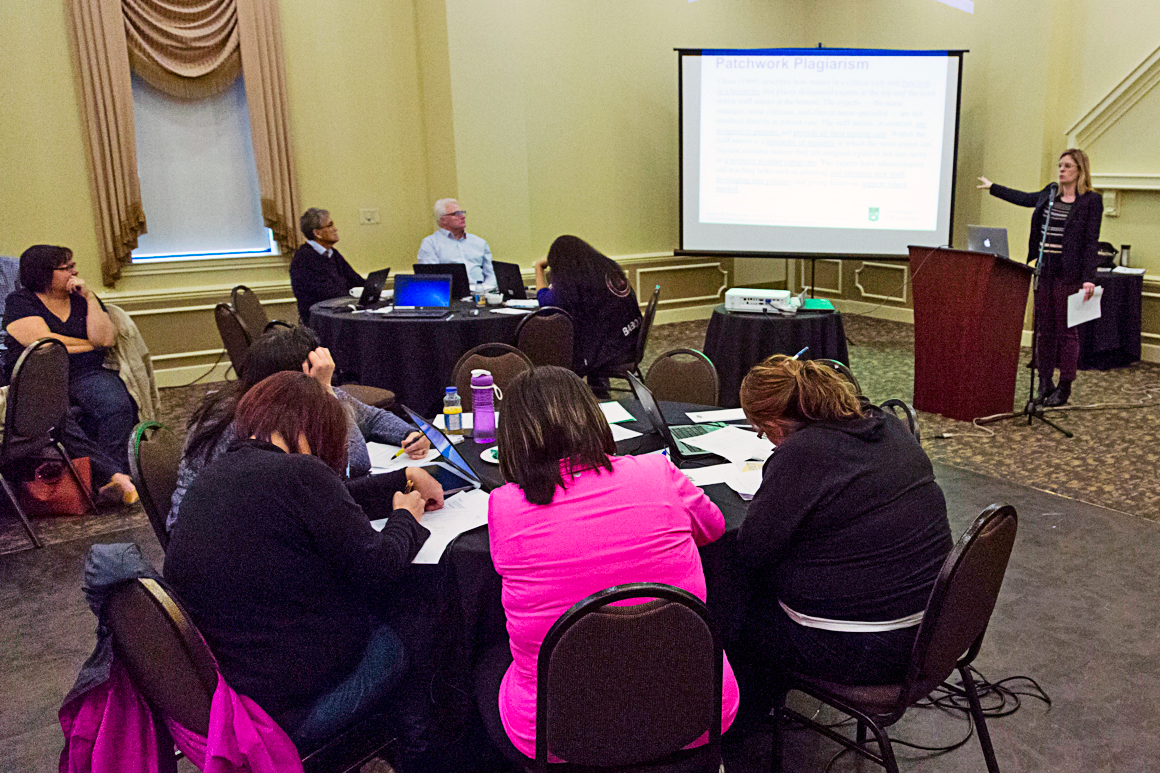 Teachers tackling special needs on First Nations
Program delivers resource training to 75 teachers
November 25, 2016 —
High school teacher Ryan Quill works with a Grade 11 student who aces every math test but struggles with reading and writing.
"We've managed to keep him in school and get him through the assignments as long as I modify it for him," says Quill, a high-school teacher at Neil Dennis Kematch Memorial, in Sapotaweyak Cree Nation.
Keeping students like this in school is among the reasons why Quill and some 75 other elementary-, middle- and high-school teachers from almost every First Nations school in the province joined the RISE program this month.
For teachers like Quill, the RISE (Resource Inclusive Special Education) program provides tools to help them to assist students with issues such as reading, behavioural and cognition problems by helping teachers to identify and overcome their weaknesses with teaching strategies and ways to modify the curriculum to better meet the needs of students.
The program, supported by the University of Manitoba and Manitoba First Nations Education Resource Centre (MFNERC), started earlier this month with a three-day orientation workshop in Winnipeg. Teachers participating in the program also complete 30 hours of course work throughout the year and, once completed, earn a PBDE.
Quill says First Nations are facing a growing need for special- and inclusive-education training—especially when funding for students who need resource training is cut after Grade 8. However, the need for support doesn't end.
"I signed up for this program so that I won't need a resource department. I'll be the resource department," he said. "It will better help me to meet the needs of our students' learning challenges, and not feel so frustrated."
Norma Garson, a kindergarten teacher with Fisher River Cree Nation who's transitioning to the resource office at her school says her school is seeing a growing number of children with special needs.
As a resource teacher, she looks forward to working with teachers to develop programs that meet the needs of students on a case-by-case basis, "so we can be more inclusive in our schools. Trying to meet the needs of students who require additional help."
Don Shackel, MFNERC manager of clinical support services, says that in addition to the growing number of children provincewide with special needs, retention of resource teachers is also a major issue in First Nations communities.
"Many of the teachers, who were non-Indigenous would stay for a year or two and then they would leave."
In response, MFNERC developed a program similar to RISE in 2003 to train certified resource teachers from First Nations communities with programs and activities with an Indigenous focus. The program resulted in a 70-per-cent success rate with many students continuing to pursue their master's degree and now working as educational consultants in schools. Seeing the need, the organization offered the program once again. Initially offering seats for 50 students, demand drove the organization to offer space for 75 students.
"They're from the community, they're committed to the community and speak the language. It just makes sense," says Shackel, adding that plans are in place to train clinicians with similar programs, the first of their kind in Canada.