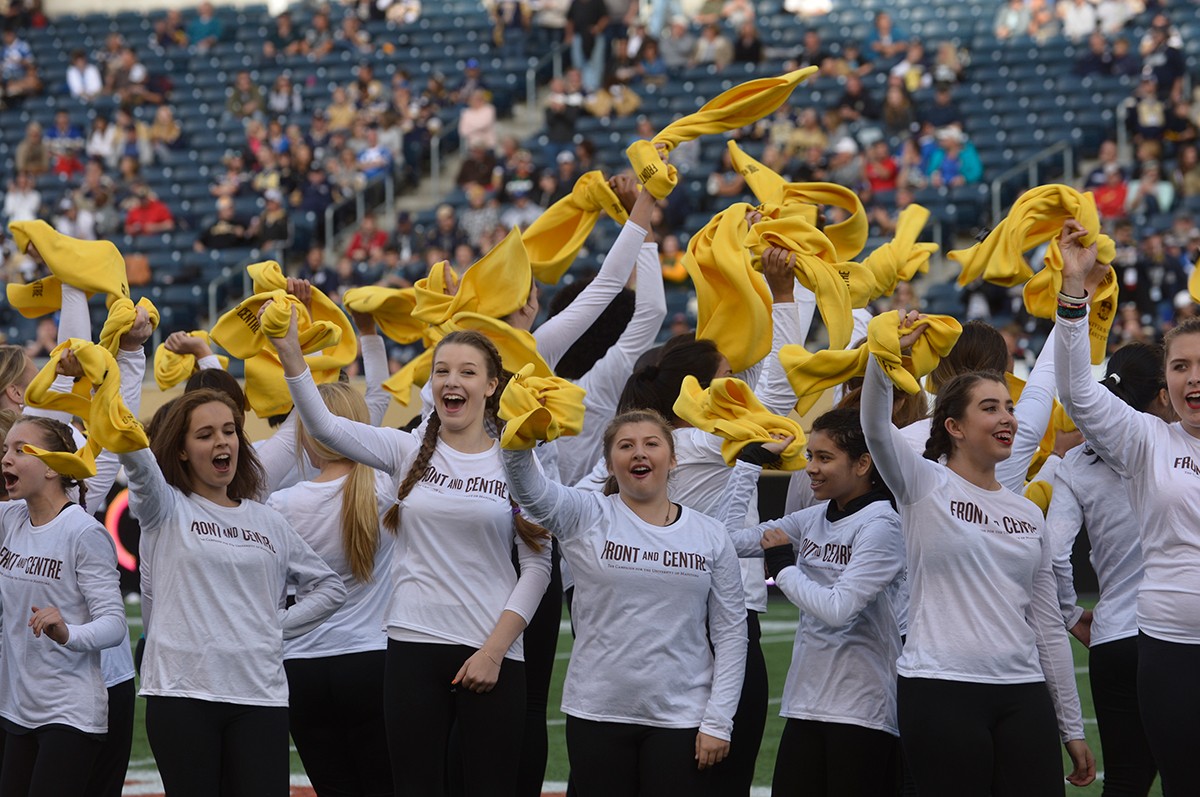 Taking our place
Front and Centre campaign launches with lively events around the world
December 23, 2015 —
Front and Centre, the campaign for the University of Manitoba, publicly launched on October 3, 2015. Since that day, momentum has continued to gain. Here are some of the highlights.
October 3 – halftime show
On October 3 in front of an enthusiastic crowd at Investors Group Field, the University of Manitoba publicly launched its Front and Centre campaign during an exhilarating halftime show at the Winnipeg Blue Bombers game. University president David Barnard, campaign chair Paul Soubry, and campaign team member – and retired NFL star – Israel Idonije announced the total raised to that point. The $215,294,636.30 total was a significant milestone on the road the campaign's ambitious $500 million goal.
"Thank you – those are the two words I most want to say today to our donors and our community volunteers who have worked tirelessly to ensure the University of Manitoba continues to build better futures for our students and our community," said Barnard at the event. "I am not surprised at our progress. This is the Manitoba we know, one where people see an opportunity and respond to it in an amazing way."
October 9 – Government announcement
Less than a week later the provincial government announced its support, committing $150 million to the Front and Centre campaign at a lively celebration on October 9.
This brought the total raised to an astonishing $365,294,636.20, which was announced at the event to a cannon of streamers and raucous applause. This figure already has made Front and Centre the most successful and most ambitious campaign in Manitoba's history.
"The education that you receive as a young person shapes your entire life," said Premier Greg Selinger. "This investment means that Manitoba students can get a world-class, affordable and accessible education right here at home and be ready for the jobs of tomorrow."
At the event Jeremiah Kopp, president of the U of M Students' Union, spoke of the transformational impact that the Front and Centre campaign has on students.
"Thank you so much for your unwavering support and contribution to us as students," said Kopp. "It absolutely means the world to us. If there was ever a question about whether students are paying attention to this campaign, I have only one message: we absolutely are."
Momentum has been growing as additional support for the U of M is committed around the world.
October 13 – Sharing with alumni in Asia
Alumni gathered in Hong Kong, Kuala Lumpur and Singapore in October to share their memories and hear about the exciting things happening at the U of M. On October 13, Esther Suen [BComm(Hons)/85], a renowned Hong Kong business leader, and distinguished alumna, took the stage to announce her $1 million gift. Suen created the 'Simatelex Charitable Foundation International Study Program' to support international students at the University of Manitoba.
November 19 – Celebrating with Toronto alumni
At an alumni gathering in Toronto held on November 19 Bryce Douglas, former deputy chairman and managing director of RBC Dominion Securities, Inc. announced that he and his wife Nicki have made a $2 million gift. The gift will transform the Bryce Douglas Professorship in Finance into a research chair.
November 27 – Connecting in Calgary
Noted energy entrepreneur Robert Michaleski [BComm(Hons)/75] supported the U of M through a $1 million commitment to the Active Living Centre, which was announced at an alumni gathering on November 27 in Calgary. "I saw this as an opportunity to support the University of Manitoba's Front and Centre campaign, and empower not only students but all Manitobans to lead healthy lives," explains Michaleski.
Later in November and December, hundreds of alumni came together to reconnect and learn about the campaign at events in Victoria and Vancouver.
December 1 – Giving Tuesday
On Giving Tuesday Stanley and Dorothy Pauley announced their continued support for the U of M. Electrical engineering students and faculty will have a brand new facility housing graduate and undergraduate laboratories, faculty offices, and graduate student study space thanks to a $5 million commitment from the Pauleys.
"I received an excellent education at the University of Manitoba," said Stanley Pauley [BSc(EE)/49]. "This enables me to provide financial assistance to help expand as well as to improve the facilities that will positively affect the shaping of future generations of electrical engineering students. It gives me great pleasure to do so."
Other gifts of note:
The Front and Centre philanthropic campaign will transform the University of Manitoba. Alumni, donors and the university community have shaped five campaign priorities that will ensure our province's long-term economic, social and cultural vitality. These priorities include: Indigenous achievement, graduate student support, research excellence, outstanding student experience and places and spaces.