united nations News Archive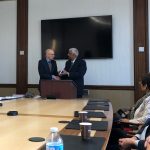 May 15, 2018 —
Winston Dookeran [BA/66, LL.D./91], the first international student voted in as President of UMSU, recently returned to the University of Manitoba to share stories of a fulfilling career in economics, politics, and academia.
2
June 30, 2016 —
On June 23 2016, Marcia V. J. Kran, a Canadian lawyer and former international civil servant now living in Vancouver, was elected to the UN Human Rights Committee (HRC). She holds B.A. (1987) and law (1980) degrees from the University of Manitoba, and received the Celebrated Alumnus Award from the Faculty of Arts in 2006.
+