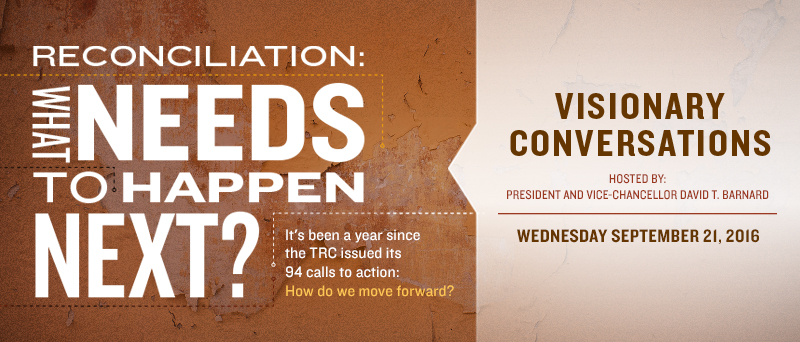 Tackling Reconciliation at Visionary Conversations
Panelists discuss the next steps in Reconciliation on Wednesday, Sept. 21
September 15, 2016 —
The Truth and Reconciliation Commission of Canada (TRC) issued 94 calls to action on June 2, 2015. Justice Murray Sinclair, chair of the Commission, said "Reconciliation is not an aboriginal problem, it is a Canadian problem. It involves us all."
Gord Downie, frontman for The Tragically Hip, recently brought attention to this "Canadian problem", issuing a challenge to Prime Minister Justin Trudeau to "fix this" at their emotional final concert in Kingston. Just last week, Downie announced that proceeds from a new solo project would go to support the ongoing efforts of the National Centre for Truth and Reconciliation to identify and remember children who never returned home from Residential Schools. The TRC's findings, which incorporate years of research and thousands of witness statements, reveal the full impact that Residential Schools had on Survivors and families. These materials are preserved at the NCTR, at the University of Manitoba.
What: Visionary Conversations
Topic: Reconciliation: What needs to happen next?
When: Wednesday, Sept 21, 2016 at 6:30 p.m.
Where: Robert B. Schultz Theatre, St. John's College
At our upcoming Visionary Conversation, hosted by President and Vice-Chancellor David T. Barnard on Wednesday, September 21, the following distinguished panelists will discuss what happens next, and how we can move forward with the recommendations of the TRC.
Nahanni Fontaine [MA/01]
Member of the Legislative Assembly for St. John's
Nahanni Fontaine is the MLA for St. Johns and NDP critic for Status of Women, Persons with Disabilities, Families, and Missing and Murdered Indigenous Women and Girls. Fontaine has served as a representative of the Indigenous community on the Winnipeg Police Advisory Board, Canadian Race Relations Foundation and the United Nations Working Group on Draft Declaration on the Rights of Indigenous Peoples. In the past, Nahanni served as the Province's Special Advisor on Aboriginal Women's Issues. She has won many awards, including the YMCA Women of Distinction Award and the Governor General's Award in Commemoration of the Person's Case. Nahanni is Status Ojibway from the Sagkeeng Anishinaabe First Nation and is the proud mother of Jonah and Niinichaanis.
Tina Keeper
Actor, producer and honorary witness of the Truth and Reconciliation Commission
Tina Keeper is a Winnipeg based media producer and president of Kistikan Pictures. Recent productions include the feature film, Road of Iniquity, associate producer of the Royal Winnipeg Ballet production Going Home Star, and the upcoming feature film production Through Black Spruce based on Joseph Boyden's Giller prize winning novel. Tina formerly served as the Member of Parliament for the federal riding of Churchill. She has a BA in Theatre from the University of Winnipeg and has trained at the Centre for Indigenous Theatre, the Banff Centre and the Sundance Institute. Tina currently serves as Chair of the Helen Betty Osborne Memorial Foundation, a member of the Manitoba Hydro board, Onscreen Manitoba Board, the advisory Committee to Urban Shaman Gallery, and is a member of the Order of Manitoba, Canadians for a New Partnership, a recipient of an Aboriginal Achievement Award, a Gemini Award and a 2014 Canadian Civil Liberties Association award for Public Engagement.
Lenard Monkman
Associate Producer, CBC Aboriginal and co-founder, Red Rising Magazine
Lenard Monkman is Anishinaabe from Lake Manitoba First Nation, Treaty 2 territory. He is an associate producer for CBC Aboriginal and is the co-founder of Red Rising Magazine, a new independent Indigenous media. He is a volunteer spokesperson and community organizer for Aboriginal Youth Opportunities (AYO!), and has been instrumental in building bridges between the Indigenous and non-Indigenous communities in Winnipeg. He is also the founder of the annual 100 Basketballs initiative, which to date has given close to 600 basketballs to children in the North End of Winnipeg. He is currently a student at the University of Winnipeg.
Ry Moran
Director, National Centre for Truth and Reconciliation
Ry Moran is the first director of the National Centre for Truth and Reconciliation, building on a previous role as director of
statement gathering with the TRC. Before joining the TRC, Ry was the founder and president of YellowTilt Productions, which delivered services in a variety of areas including Aboriginal language presentation and oral history. Ry's professional skills and creativity have earned him many awards including a National Aboriginal Role Model Award and a Canadian Aboriginal Music Award. Ry is a proud member of the Métis Nation.
---
Earlier in the day on Sept. 21, please join us as we celebrate U of M's Indigenous alumni and launch the Department of Native Studies Fall Colloquium at the 2016 Indigenous Homecoming. 
Wednesday, September 21
11:30 a.m. – 1:30 p.m.
Migizii Agamik – Bald Eagle Lodge
Fort Garry Campus, University of Manitoba
Find more details for Indigenous Homecoming online here.