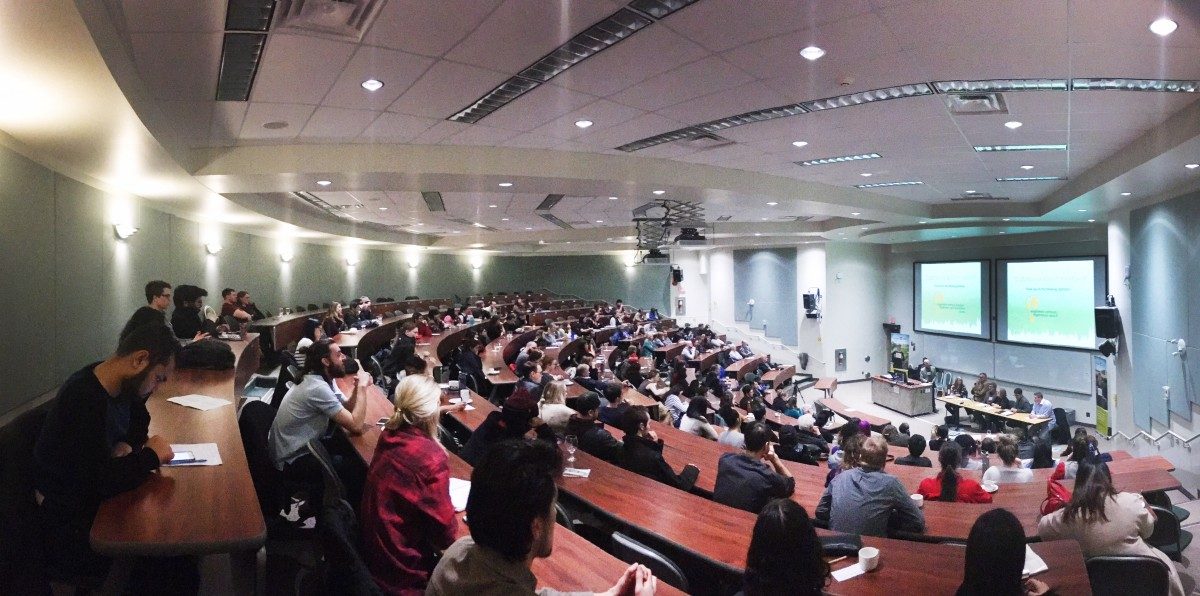 Sustainability Night: Exploring the UN Sustainable Development Goals
February 25, 2019 —
Come join us for Sustainability Night on March 7 to connect with other sustainability-focused people. Enjoy an evening of sharing sustainability ideas and stories about creating positive impacts on our environment that benefit our planet and ourselves. Cap off the night meeting and sharing ideas with other sustainability-conscious community members during the networking wine-and-cheese.
Thursday, March 7, 6:30 – 9 p.m.
Robert B. Schultz Theatre, St. John's College, 92 Dysart Road
6 p.m. – Doors open
6:30 – 7:30 –p.m. – Presentations (PechaKucha 20×20 format*)
7:45 – 8:30 p.m. – Panel discussion
8:30 p.m. – Sustainability Award winners announced
8:30 – 9 p.m. – Networking wine and cheese
Tickets are $5 each. Purchase your ticket here!
The theme of Sustainability Night 2019 is the United Nations Sustainable Development Goals (SDGs). The 17 SDGs are the blueprint to achieve a healthier and more sustainable future for all. The SDGs address global challenges, including those related to poverty, inequality, climate, environmental degradation, prosperity, and peace and justice. The goals are interconnected and in order to leave no one behind, it is important that the world works toward achieving each goal and target by 2030. Each presenter during Sustainability Night will highlight how their initiative is helping progress the SDGs.
Presentations include:
Organic Waste Diversion: A Campus Pilot Project presented by Chantal Delaquis, student, Faculty of Arts
Lawnicure and Lost Natures presented by Dietmar Straub, Professor, Faculty of Architecture
WinterGreen Project: Growing Food in Shipping Containers presented by Sean Scammell, student, biosystems engineering
Alternative Energy & Food Sovereignty in Northern Communities presented by Curt Hull, Boke Consulting
Regenerative Agriculture and the Impacts on Communities presented by Ted Chastko
Vegans are Wankers: The Positive Impact to Reducing Meat & Dairy From Your Diet, Michael Link, staff, Centre for the Advancement of Teaching and Learning (CATL)
*PechaKucha 20×20 is a simple presentation format where you show 20 images, each for 20 seconds. The images advance automatically and the presenter will talk along to the images. For this event, presenters are asked to come up with an idea, project or general talk related to a sustainability topic. After the presentations are complete, students, faculty and staff will be encouraged to ask the presenters questions during the informal meet-and-greet session at the end of the evening.
The University of Manitoba was recently selected as the United Nations' Academic Impact Hub for SDG 6: Clean Water and Sanitation. The panelists will discuss their research, projects and thoughts regarding clean water and sanitation in Manitoba. Panelists include:
Kristy Anderson – Masters candidate, department of soil science, University of Manitoba
Stewart Hill – PhD. candidate, Natural Resource Institute, University of Manitoba
David Lobb – professor, department of soil science, University of Manitoba
Stephane McLachlan – professor, department of environment and geography, University of Manitoba