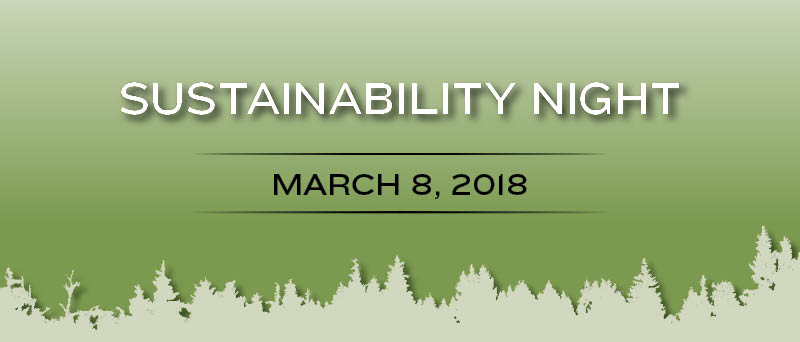 Sustainability Night: Exploring Passion for the Environment
February 26, 2018 —
Come join us for Sustainability Night March 8. Enjoy an evening of sharing sustainability ideas and stories about creating positive impacts on our environment that benefit our planet and ourselves. Cap off the night meeting and sharing ideas with other sustainability conscious community members during the networking wine and cheese.
Thursday, March 8, 6:00 – 9:00 p.m.
Robert B. Schultz Theatre, St. John's College, 92 Dysart Road
5:30 PM – Doors open
6:00 – 7:00 PM – Presentations (PechaKucha 20×20 format)
7:15 – 8:15 PM – Panel discussion
8:15 – 9:00 PM – Networking wine & cheese
Tickets are $5 each. Purchase your ticket here!
Presentations include:
Comparison and Life Cycle Costing of Low Energy Passive Homes presented by Wayne Cole, Sustainable Renewal Planning
Farmer to Fair Trade – Why does it matter? presented by Zack Gross, Fair Trade Winnipeg
How Do You Build a Sustainable and Green Culture at Your Workplace? presented by Yuan Zhou, University of Manitoba Alumni
Using Our Ecological Self to Address the Ecological Crisis presented by Kazutoshi Yoshino, PhD Student, Education for Sustainability
Corporate Social Responsibility and the Carcinogens in Cosmetic Products presented by honors student Hannah Brown
Active Transportation and Indigenous Planning and Design Principles presented by Dylan Hewlett and Halley Sveinson, Environmental Design Students, Faculty of Architecture (in partnership with UMCycle)
Living in Churchill presented by Mathew Scammell, Undergraduate Student, Clayton H. Riddell Faculty of Environment, Earth and Resources
PechaKucha 20×20 is a simple presentation format where you show 20 images, each for 20 seconds. The images advance automatically and the presenter will talk along to the images. For this event, presenters are asked to come up with an idea, project or general talk related to a sustainability topic. After the presentations are complete, students, faculty and staff will be encouraged to ask the presenters questions during the informal meet and greet session at the end of the evening.
Panelists include:
Bev & Will Eert from Manitoba Sustainable Energy Association (ManSEA)
Chris Penner, Senior Biologist at Scatliff, Miller & Murray (SMM)
Kristina Hunter, Faculty Member from Clayton H. Riddell Faculty of Environment, Earth, and Resources
Marten Duhoux, Chair of the Canada Green Building Council and Principal Architect at ft3 Architecture Landscape Interior Design
Rob Sinclair, Senior Environmental & Hydrogeologist at Kontzamanis Graumann Smith Macmillan Inc. (KGS)