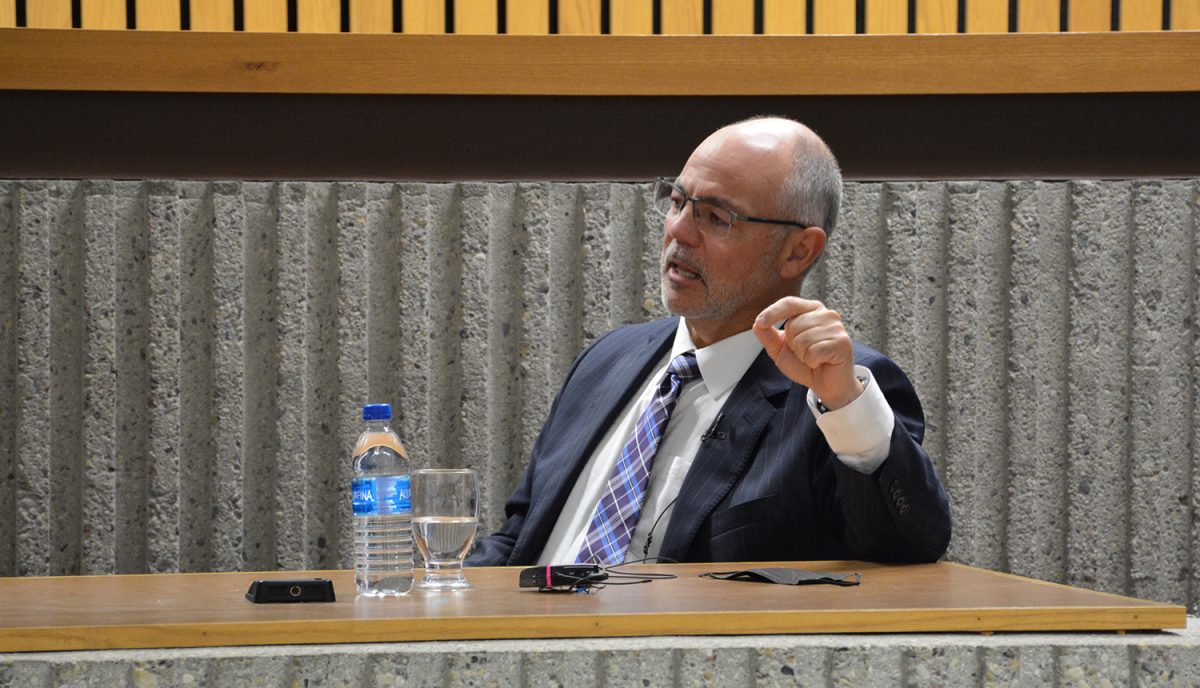 Supreme Court Justice visits Manitoba law students
September 23, 2022 —
A rare and marvellous event it is, when a Justice of the Supreme Court of Canada can spend some quality time speaking with law students, answering their questions and sharing personal experiences. Robson Hall students and faculty had the opportunity on Thursday, September 22, to ask anything they wanted of The Honourable Russell Brown, who was in Winnipeg for a national judicial event this week.
The visit came about after Manitoba Court of Appeal Chief Justice Richard Chartier mentioned Justice Brown's upcoming visit to Dr. Richard Jochelson, Dean of Law. "The Chief Justice put us in touch and Justice Brown was eager to visit with students," Jochelson explained. "At that point we handed things off to the Manitoba Law Students' Association (MLSA) and the rest happened."
"The rest" consisted of a friendly "Fireside Chat" with the Justice, who, as a former law professor and Associate Dean at the University of Alberta, demonstrated ease and great interest in conversing with the near-capacity Moot Courtroom.
MLSA President Mikal Sokolowski had organized an interview panel consisting of Assistant Professor Gerard Kennedy, Manitoba Indigenous Law Student executive member Melinda Moch, and MLSA executive member Braydon Gray. Pre-submitted questions ranged from soft-balls about most memorable experiences on the Bench, to the most valuable skills needed to be successful as a lawyer.
"Legal writing," he said, emphatically and multiple times, "is the most important skill a lawyer should have."
When asked for observations of how lawyers have changed over his years on the Bench since he was first appointed to Alberta's Court of Queen's (now King's) Bench in 2013 until now, he noted that legal writing has improved.
For every question he was asked Justice Brown gave a warm and thoughtful answer. Law students learned many important insights from Justice Brown, and had a further opportunity to mingle with him after the formal chat over lunch in the Common Room.
Justice Brown holds degrees from the University of British Columbia (BA), the University of Victoria (LLB) and the University of Toronto (LLM, SJD). He was admitted to the Bars of British Columbia (1995) and Alberta (2008), and practiced at Davis & Company (now DLA Piper LLP) in Vancouver from 1995 to 1996 and at Carfra & Lawton (now Carfra Lawton LLP) in Victoria from 1996 to 2004. From 2008 to 2013, he was associate counsel to Miller Thomson LLP. From 2004 to 2013, Justice Brown was a member of the Faculty of Law at the University of Alberta, variously as professor and associate dean. His main areas of practice were commercial law, medical negligence, public authority liability, insurance law and trusts and estates.
He was appointed to the Court of Queen's (at the time) Bench of Alberta on February 7, 2013, and to the Court of Appeal of Alberta on March 7, 2014. Justice Brown also served as a Judge of the Court of Appeal for the Northwest Territories and a Judge of the Court of Appeal of Nunavut. He was appointed to the Supreme Court of Canada on August 31, 2015. His full biography is on the Supreme Court of Canada website.
The Faculty of Law will again be honoured to host Justice Brown's colleague, The Honourable Andromache Karakatsanis at the end of October for law students and faculty at Robson Hall.