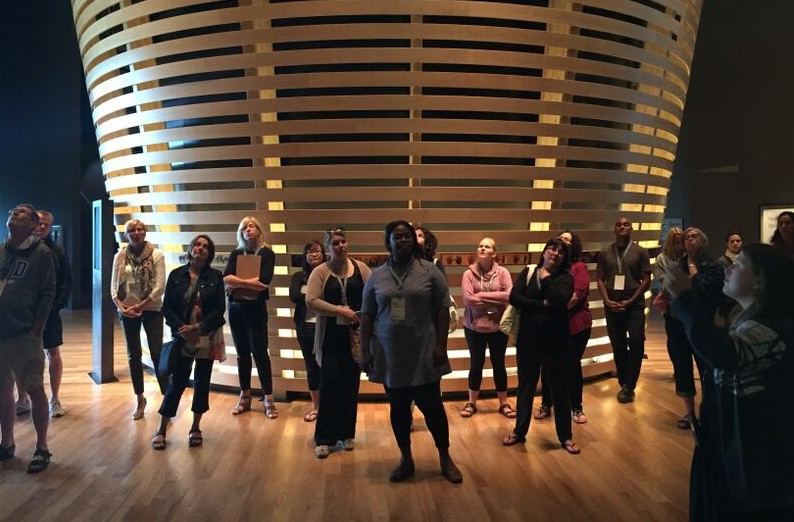 Inspiring teachers to think critically about stories they tell
Second year of the institute explored notion of story and narrative in order to critically reflect on challenges related to human rights education
July 17, 2015 —
This year's summer institute on human rights education—the second annual collaboration between the Faculty of Education and the Canadian Museum For Human Rights (CMHR)— focused on the stories educators tell about human rights, and the challenges they face in telling those stories in the classroom.
And many of the students who took the class (most of whom are working teachers and educators) said it will improve upon the information they take back to their schools in the fall.
The institute was offered over 10 days in July and featured days spent at the CMHR doing tours and listening to lectures, as well as in the classroom at the U of M and at the William Norrie Centre. A total of 37 students were enrolled from U of M, Brandon University and Université de Saint-Boniface.
This year's institute, led by Education professors Melanie Janzen and Jerome Cranston, explored the notion of story and narrative in order to critically reflect on questions such as "Whose stories get told and by whom?" The sessions are meant to help educators better understand the challenges related to human rights teaching as well as a consideration of the curriculum, materials and portrayals of oppression, among other topics.
The institute, "Engaging in theories and practices of human rights education," is the follow-up to last year's inaugural CMHR summer institute, which helped teachers examine the pursuit of human rights as it was related to educational leaders, and how human rights could be reconciled with the clashing of cultures and values of our changing times.
"We will be looking at different notions or aspects of human rights," Cranston told students on the first day of class. He noted that this year's group of speakers is a more diverse group than in the course's first year.
For example, students heard lectures on museum architecture from Alan Sibley, interpretive planner (exhibit development) at the CMHR; exhibiting mass atrocities in the CMHR with speaker Jeremy Maron, a researcher/curator at the museum; and a discussion about the museum's Indigenous content from Emily Grafton, a researcher-curator at the museum. They also heard about the Aboriginal Education Directorate from speaker Helen Robinson-Settee, the director of the institution, on its goals related to Aboriginal education and training in Manitoba.
On the first day, the students examined the Universal Declaration on Human Rights and tried to come up with their own definitions of the words "inherent, dignity, equal, inalienable and endowed."
A variety of reasons to take institute
Students, most of whom are working teachers and school administrators, were enthusiastic about their reasons for taking the course.
Many enjoyed the group discussion aspect but also the time on the weekends to work through their individual assignments.
Cranston said that for this year's version, "more dedicated time has been allocated for independent investigation, inquiry and reflection on a topic (or topics) that are relevant to each student as an emerging scholar of human rights education."
Lindsay Gustafson, a Kindergarten/Grades 1 and 2 teacher from École St. Malo, said she was taking the institute to learn more about how to make the information on human rights age appropriate for her students.
"I would like to know how to apply information on human rights to young kids."
Gustafson added that she also hoped to gather information on how to deliver information to a vulnerable student population.
Joseé Trudeau, a Grade 7 teacher from College Beliveau, said that she already teaches human rights in her social studies class but she wanted more in-depth material to bring back.
"I hadn't had any professional development with my students—it has been self taught." She said the main thing she would be teaching in the fall was to encourage students to think more critically about documents related to human rights.
"This course has really brought that to my attention."
Jon Sorokowski, a Grade 5 teacher at École Robert Browning, said that in general, "the concept of human rights is interesting to me."
He was hoping to head back to classes with "a better understanding overall of what things I can do to make human rights education more impactful."
Brandon University students Lesia Jensen and Gord Wood, who are teacher and vice-principal, respectively, at Dauphin Regional Comprehensive Secondary School, said that they got so much out of the course they are developing their final project to use at their school.
Jensen and Wood said they plan to take some of the human rights information they have gleaned and implement it as part of the school's strategic direction for the year.
"The whole idea is it has brought up questions on how we do things, the practices we have, the decisions we make."
Jensen said to fully implement a new strategy on human rights, through the CMHR course they have realized they need to not only involve the students at their high school but also the teachers.
"This is just the beginning of what we are going to start," said Wood, adding that they have recommended the institute to numerous other educators.
As for Cranston and Janzen, they are gearing up to make next year's program even better.
"We are committed to the relationship with the CMHR through this collaborative course, and they have indicated they would like us to offer it again next summer."