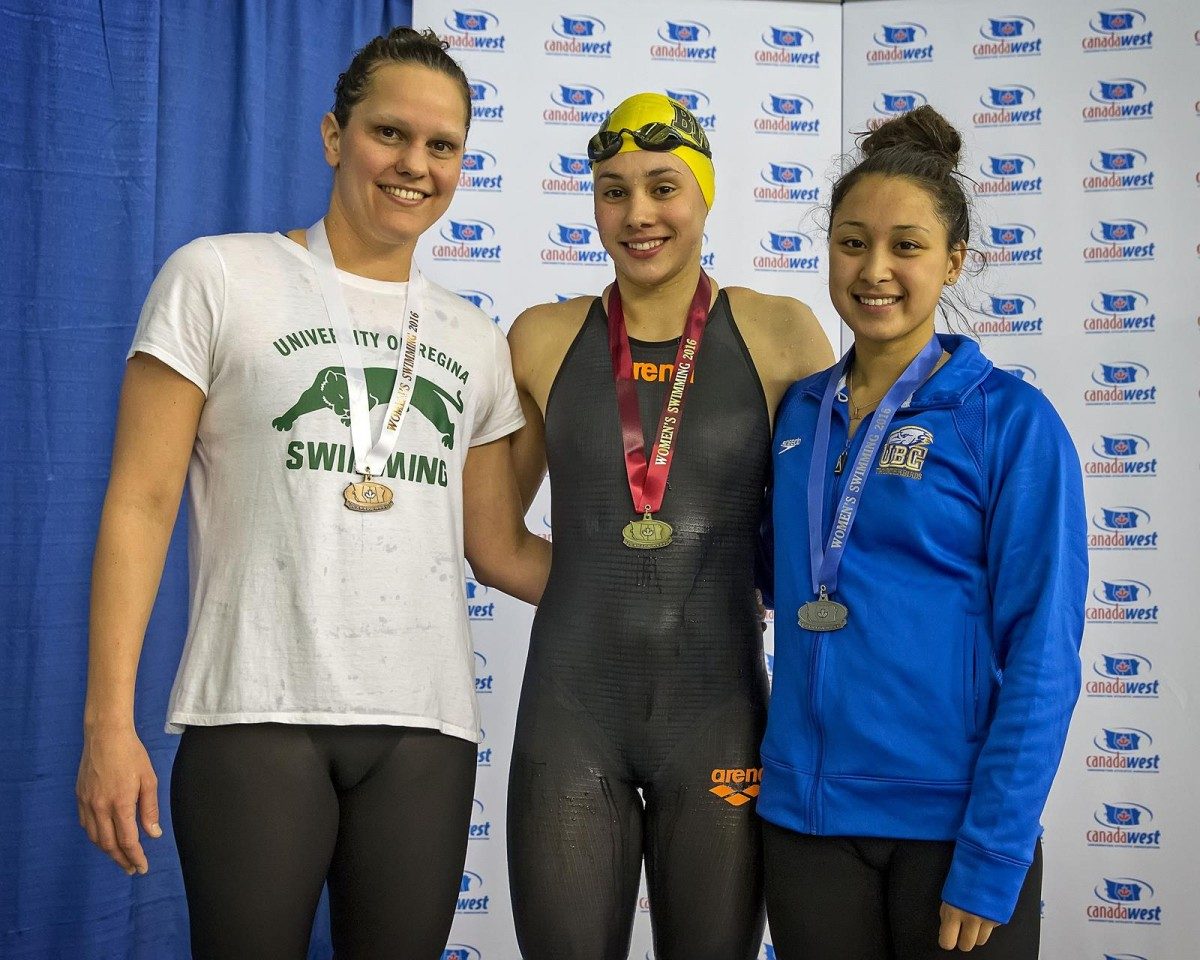 Successful swimmers
Bison Kelsey Wog dominates weekend championships
November 29, 2016 —
University of Manitoba Bison swimmer Kelsey Wog was on fire in the pool at the Canada West Swimming Championships.
Wog, who was named Rookie of the Tournament, finished the weekend with three gold medals (50 metres, 100 metres, and in breaststroke). She broke time records and came in first in the 100 metre freestyle competition.
Bison Alex Shogolev ended a strong conference championship in his first season and earned a silver medal in the 100-metre freestyle competition. It also earned him a Canada West Second Team All-Star honour.
Chris Reid
---
A Very Special Talent
By Scott Taylor
Back in the day, University of Manitoba Bisons head swim coach Vlastic Cerny was one of the best athletes in Canada.
Born in the old communist Czechoslovakia, he came to Canada at 20 and was already a world-class swimmer. By 1988, he was on Canada's Olympic Team in Seoul, and was part of what might be called the Golden Age of Canadian men's swimming.
In 1993, he became head coach of the Bisons and throughout his long career as a competitor, mentor and teacher, Cerny has seen dozens of great swimmers.
But he will openly admit, that there have been none better than Kelsey Wog.
"She's the biggest recruit in the history of the program and the best part of it is, she's already been working in the Junior Bisons program as a Bisons development swimmer," said Cerny. "We've had high-level swimmers come into the program before, but nobody ranked where Kelsey is. She's coming in as a national champion. We had Michelle Lischinsky, but she didn't make the Olympic team until she was a post-graduate. Kelsey was already third in the Olympic Trials and made the FINA standard this year. She was so close to going to the Olympics this summer and she's only 17.
"She's really good. She's the biggest talent to come out of Manitoba in a long time."
Last season, Manitoba was 20th in the women's competition at the CIS Swimming Nationals (the men were 16th). There is no doubt that Wog, an Olympic-level breaststroker will help the team improve on that finish. After all, she swam a personal best of 2:25.42 in the 200-metre Canadian Olympic Trials, well under the Olympic standard.
"Why is she so good?" asked Cerny. "She becomes one with the water. She floats. She is a high responder to training and kind of blows away the 10,000-hour rule. She has a mind of her own. She can be a challenge, but I'll also say she's very coachable. She wants to get better, but she's just so talented. She reached a high level of success without doing all the right things, but in the last year or so, she's ramped up her training.
"She's quirky, but she's also the fastest Canadian ever at age 17. If you watched the Rio Games this summer, you'd have seen that she's faster than many of the Olympic swimmers."
Quirky? Well, yeah. She likes bugs. Cerny says she has lizards for pets.
A city girl who was born in Regina and moved to Winnipeg at two, she's studying agriculture at the U of M. Her grandparents are still on the farm in Saskatchewan, but her goal is to become an entomologist.
She is also an accomplished Highland Dancer, but Cerny wanted to make it clear that he's happy to work her dance commitments into her swimming program.
"We've adjusted her training to allow her to continue her dancing," said Cerny. "I believe it's one of the reasons she's so successful. You must have strong legs to be at her level in the breaststroke. It's mostly about the kick. She's developed strong legs from dancing and I don't want that to change. If she likes it, I want her to keep doing it."
He also wants her to laugh and have a good time.
"I started to swim competitively when I was seven," she said. "My instructor in the 'I Can Swim' program said I was way too competitive and I should probably join a swim club."
She graduated last year from the sports/education program at Vincent Massey Collegiate and while she does well in school and loves to compete, she has a funny, mischievous side.
"You didn't ask me about my most embarrassing moment in competitive swimming," she said with a sly smile. "It was at the national open and in the final, I went to the wrong lane."
Her coach with the University of Manitoba Jr. Bisons swim team, Craig McCormick, picked up her story.
"Yeah, I'm watching on the internet and I see Kelsey come out of the tunnel and I say to myself, 'OK Kelsey, turn left, turn left,' but no, she turns right and goes to the wrong lane. That's Kelsey."
Kelsey just laughed.
"That's when I got into a discussion with the defending national champion and tried to convince her to go to another lane," Kelsey said, laughing. "It was embarrassing, but it was fun."
Wog probably could have gone to any school in North America to swim and she talked to a number of Canadian universities, but it was almost as if she was destined to swim at the U of M. She's also very close to her family and wasn't about to move away from home anytime soon.
"I wasn't approached by any American schools because I told them not to bother," she said. "I did talk to some Canadian schools, but I've been training with Vlastic for a year and a half and I've gotten better. It's going really well and I have a strong relationship with him. I don't know how I could leave that."
Cerny deeply appreciates her decision. He knows he has the opportunity to nurture a young woman who might one day be an Olympic gold medalist.
"The sky is the limit for her," Cerny said. "She can be as successful as she wants to be in this sport. She can be a star in whatever she decides to do."