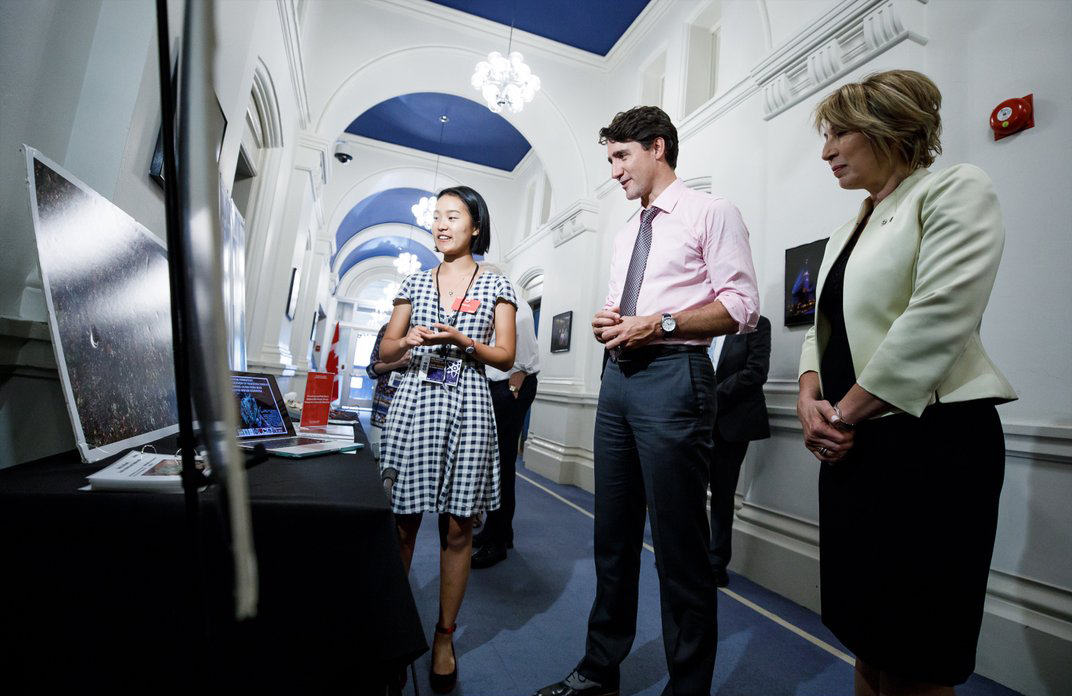 Sub-arctic research leads to Parliament Hill meeting with P.M.
October 5, 2017 —
There are probably easier ways to garner an invitation to meet Prime Minister Justin Trudeau, but Grace Ma's method was certainly unique: traveling to the far North to study permafrost and sub-arctic vegetation. Ma's studies began during her time as a student at Kelvin High School, with the International Student-Led Arctic Monitoring and Research project, (ISAMR). A project involving a coalition of students, teachers, and professional researchers, involving several institutions from across Canada, funded and supported by NSERC, and the University of Manitoba.
Since 2007, ISAMR has allowed students, teachers and researchers to work together to study the effects of climate change in Canada's subarctic climate by monitoring plant life, permafrost dynamics and polar bear populations. Ma and her fellow high school students worked alongside professional researchers including Dr. Jane Waterman, Department of Biological Sciences. Students were privileged to use Dr. Waterman's very own method of polar bear identification, which is less invasive and includes photographing the bears and using software to identify their whisker prints (similar to human fingerprints).
Earlier this year, Ma was asked to highlight the UofM's NSERC Promoscience research at the inaugural Prime Minister's Science Fair on September 26th, 2017. Only 30 students in Canada were chosen to present award-winning projects to Prime Minister Trudeau and his newly appointed Chief Science Advisor, Mona Nemer. The focus of Ma's project was ISAMR's work on vegetation recovery and permafrost dynamics in burned areas in the Greater Wapusk Ecosystem, near Churchill, Manitoba. In addition to Dr. Waterman's expertise, Ma was able to also benefit from the support and guidance of Dr. Jim Roth, Department of Biological Sciences.
ISAMR's program has left its' mark on many young minds. The reflections that follow are just a few:
"I was a part of ISAMR for my grade 11 and 12 years, and it was one of my favourite parts of high school. It gave me a chance to learn how research is conducted in the field as well as giving me a chance to present that research at conferences across the country (an opportunity very few high school students get). Because of those experiences I realized the career path that I wanted to follow." – Jessica Katz (Science, UofM)
"The wild, untamed land was what left the biggest impression. Our travels surprised us with two early visits to the fence by our friendly polar bears, caribou prancing around, and some playful pups. The feeling of walking on the trail of a wild polar bear is majestic, terrifying and entrancing all in one …There is nothing that could ever compare to our time on the tundra." – Jordan Kroeker (Medicine, UofM)
"…[T]his trip allowed me to be involved in collecting and working with data on polar bears … Being able to see a pair of polar bears spar close up right in front of you is an experience few have, and I am very appreciative for how lucky I am to have had the opportunity. Overall, it is what really confirmed my interest in pursuing a career in biological sciences by giving me the chance to experience what that may be like … [I]t will always be held as the highlight of my high school experience." – Sean Perry (Science, UofM)

"That's probably the coolest part of the trip in my opinion- going on a trip that really changes a lot about you, and viewing those changes in yourself and others around you … It was great to see students in awed silence as they viewed a polar bear standing several metres away from them, or watching the Northern Lights for the very first time … One can clearly see the impact that the trip has on many students" – Tim Roth (Music, UofM)
NSERC's PromoScience Program provides funding to organizations working with young Canadians to promote an understanding of science and engineering (including mathematics and technology). Promoscience also serves to give both students and teachers a chance for hands-on learning.
Happily, Ma's participation in ISAMR just keeps paying dividends. Using a video she made of her ISAMR trip to the North in Summer 2016, Ma applied for and received a STEAM Horizon Award. The award is worth $25,000 towards her post-secondary education, and is given to students who have inspiring achievements in the fields of science, technology, engineering, arts and math. Ma hopes to continue promoting STEAM opportunities for young people via social media, as well as to share discoveries with her followers.
Ma's STEAM Horizon Award write-up sums her future plans nicely: "Looking to the future, Grace would like to create a web-based, youth-led Arctic community that would feature free, online seminars with researchers and professors, and weekly Skype discussions between youth on a specific topic, such as the consequences of diminishing biodiversity. She believes bridging relationships with youth and the professional research field will strengthen the foundation for meaningful change and action."
It is readily apparent that her sojourn to the North has left its' mark on Ma:
"There are too little and too many words to sketch out the time I have spent in the tundra. There is something incredibly touching about having the opportunity to hold a beautiful chunk of lichen in your hands, or watch baby arctic foxes play around their den. I am grateful to have had the opportunity to critically study how climate change is altering the vegetation and permafrost thickness of the tundra. ISAMR's research thrives through teamwork, and I am indebted to my peers and educators for the knowledge and passion of science research they have gifted me … which has inspired me to pursue a Life Science degree in university. Every student that I know who has gone on an ISAMR trip expresses that it has positively impacted their lives; I am so happy for NSERC and [the] UofM's support."
---
Research at the University of Manitoba is partially supported by funding from the Government of Canada Research Support Fund.