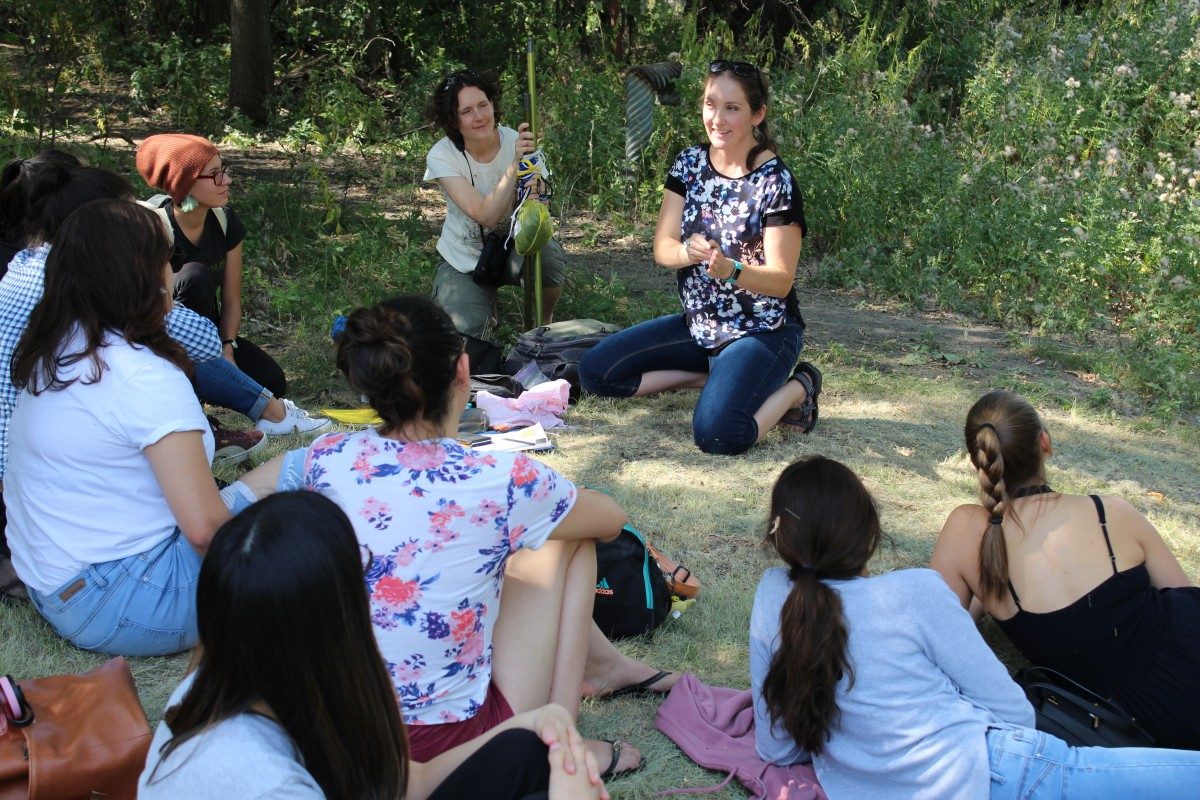 Students prepare for university with Access programs
Path 2 Math week included counting Chickadees
August 31, 2018 —
The first Path 2 Math Summer Academy was held from August 20 to 24. Fourteen Indigenous students, 13 of them entering the Access program in September, gathered on the U of M Fort Garry campus for full days to improve their math and enjoy activities including a scavenger hunt, wall climbing, a biology/chemistry-inspired water testing activity, and a field-based math activity counting Chickadees. Students also spent an hour a day on English. They explored Indigenous Canadian voices in literature, poetry, video, and music with Access instructor and academic specialist in reading and writing, Louise Olson.
Access Program
The Access Program, offered through Extended Education at the U of M, provides holistic support to Indigenous, newcomer, and other U of M students, empowering them on their path to success.
Path 2 Math was organized by Department of Mathematics instructor Darja Barr, who applied for the grant that funded the week-long university prep program and Access Program science instructor Emily McKinnon.
"Darja approached me, concerned that many students were really struggling in math," says McKinnon. "With Path 2 Math, students got to know the campus and the supports available through Access. They explored math, science, English, met other students, and hopefully they will now be more successful."
Path 2 Math started with a math knowledge check, and all students improved their math over the week thanks to self-study with an artificial intelligence program called ALEKS. "It figures out what they know and teaches them at their level," says McKinnon. "It really hits the Candy Crush button, rewarding them and encouraging them to work at their own level."
Students really got into it, she says, noting they worked silently for two hours at a time. One day it was time to go, and she remembers a student asking to complete just one more question.
Counting Chickadees
On a sunny afternoon, students gathered to learn about bird monitoring with McKinnon who is an ornithologist and holds a Master bird banding permit. She and Alicia Korpach, a masters student in the Department of Biological Sciences, demonstrated how to set up barely visible mist nets, turn on an audio lure, and sit back to watch and listen for the Chickadees to come. Once the birds are caught in the net, they carefully remove them and gently place them into cotton bags. One by one, they measure and band them with a metal band for tracking.
"The cute part is students will now watch for the chickadees, see the coloured leg bands and identify the ones we caught today."
During the exercise, using some basic math, they estimated there are 25 to 40 chickadees on campus. Chickadees have been monitored here since 2014.
"We hope to make a difference, to help students get through math when they are already facing other challenges."
New experiences
Tayller McKinney, an Ojibway student from Winnipeg, marveled at holding a small bird and setting it free. "I've never been so interested in birds," says McKinney, who starts university in September with the support of the Access program.
Her father and grandfather both attended university with the support of Access. "It's really helpful. They help you to feel comfortable in university."
McKinney says she plans to study law. "I want to help reserves across Canada. I want to be a voice for them."
As for the math camp, she says "It's a good refresher for your brain. We learned a bit about English and math and science. I never held a bird before."
Access supports
Chloe Touzin, a French Métis student from Winnipeg, learned about Access from her cousin and her sister who both attended university with the support of Access. "They introduced me to the program and I got to know it. There are a lot of different reasons to go into Access. They have a lot of support systems, personal and academic. Students should do it. In your first year, classes are a lot smaller and you are not just one fish in a class of 100 sharks."
Touzin enjoys English and history, and plans to become an editor. "Math camp was really interesting. I am not going into science or math but it is always good to have a healthy balance between science and the arts."
She enjoyed the opportunity to hold a chickadee. "I was very apprehensive at first. I didn't want to hurt it. It was so fragile, soft and tiny, really cute. It didn't bite or scratch me."
All in all, the week added up for students. They counted Chickadees, got to know what the U of M and Access have to offer, delved into science and English, met peers, and improved their math. Math improvement was noted for all in an assessment at the end of the program. Now they begin their university studies, with the support of Access.
Learn more about the Access Program