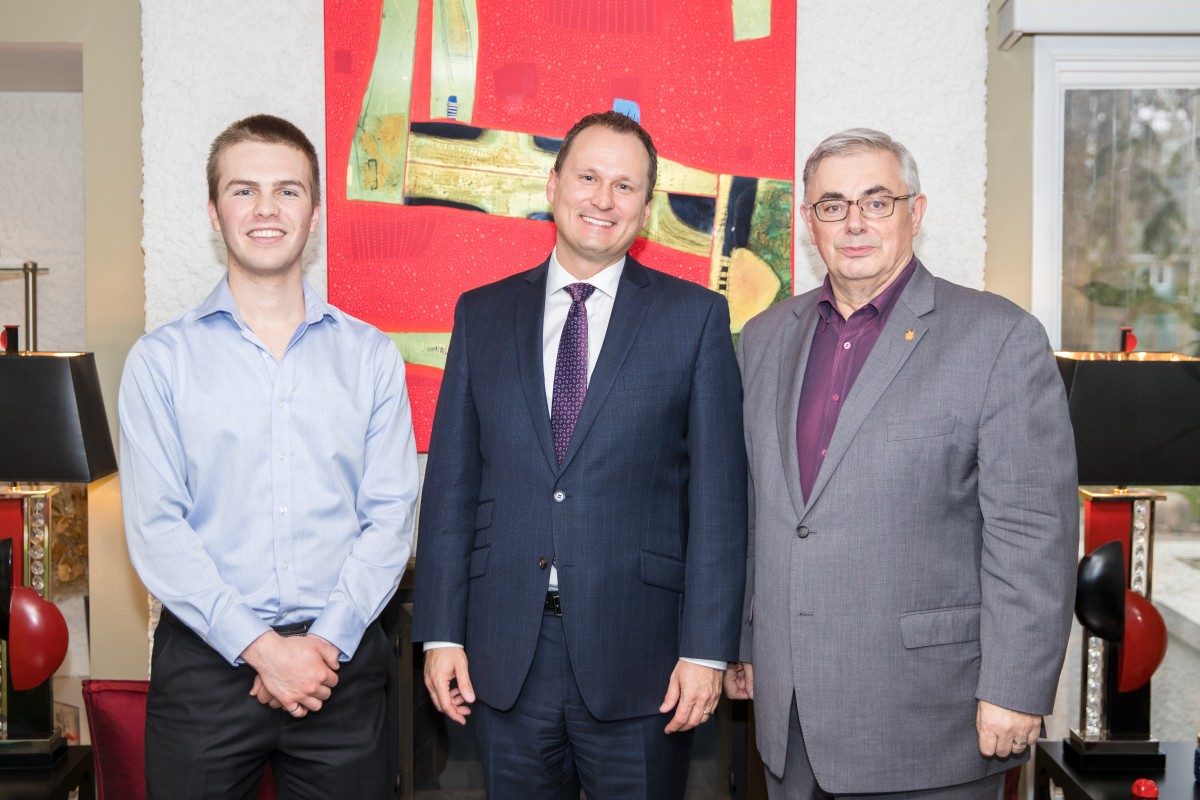 Students pay it forward
$4.75M committed in transformational gifts
April 19, 2017 —
The student referenda allows students to invest in their own faculties and departments. The program is now in its 30th year and continues to support students through a financial contribution added to student fees. Which programs to support and how much to give are decided every two to four years by a student vote.
This year, students from 11 faculties, schools and colleges committed $4.75 million to the homegrown philanthropic program. They were recognized at an event hosted by President David Barnard on April 17.
"The leadership you have shown is part of a renewal at the University of Manitoba. You are leaving a legacy that will transform this university and our province," said President Barnard.
The referenda process began in 1987 when engineering students suggested raising funds for their faculty by holding a vote. Virtually every faculty and school has come to adopt a similar process, with close to $50 million raised since then to help support a better learning experience at the U of M.
Contributing their own funds to improve the university experience of their peers – and of future students – shows that students are engaged at the University of Manitoba, said André Marchildon, Senior Stick of the University of Manitoba Engineering Society.
The Faculty of Engineering was among the units being recognized at this year's event. Earlier this year students from the faculty voted to commit an estimated $973,000 to the Front and Centre campaign over the next three years.
The students voted to help fund the construction of the new Stanley Pauley Engineering Building knowing they will graduate before the building is completed. This new building will greatly improve the space available for student design teams and for students to study.
"We saw this as an opportunity to pay it forward just like previous students contributed to the existing building benefitting us now. This process really allows students to gain leadership skills and develop," said Marchildon. "We feel that we are doing our part to help the growth of U of M."
Faculties, Departments, Schools and Programs honoured at this year's recognition event included:
Faculty of Agricultural and Food Sciences
Faculty of Arts
Asper School of Business
Faculty of Education
Faculty of Engineering
Faculty of Law
Marcel A. Desautels Faculty of Music
Faculty of Science
Faculty of Social Work

Graduate students in Economics

Rady Faculty of Health Sciences

Max Rady College of Medicine
College of Nursing
School of Pharmacy
College of Rehabilitation Sciences

Masters of Physical Therapy
Masters of Occupational Therapy
Respiratory Therapy

St. Paul's College
The Front and Centre campaign is the largest philanthropic investment in the history of the province, with a fundraising goal of $500 million. Students' contributions to the campaign through referenda giving now total $17 million.
To find out more, or to make a gift, visit the Front and Centre website.