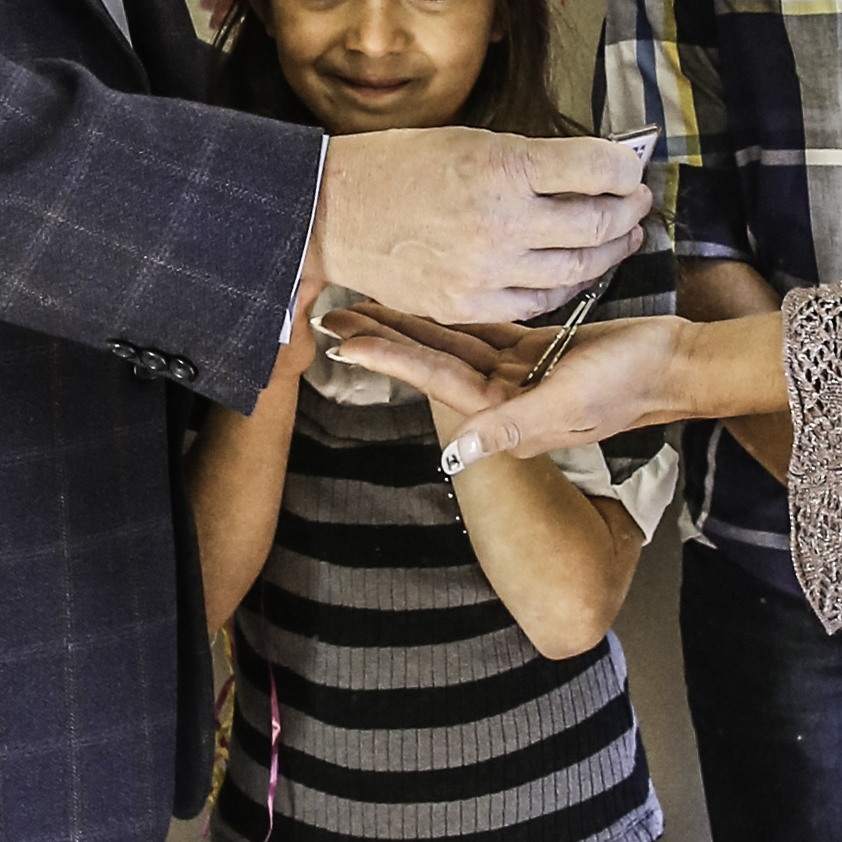 Students give single mother keys to Habitat for Humanity home
November 28, 2013 —
The season of giving is on the horizon and one Winnipeg family is overjoyed to be on the receiving end.
Leah and her five children (they asked not to have their full names or faces used) were given keys to their new Habitat for Humanity home at a dedication ceremony on Nov. 26. It is the first home the single mom has ever owned.
"I'm not good with words but I want you to know how grateful we are for all of your hard work," says Leah holding back tears. "My family thanks you."
Brian Postl, Dean of Medicine, and Med II student Gail Pollard officially presented the keys on behalf of the Faculty of Medicine.
"This build was a chance to get out of the office and into the community and also to teach our students the importance of doing exactly that," said the Dean.
Earlier this year the Faculty joined forces with Habitat for Humanity and turned the Bannatyne Campus E-Lot into a build-site. A team of 125 volunteers, which included Faculty of Medicine faculty members, academic physicians, clinician scientists, staff and students, worked tirelessly in the summer heat. With the help of the Habitat construction crew it took just 10 eight-hour days to complete the exterior.
According to Postl too many children and families cannot afford housing which has a detrimental effect on their health, education and self-esteem, "we must, as a medical school, be socially accountable to our community."
He added: "Social responsibility is a core value for our students and physicians to practice for the well-being of all members of society."
The Faculty hopes to continue their relationship with Habitat and is in-talks to determine the feasibility of doing an annual or biennial build.