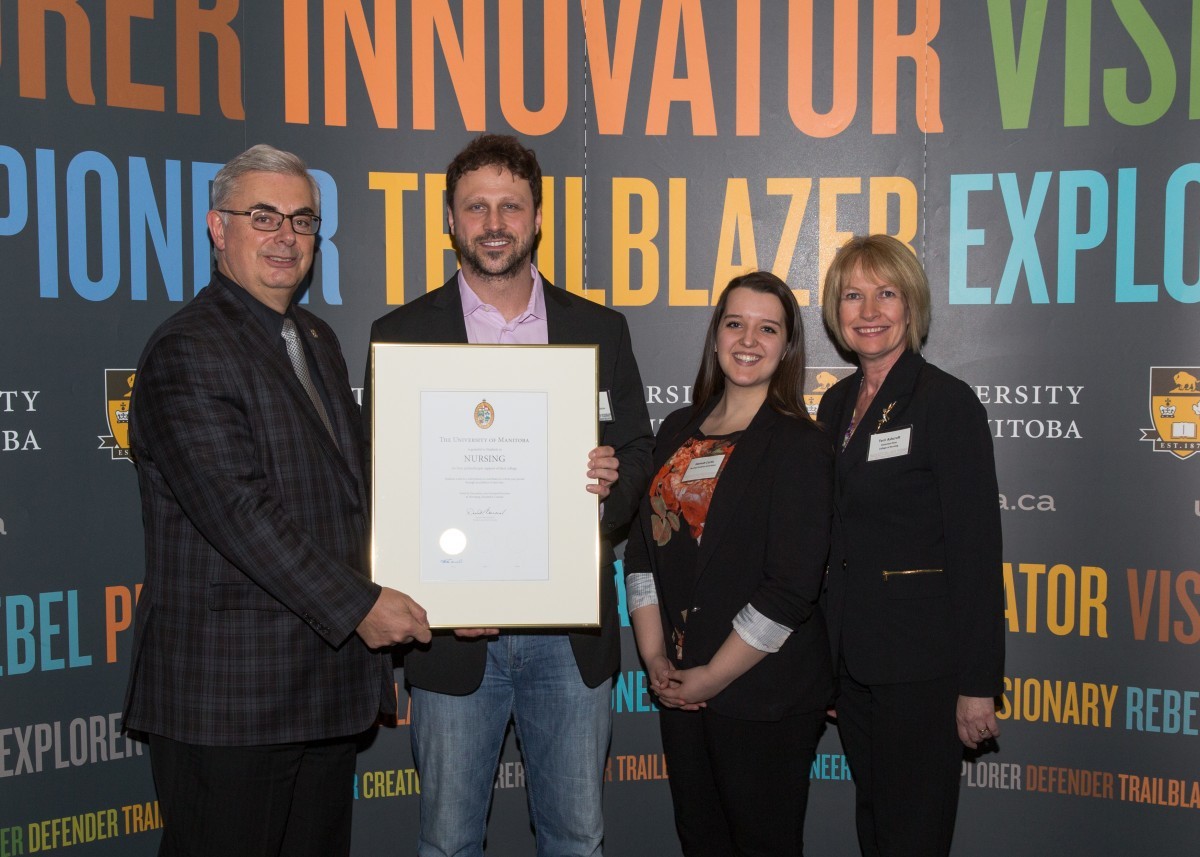 Students give more than $44 million through unique referenda program
April 15, 2015 —
With a diverse list of supported initiatives that includes cafeteria renovations, international exchange trips, student bursaries, and pro-bono legal work, the student referenda program directly impacts the University of Manitoba student experience.
Now in its 28th year, this homegrown philanthropic program sees students invest in their own units and support their fellow students through an addition to their student fees. Students vote on which programs to support – and how much to give – every two to four years.
On April 7, students from 16 faculties, schools and colleges were recognized at a special event hosted by President David Barnard.
Among the units being recognized at this year's event was the College of Nursing, which was represented by Daniel Sushko, senior stick and fourth-year student. The referenda, he says, empowers students by including them in the process. "It shows that the College of Nursing puts students first in decision making," he says, "which it should because students are what make a university."
To date, College of Nursing students have donated more than $1.4 million, most recently in support of research projects and student awards.
The referenda process began in 1987 when engineering students suggested raising funds for their faculty by holding a vote. Virtually every faculty and school has come to adopt a similar process. In the last seven years alone, more than 36,000 students have participated, while an amazing $44 million has been raised since 1987.
"The contribution our students make is invaluable and shows their dedication to the faculty and their support for fellow students," says Sarah Teetzel, associate dean (undergraduate education), Faculty of Kinesiology and Recreation Management. "I am thrilled they recently voted in their referendum to continue supporting their academic programs with these funds. Already, their gifts have provided cutting-edge lab materials, equipment for experiential courses, and updated anatomical models."
Honoured this year:
Faculty of Agricultural and Food Sciences
Faculty of Arts
School of Dental Hygiene
Faculty of Kinesiology and Recreation Management
College of Medicine
College of Nursing
Faculty of Science
Faculty of Social Work
Nursing graduate students
Asper School of Business graduate students
Asper School of Business undergraduate students
Human Ecology graduate students
Faculty of Law
Masters of Occupational Therapy
Economics graduate students
St. Paul's College