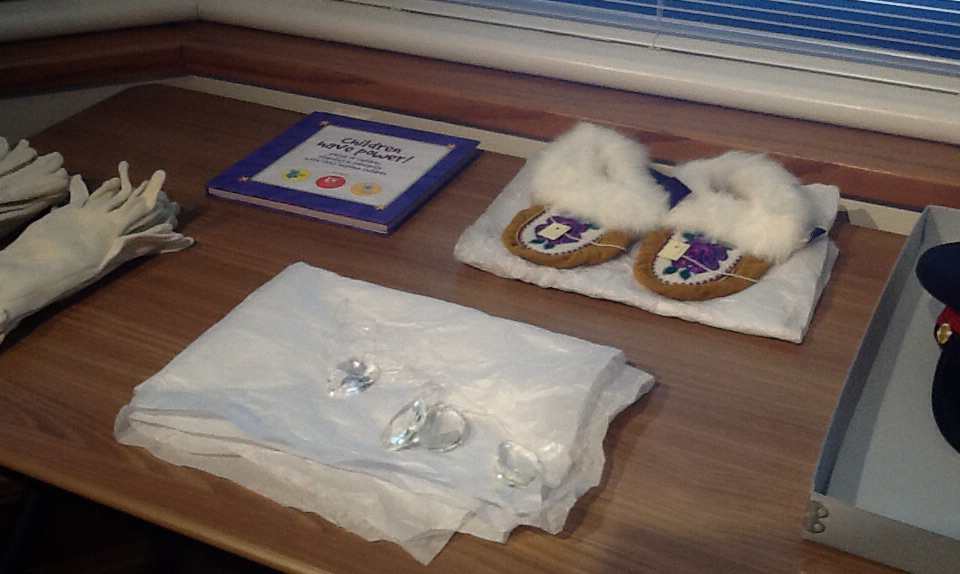 Students get unique opportunity to explore items in TRC Bentwood Box
April 19, 2016 —
International baccalaureate high school students were recently granted special viewing of the Truth and Reconciliation Commission Bentwood Box items at a Faculty of Education event.
In all, about a dozen students attended the seminar at the  National Centre for Truth and Reconciliation (NCTR) building, which was meant to help them explore the meaning of reconciliation "for students considering teaching as a career."
Students were invited to explore items from the TRC Bentwood Box, which has been entrusted to the NCTR, offering a lasting tribute to all former students of Canadian residential schools and keeping the promise to survivors that Canadians will continue to be educated about their experiences.
The Bentwood Box was carved by Coast Salish artist Luke Marston as a tribute to all Residential School survivors and former First Nations, Inuit and  Métis students.
Inside, it contains 1,300 items placed inside by survivors, church officials and government officials. Items include hockey jerseys, DVDs and a miniature birch bark canoe.
The box is permanently housed at the NCTR at the U of M.
During the seminar, through hands-on engagement and small group discussion, students had the opportunity to consider what reconciliation means and how it can be enacted in their school communities.
They were also asked to see how items in the Bentwood Box relate to reconciliation and were asked to discuss what the items have to do with reconciling.
One of the items discussed were beaded moccasins. They were talked about as both a symbol of Indigenous culture and a symbol of the culture which was taken away from residential school students—representing a lost childhood and culture.
The presentation asked students to think about the TRC's calls to action and to look to themselves to make change.
They were asked to discuss,"What will my actions be to change the history of the country?"
Presenters at the event included Clea Schmidt, a Faculty of Education professor and Charlene Bearhead, Education Lead, National Centre for Truth and Reconciliation (NCTR).
Also at the event, Schmidt read an impactful poem by Marcel Petiquay, a residential school survivor, entitled Ma Petite Valise du Pensionnat (My Little Residential School Suitcase).  The poem, about Petiquay's experience in 1958 of being sent to a residential school in Amos, Que., helped students get a sense of what it would have been like to have been sent to a residential school as a little boy of six, and how it changed his joyful life into one of despair and hopelessness that took him years to turn around.