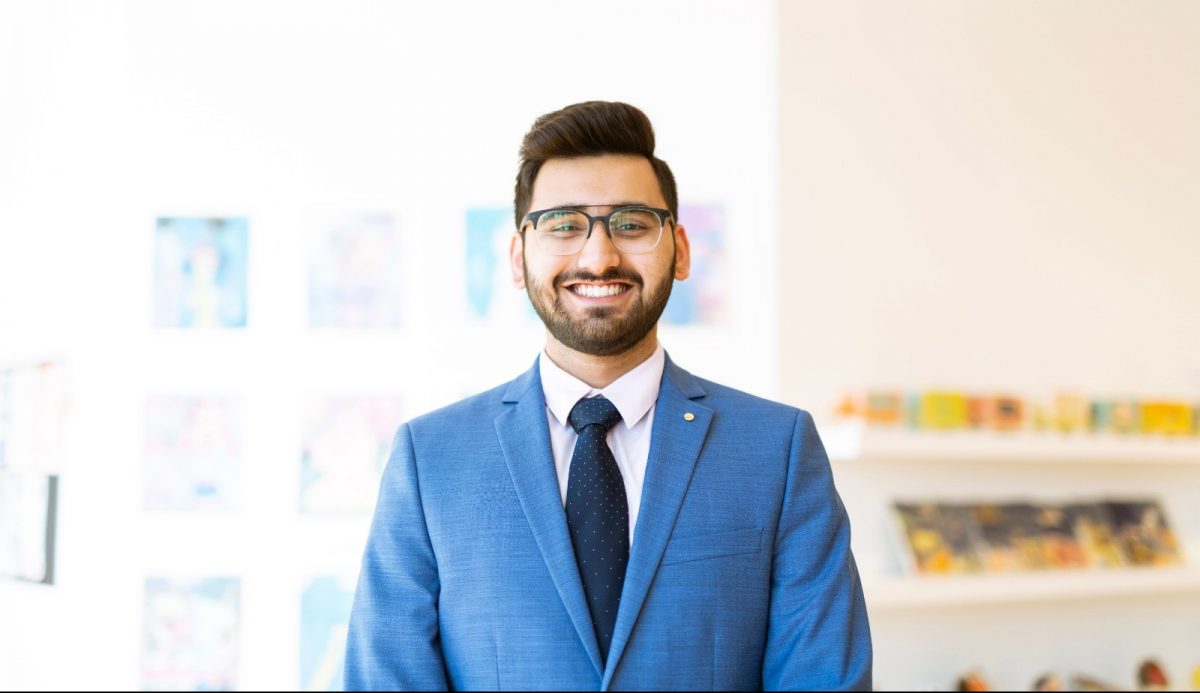 Student Shines in Co-op Program
Asper student shares his experiences on navigating the Canadian business landscape.
October 5, 2020 —
Sidhant Sharma is an International co-op student in his fifth and final year at the Asper School of Business, majoring in Finance and Management Information Systems. Passionate about getting involved, Sharma is also the current Vice-President Internal for the Commerce Students Association. This month, we connected with Sharma to hear his story and learn about his experiences as an international student in the program.
Can you tell us about your background and how you ended up at the University of Manitoba?
I was born in India where I spent approximately 11 years before moving to Ghana with my parents. When it was time to graduate I was ready to go to Florida for University, but for some reason, I was continuing to look for different universities and colleges. That's when I came across the U of M. I just had a positive gut feeling about the school and so I told my parents that was where I wanted to go. I arrived in Winnipeg just before my 18th birthday and I have been here ever since.
What attracted you to the Asper Co-op Program?
As an international student, I did not have many connections here in Winnipeg and had many questions. I didn't know much about the culture, how to make connections, or what the work style was in Canada – and I knew the Co-op program would help me find those answers.
How have you benefited as an international student in the program?
Obviously the Co-op program gives you work experience, but gaining that cultural understanding has been extremely beneficial. A differentiating factor for two equally qualified candidates could be having that understanding, and I am happy I have been proactive with that. Also, something I did not expect was how much of a community the Co-op program is. I do not feel like there is a gap between international or domestic students – and this program gave me a chance to meet and learn from so many different individuals from unique backgrounds.
Where have you worked so far?
I did my first Co-op term at North West Company, where I was a project control analyst. This past summer, I completed my second work term from home, where I was an Associate Business Analyst for IG Wealth Management. Both positions were fantastic, and gave me a great opportunity to use my Computer Science background.
Do you have any advice for international students who are thinking applying?
I would say "learn to love being uncomfortable." You're already putting yourself out there by being an international student and you should see the beauty in that. Joining the Co-op program allows you to learn things that would not be possible in the classroom, and these experiences are crucial as an international student. Also, don't ever be afraid to share your thoughts, and have confidence about the skills you can bring to a workplace. Chances are, you have a completely different perspective than the rest of the people sitting the table – and they would love to learn from you.
Applications for the Asper Co-op program are now open – apply by October 7.
If you have questions about the program, please visit https://umanitoba.ca/asper/co-op/ or contact the Co-op office at 204-474-8521 or aspercoop [at] umanitoba [dot] ca.