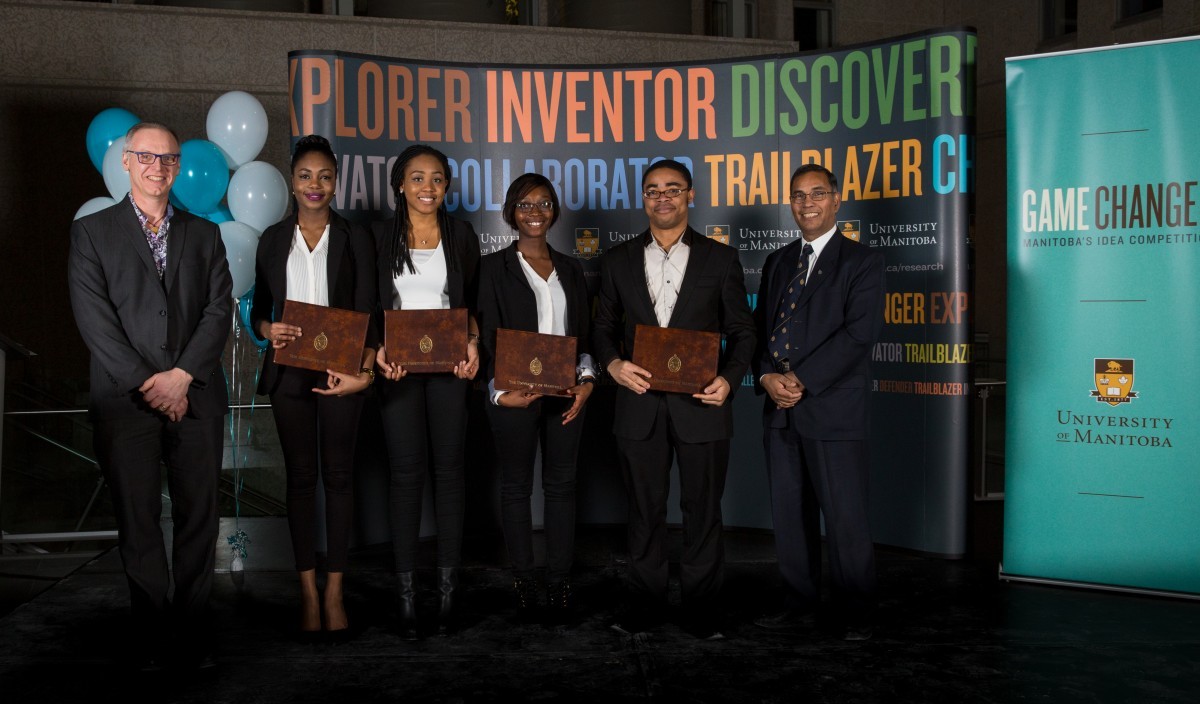 Strategy to reduce food waste a Game Changer
Team Nixed Foods takes grand prize and people's choice
February 12, 2016 —
Students from a range of disciplines put their creativity and skills to the test addressing world challenges in the final stage of  the Game Changer competition, with winners announced on February 11.
Team Nixed Foods captured the grand prize of $10,000 and six months of professional mentorship to transform their game-changing idea into a reality. Their strategy to reduce food waste at different stages of the food value chain from producers to the final consumers was also the people's choice award winner.
Oluwaseyi Odhigbo (human nutritional sciences/agricultural and food sciences), Ifeanyi Nwachukwu (human nutritional sciences/agricultural and food sciences), Zara Usman (economics/arts), Oribim Kingson (human nutritional sciences/agricultural and food sciences) make up the winning team.
Second place went to Team Biohack and Team Thrive snagged third place.
"This competition is about challenging our students to think in new ways, from new perspectives, and to work together to find solutions to the biggest problems they can imagine," said University of Manitoba Vice-President (Research and International) Digvir Jayas.
The two-phase competition got underway in September when students from all departments and faculties were encouraged to submit an idea – one that identifies real-world challenges where there is a potential to enact positive change if solutions are found.
Five problems were chosen from 77 submissions and teams of cross-faculty students submitted their solutions in late January.
Seven finalist teams, addressing four challenges, moved forward to the final competition on Feb. 11 in the EITC Atrium.
Teams looked at reducing carbon dioxide in the transportation of goods, reducing food waste, addressing how technology can lead to sedentary lifestyles and obesity, and detecting early-onset Alzheimer's disease.
"Our students want to transform the world and it's rewarding to see how excited and committed they are to using the Game Changer competition as the platform to achieve this," said Jayas.
The solution entries were scored based on multiple factors, including novelty of solution, clarity and conciseness (no scientific jargon), feasibility and ease of implementation, entrepreneurial spirit, sustainability and innovation.
Research at the University of Manitoba is partially supported by funding from the Government of Canada Research Support Fund.