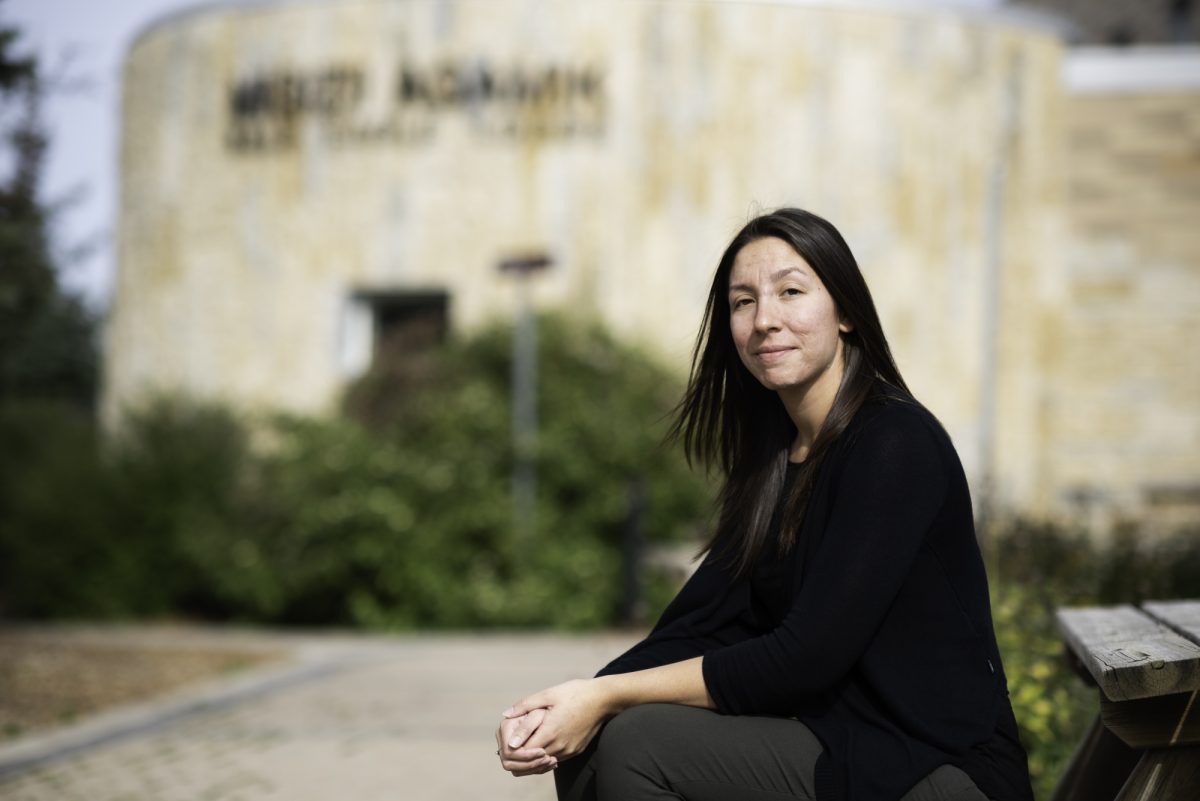 Stick with your dreams, pursue your goals
Join the Access community at U of M
Kaitlin Fosseneuve always wanted to go to university. Now the Métis and Cree student from Cranberry Portage is on her way to becoming a teacher, with the support of the Access Program.
"I finished my undergraduate degree in Physical Education and now I am in the Faculty of Education doing my two-year after-degree program," says Fosseneuve. "I had so many obstacles and barriers that I had to break through, but I just stuck with it and the Access Program was a really big help for me for that."
The Access Program at the University of Manitoba provides holistic support to Indigenous, newcomer, and other U of M students, empowering them on their path to success.
Fosseneuve learned about the program at her high school career fair. Her resource teacher also encouraged her to apply, and gave her an application.
Leaving home
"I wanted to get all the help I could get because I was leaving home and I was only 17 at the time," she says. "I always planned for it. You know, I always said I'm going to do this, I need to get out of my small town. I have to do something."
Leaving her parents and large extended family in Cranberry-Portage was tough, but her parents encouraged her. Her father is a labourer and her mother is a locally-trained LPN. The middle child in her family, she has two brothers and a sister.
"When I first started my journey, I said I was going to be a nurse. So I came to the university, joined Access, and all that. And then I did two years and things just didn't work out, and I went back home because I got pregnant with my daughter."
While raising her daughter in her home community, Fosseneuve worked as an educational assistant at the local elementary school. There, she found her passion for working with kids and decided she would rather become a teacher.
Life challenges
"Every year, I applied to go back to school. Things just didn't work out. Finances, having a young one, daycare, you know. But finally one year, everything just seemed to work out. My daughter was old enough. I felt like I had enough supports that I could move back to the city and start going back to school so I just made the move."
Her daughter was three, and she was back at university with the Access Program.
"They were a big support, helping me make connections with people. They helped me personally, through guidance counselling, the personal counsellor was really nice for me because I didn't feel like I had anyone to talk to. So having their support was very beneficial."
The academic advisor helped her choose her courses and decide how to pursue her new passion for education. She had support applying, organizing her schedule and courses.
Now, when she meets young people trying to decide what to do at the University of Manitoba in the future, she asks them if they have applied for the Access Program.
"I was working at a summer camp and there were a lot of young teenagers and high school students and they are all going to university. I told them they should really apply. It's a really good program."
A support system
Fosseneuve describes Access as "a resource to use during your university years, a support system. They help you personally, academically, financially. It's a good support system for Indigenous students like myself, especially coming from a rural area to an urban setting. It really helped me to situate myself."
Moving to the city and coming to university was a change. "I could walk across town in a half-hour at home. Here, I have to take the bus. I would say I am a shy person. I was this small town girl who didn't know anybody, and wondered how I was going to make it. Access helped me connect with other Indigenous students. It really helped me."
She loves the warm environment at Migizi Agamik (Bald Eagle Lodge) on the Fort Garry campus, where the program is located, and comes here to do her studying and connect with her new community.
"They encouraged me and supported me when I needed them. I want other students to know, if you just stick with your dreams, pursue your goals, you can make it."
Fosseneuve encourages Indigenous residents of Manitoba to apply to the Access Program, and attend the University of Manitoba this fall. Application deadline is May 1. Apply now.