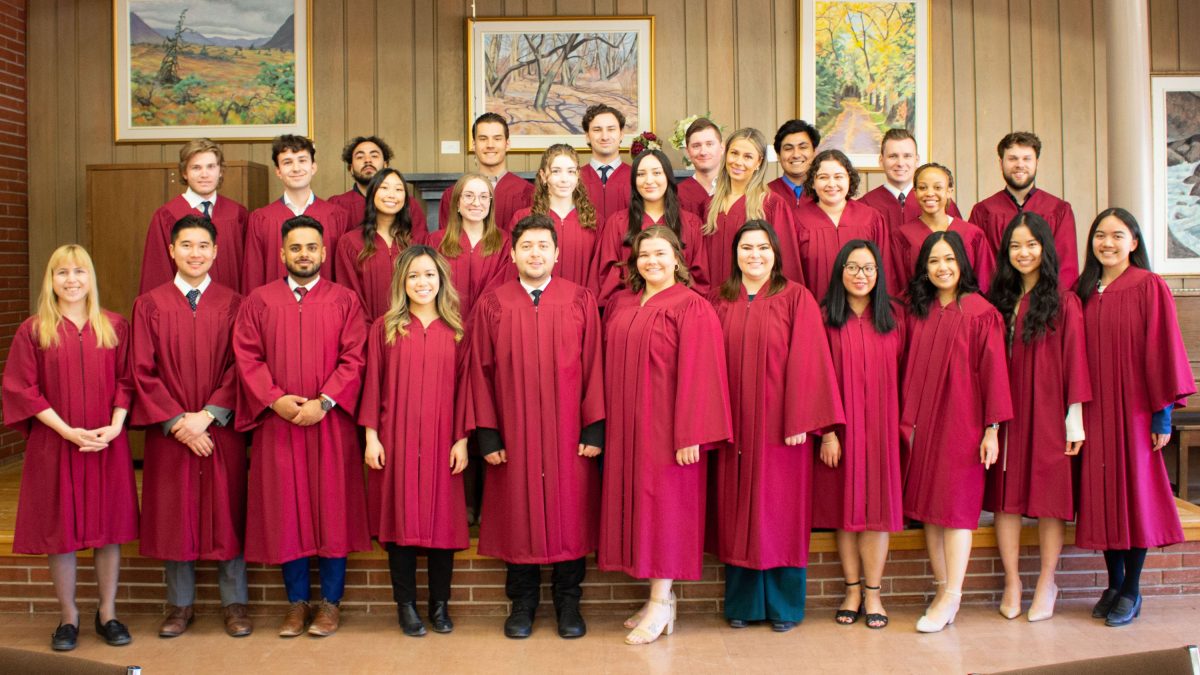 St. Paul's College Celebrates Academic Excellence with Baccalaureate Mass and Ceremony 2023
Baccalaureate Mass and Ceremony 2023
May 4, 2023 —
St. Paul's College held its Baccalaureate Mass and Ceremony 2023 on Sunday, April 30, to celebrate the academic accomplishments of our graduating student members and award recipients.
Baccalaureate Breakfast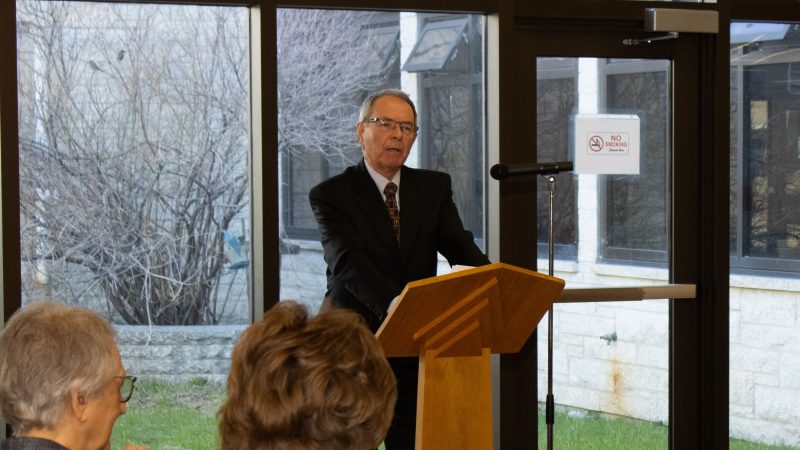 The day began with a delicious breakfast hosted by Victoria Nwabuisi, Ignatian Society Stick of Office. As the attendees enjoyed their shared meal, the guest speaker for the event, Thomas P. Dooley (SPC '65 '69), a trailblazer in the Manitoba community, champion of critical thought, philanthropy and the development of strong leadership conveyed his thoughts on what it means to be a St. Paul's College alumnus and how it relates to basic principles of Ignatian teaching.
Baccalaureate Mass
Following Dooley's inspiring address, attendees proceeded to Baccalaureate Mass in Christ the King Chapel, which was concelebrated with Archbishop and Chancellor of St. Paul's College, Richard Gagnon, Fr. Mark Filips, and Fr. Colin Peterson. The service was a beautiful moment of reflection upon the Ignatian values and principles that guide St. Paul's College.
Baccalaureate Ceremony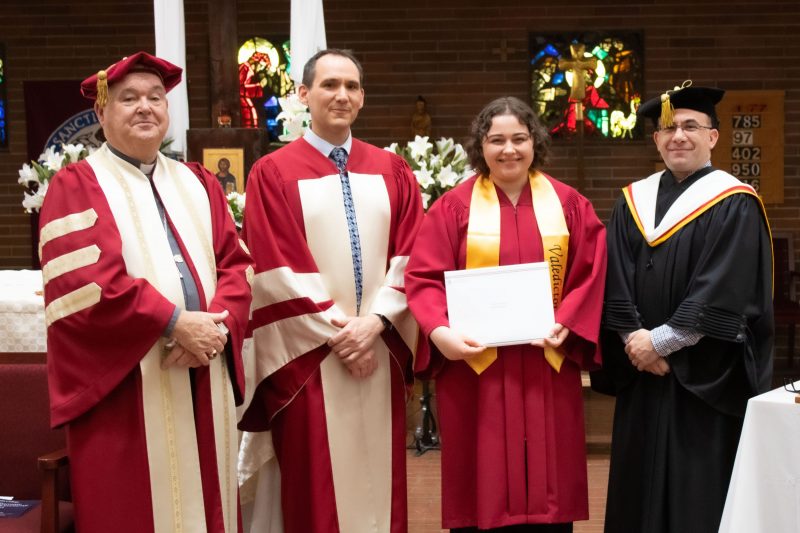 After the religious service, the Baccalaureate Ceremony for the graduating students and award recipients commenced. The event was filled with excitement as the graduates walked through our college and down the chapel aisle in their academic regalia.
"All of you who are graduating this year, I don't have to tell you that you have faced a number of obstacles, including having to take courses and do your studies online for much of your degree," said Dr. Christopher J. Adams, Rector, during the ceremony. "Thankfully, we all returned to campus a year ago, but it was a very difficult time for students. […] I salute all of you for finishing your studies. You have persevered. […] I'm sure you will be better prepared to meet these challenges because of how you handled difficulties during your recent studies today. We are celebrating your academic achievements and potential successes for the future. We at St. Paul's College are proud of you and wish you the best as you continue on to your further studies or careers."
In their remarks, Rector Dr. Christopher J. Adams and Dean of Studies Dr. Dilantha Fernando congratulated the graduates and award recipients, praising them for their hard work, dedication, and commitment to academic excellence. They also commended the faculty and staff for their unwavering support and guidance to the students.
"As you graduate, you become the young ambassadors to strengthen this journey in humanity and serve the world in a profession of your choice around the world," said Dr. Dilantha Fernando, Dean of Studies. "I hope St. Paul's College has provided you with a unique environment and ambience to grow as strong individuals and persons who care for others and their society for our peace-loving world of the future. As Dean of Studies, I would urge you to take St. Paul's College's values, such as freedom and respect for equity, diversity, inclusion and beliefs, as we are one in this world. Education is the most powerful weapon which you can use to change the world."
Presentation of Prizes, Scholarships, and Awards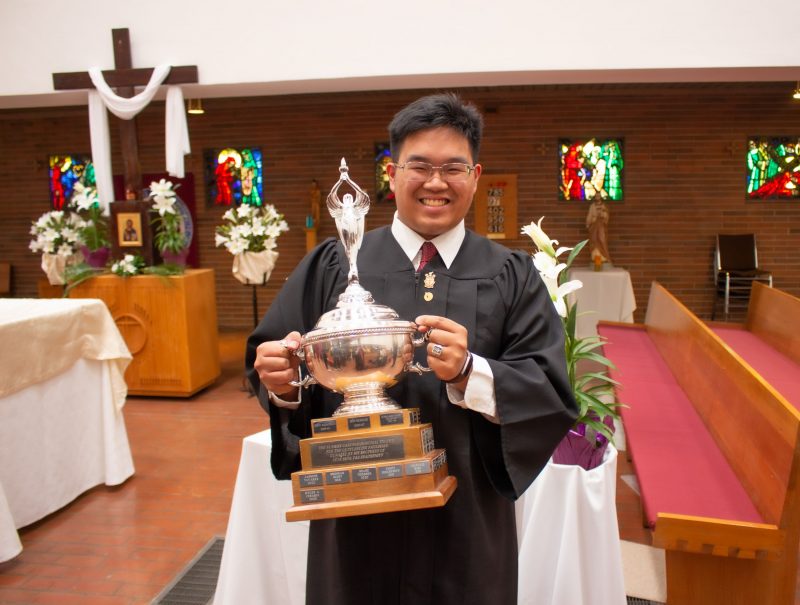 Also, during the graduation ceremony, many award winners were acknowledged for their outstanding achievements in various academic disciplines:
STEM Scholarships – Kaitlyn Guttormson, Akachukwu Onyiuke, Ximena Lopez Pereyra and Gabriel Young
Christine A. Butterill, Ph.D. (SPC'81, '88) Citizenship Award – Izabella Borys
The Bob and Marnie Puchniak Family Graduate Scholarship – Jose Nicholas Dousdebes
Campus Ministry Community Service Award – Desiree Nwokoro
Father Cecil Ryan, SJ Rector's Award – Bonnie Warkentine and Matthew Semchyshyn
Rosemarie Schilling Finlay Scholarship – Annika Burkard
Manitoba Scholarship and Bursary Initiative (MSBI) program – Bruce Barrientos, Heath Chalmers, Grace Francis, Kurt Kolsun, Ava Nykiforuk, Alexa Pommer, Amber Reichardt, Jayson Szun and Anthony Wightman
Paulinian of the Year – Myles Cesario
As they received their awards, they were applauded by friends, family, alumni, and the College's community. Donors and St. Paul's College Foundation Inc. are appreciated and acknowledged for their unwavering support.
Valedictorian Address – Amber Richard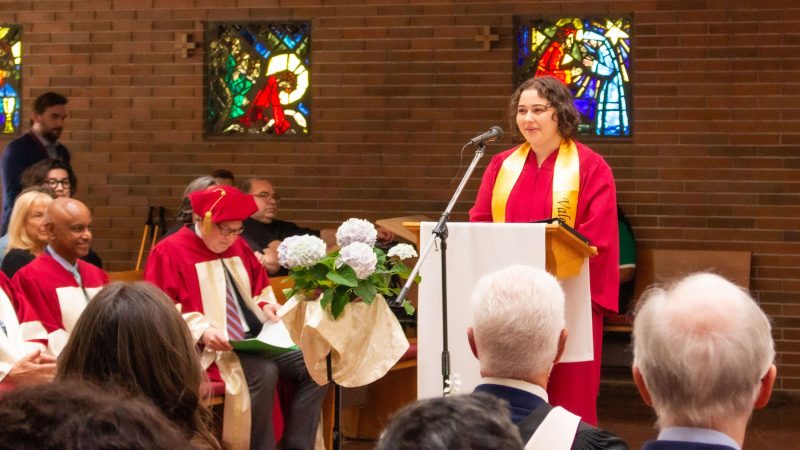 "Although we experienced significant challenges throughout the pandemic, St Paul's College was actively engaged with us students socially, emotionally and financially to supply support for us all," said Amber Reichardt in her Valedictorian Address. "As students were able to stay connected as a community in various different ways with the College, whether that was through being a member of the St. Paul's College Student Council (SPCSA) council attending virtual SPCSA events or staying up to date on the College Instagram and College emails. Being able to come back on campus for our final year has allowed us to be physically present as a community once again and has reminded us about how welcoming our community truly is."
A tribute to academic excellence
The Ceremony ended with a reception that brought together the attendees for coffee and cake as they mingled and celebrated the achievements of our new alumni members and award recipients.
The Baccalaureate Celebration brought together the St. Paul's community. It was a beautiful tribute to the power of education in shaping an inspiring and bright future for all.